Weekend Forecast for
November 14-16, 2003
By Reagen Sulewski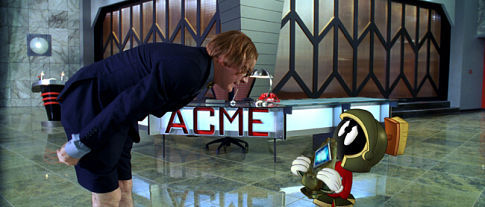 Three new films enter the marketplace this weekend but have to contend with the complete momentum loss brought on by The Matrix Revolutions' shockingly low opening weekend. The new entries will have to fight not only each other, but also the negative hype of Neo and company.
The film that should rise furthest above the fray is Master and Commander: The Far Side of the World, a seafaring epic that comes in as a top Oscar contender. Based on a series of books written by Patrick O'Brian, the film focuses on a British Sea Captain during the time of the Napoleonic Wars (played by Russell Crowe). It's also directed by Peter Weir, meaning it's a war epic that's about individuals more than tactics. Whether Master and Commander will be the right kind of film to satisfy audiences that may be looking for something more along the lines of a nautical Saving Private Ryan remains to be seen.
Since really breaking into the public consciousness with 1997's L.A. Confidential, Crowe has had an uncanny sense for picking quality films. The Insider, Gladiator and A Beautiful Mind all landed him Best Actor nominations with Gladiator giving him the statue. Gladiator and A Beautiful Mind both crossed $150 million, establishing his box office credibility, while Proof of Life made him the homewrecker-du-jour tabloid star following his romp in the hay with co-star Meg Ryan (no problem here, with the virtually all-male cast of Master and Commander. Not that there's anything wrong with that). Mystery, Alaska... well, perhaps the less said, the better about that one. But I digress. The point here is that Crowe is simply compelling and commands a respect and gravity in lead roles and we should just hand over a bunch of Oscars to him before he hurts us (quite possibly by playing one of his band's songs at us).
The easiest comparison to make is probably 2000's The Patriot, without all the political baggage. That film grossed $22 million on the weekend before July 4th even while saddled with the potentially troublesome R-rating and an almost three-hour run length. This year has seen disappointment after disappointment, with only two water-oriented films really satisfying to near unanimity (Finding Nemo and Pirates of the Caribbean). Wet is the new dry, apparently. This one's a bit more somber than those two but still promises sword and cannon play and an exciting time (with a bit of history lesson thrown in). At a decent 3,101 venues, expect Master and Commander to open with approximately $27 million.
The top family fare of the week is arguably Looney Tunes: Back in Action (they must have spent weeks on that title), the latest attempt at blending animation and live action. The Merrie Melodies bunch last appeared on screen in 1996's Space Jam which also marked Michael Jordan's acting debut. Nothing quite so novel appears here, as it's the uninspired diamond heist/caper plot that drives this more than the paean to media cross-promotion that was Space Jam. Human actors here include Brendan Fraser (a great piece of casting, if nothing else; he's got a mug that was born to play opposite a cartoon rabbit), Jenna Elfman and Steve Martin as the head of the Acme Corporation (the company apparently has never recovered from Marvin Acme's death in Who Framed Roger Rabbit).
The Looney Tunes are indeed one of the most beloved groups of cinematic icons, but the days of Mel Blanc and Chuck Jones are long gone. Bringing in Joe Dante, one of the more talented genre filmmakers in the business, isn't a terrible start at trying to replace them, or at least revive their memories. One wonders if there's anyone around who could really do them justice (maybe give Matt Groening a shot at it) but these zany antics will have to do. Space Jam opened to $26 million in the summer of 1996, but without a big hook to bring people in, Looney Tunes is going to be left in the middle of the pack, and should open with about $18 million.
Tupac: Resurrection is not in fact a sequel to some forgotten horror franchise, but a documentary on the life of slain rapper Tupac Shakur (perhaps most famous for having released more posthumous records than ones when he was alive?). Shakur was killed in 1996 just as he was reaching mainstream success in both music and film; Gridlock'd in particular showed fantastic promise that he was in fact, a real actor. The documentary promises to look into the brief life and tragic circumstances of his death but you could be forgiven for wondering how in-depth and truthful the film can get with Shakur's mother as executive producer.
Tupac remains an enormously popular and mythologized figure in hip-hop and rap circles (and even has his own death conspiracies surrounding him, much like Elvis). The gangsta rap phase has passed on by the scene for the most part but Tupac (and Biggie Smalls, another slain rapper with whom he is inexorably linked) remaining with enduring legacies. Whether this audience will turn out for an extended "Behind the Music" episode remains to be seen. I think this will behave much in the same manner as your typical concert film, which is to say it will have a very limited audience. With a relatively wide release by these standards of 801 venues, it could make an impression on the weekend, but I would expect no more than $5 million.
The underwhelming performance of The Matrix Revolutions threatens to hijack the story for the weekend, and for good reason. When one of the most anticipated films at the start of the year grosses about half of what is expected from it (WB worldwide spin aside. This barely beat Scary Movie 3, so any claims that this is good news are spurious at best), it's worthy of discussion. The true judge of a previous film is its sequel and in this case, The Matrix Reloaded has been judged lacking. It appears clear now that Warners has fallen back to punt on this one, spending a minimal (by comparison) amount of time promoting this one, counting on die-hards to drive the business. Then, with the bombshell that they are potentially releasing a DVD box set of the trilogy by Christmas, a lot falls into place. You only have to look as far as the (estimated) $150 million plus in DVD sales of Finding Nemo in its first week to see what the new business model is developing into. No longer is the domestic box office the final arbiter of success and failure. As a finale to the trilogy, Revolutions is going to need a bit of help to even pass the $171 million total of the original in box office, but the real total is going to crop up $20 at a time at Best Buy.
You don't say no to box office success, on the other hand, something that New Line is no doubt happy to have with Elf, which could quickly grow into one of the biggest holiday hits. Family dollars are going to be stretched tight with The Cat in the Hat and The Haunted Mansion coming in successive weeks. That makes being first on the block important. Elf should be able to parlay its holiday cheer into about a 25% drop to $23 million or so and even has a chance at winning the weekend should Master and Commander falter.
Love Actually will continue to expand after a very successful debut on a small number of screens. Doubling to over 1,100 venues, it won't be able to sustain a $12,000 per venue average and in fact will do well to keep 50% of that. It's quickly gaining word-of-mouth as a heartwarming romantic comedy and is a unique element in theaters almost through to Christmas. Played right by Universal, this could clean up handily at the box office and could even charm its way to Oscar nominations, slight as it is.
Forecast: Weekend of

Rank

Film

Number of Sites

Change in Sites from Last

Estimated Gross ($)

1

Master and Commander: The Far Side of the World

3,101

New

27.5

2

Elf

3,381

+44

23.1

3

The Matrix Revolutions

3,502

0

20.1

4

Looney Tunes: Back in Action

2,903

New

17.6

5

Brother Bear

3,303

0

11.3

6

Love Actually

1,177

+601

7.0

7

Scary Movie 3

2.960

-328

5.7

8

Radio

2,416

-395

4.9

9

Tupac:Resurrection

801

New

4.7

10

Mystic River

1,550

-31

3.5