Weekend Forecast
for January 11-13, 2002
By Reagen Sulewski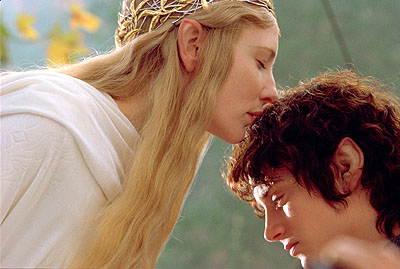 Oscar hunting continues in earnest this weekend, with several expansions for 2001 films looking to grab the attentions of Academy voters. In addition, one 2002 movie certainly not expecting any Oscars launches to fill the ever-valuable teen niche. Yet still, they all will likely fall to the box-office behemoth that Lord of the Rings continues to be.
Although a 40% drop over its last two weekends indicates that it's starting to show some weakness, Lord of the Rings has already racked up an extremely impressive $211 million as of Wednesday. $250 million is a virtual certainty, and should occur no later than three weekends from now. The probability of $300 million and a spot in the all-time top ten now rests largely on its ability to snag awards from the Hollywood Foreign Press and the Academy. The Best Film commendation from the AFI Awards, a ceremony in its infancy, does not seem poised to have any kind of effect; advertising for the film, which is still in a high rotation, has made no mention of the award that I have seen. However, since a Best Picture win can mean as much as $50 million added to the box-office totals, and even just a nomination can add double-digit millions, the possibility for extended business has by no means passed for the epic film. I predict a slightly slowed descent as it settles into a more normal pattern, for about $15 million on the weekend.
A Beautiful Mind's strong second-place performance last weekend made a decision to expand further very easy for Universal; this finish came while it played in fewer venues than eight of the other films in the top ten. It adds a little under 400 venues this weekend, but more importantly, is playing to an impressed audience (with an A- CinemaScore), which has always been the most effective form of advertising. Russell Crowe and Jennifer Connelly continue to be cited for their roles in the mental-illness drama, which bears a spiritual resemblance to films like Awakenings or Rain Man. This is the film with the best chance to unseat LOTR for the number-one spot this weekend, though I think it will fall slightly short for the time being. A drop of under 20% may be quite possible for Mind, which could prove itself to be this year's Good Will Hunting in terms of box-office earnings.
Orange County is the only new film to hit wide release this weekend; the latest project from MTV Studios, it's also the poster child for nepotism, with Tom Hanks' son Colin in the lead role. Not satisfied with that, they went and hired the daughter of an Oscar-winning actress and the son of an Academy Award-nominated screenwriter and producer, too. I don't expect the family ties to be a big factor in the film's success or lack thereof (if nepotism was the only requirement for Hollywood success, Frank Stallone would still have a career). It's also not as if teen-oriented movies have required all-star, big-name casts; just look at the success of American Pie, which had a cast comprised of mostly unknown actors. What they do require is for their performers to look funny, with the closest facsimile to that being Jack Black (what twisted genetic experiment produces these two as brothers, anyway?) in his first role since the surprising success of Shallow Hal. Black is not the kind of actor who makes you think "box-office draw" but rather "character actor with a cult following", somewhat like, to pick non-randomly, Steve Zahn. Despite his unlikely new status as a box-office darling, his role here probably won't launch the film to a super successful weekend but should add a few million to the overall box-office totals. A $9 million weekend should salvage reputations for one and all involved in this project and move them on to bigger opportunities.
The Royal Tennenbaums expands by 150 or so venues after a very successful $8.5 million on the lowest number of venues in the top 16 last weekend. Unfortunately, the quirky nature of the film may cause it difficulty in catching on with larger audiences, much like Wes Anderson's last film, Rushmore. A C- CinemaScore certain indicates a struggle, although the 21-to-34 demographic seems to be more receptive to it. This will be the make-or-break weekend, as a sharp drop would kill any further expansion plans. $6-7 million is there for the taking this weekend. Gosford Park, Robert Altman's upper-class murder mystery, has the highest increase in venues for expanding films. Jumping to at least national release, it faces direct competition for the top ten (and therefore, headlines) from other expanding films such as In The Bedroom and The Shipping News. All look to earn between $2 and 3 million, and it will be a dog-fight to determine who grabs the most attention. A Best Picture nomination is likely at stake for the winner of the three.
Forecast: Weekend of January 11-13, 2002

Projected
Rank

Film

Number of Sites

Change in Sites from Last

Estimated Gross ($)

1

Lord of the Rings: The Fellowship of the Ring

3,381

No change

15.2

2

A Beautiful Mind

2,220

+367

14.6

3

Orange County

2,317

New

9.4

4

Ocean's 11

2,670

-100

7.2

5

The Royal Tenenbaums

905

+154

6.6

6

Jimmy Neutron: Boy Genius

2,810

-341

5.2

7

Vanilla Sky

2,770

-72

5.0

8

Ali

2,521

+75

3.8

9

Kate and Leopold

2,467

No change

3.6

10

Harry Potter and the Sorcerer's Stone

2,170

-571

3.2

out of the top ten

Gosford Park

518

+387

2.8

out of the top ten

In the Bedroom

424

+217

2.5

out of the top ten

The Shipping News

266

+53

2.1