Weekend Forecast
for November 8-10, 2002
By Reagen Sulewski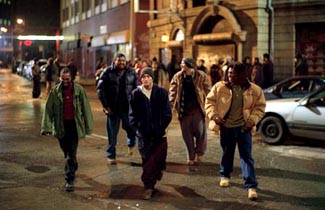 It's a weekend for non-traditional actors to take the lead roles in their movies; however, the star of one is expected to be a major factor in the Oscar® race while the other might have a better chance in the Razzies. One of the more highly anticipated dramas of the fall season makes its debut this weekend, and not without a little controversy, though for its notorious star rather than for the film itself. Eminem makes his acting debut in 8 Mile, a film that promises to be far and away the biggest story of this weekend. Whether it becomes the biggest box office earner of the weekend is a different question, since despite the fact that it has a tremendous number of positives working for it, lingering doubts about its potential remain. One other film opens in (semi-) wide release: Brian De Palma's Femme Fatale should make only a limited impact at the box office.
By far one of the more intriguing releases in some time (at least from a box office perspective), 8 Mile's success hangs, for the most part, on the degree to which the public can accept Eminem as an actor. As a controversial figure who has gone out of his way in the past to offend people, he may find it difficult to convince those same individuals that he has acting talent. Indeed, if it weren't for jackass: the movie, 8 Mile would be the film to inspire some of the most vitriolic commentary in a long time. Since most of this reaction really seems to be directed at the man and not the movie, let's look at what makes this different from the typical musician/movie cash-in.
In the last couple of years, when you think of singers-turned-actors and their films, you can come up with some notorious bombs along with some just plain awful films. Spice World. Crossroads. Glitter. Apparently feeling her niche was threatened, even Madonna has gotten back into the terrible movie racket with last month's Swept Away. The difference here is that those, by and large, were vanity projects. 8 Mile, while certainly tailored to fit Eminem's strengths, comes in with a real director, real script and real vision. The campaign for this film has gone further than any in recent memory to promote a producer and director, to the point of giving Curtis Hanson's and Brian Grazer's names almost equal billing with the actor. The intent of this tactic is to broadcast that this production isn't an attempt to make a quick buck from some record sales, but is rather a genuine film. On this point, the studio probably couldn't have done a better job.
When it does get down to the business of selling the actual entertainment of the movie, the marketing does a great job there, too; its TV spots are among the best of the year. It's also managed the trick of running several different spots without deviating in tone, like last week's I Spy did. A gritty urban drama, 8 Mile is this close to explicitly linking itself to one of the classics of this genre, Rocky, especially in the "one shot for greatness" aspect. While 8 Mile isn't truly autobiographical for Eminem, it seems to bear the seed of emotional truth far more than something that is closer to being a life story for its star; take, for instance, the previously mentioned Glitter. This is what comes from bringing on an Oscar-nominated director in Hanson, who guided LA Confidential and Wonder Boys into critically acclaimed movies.
Taking in the musical aspect, 8 Mile also shares this emotional truth with another film that comes up in comparison, Prince's Purple Rain. While that earlier film was much more of a musical, 8 Mile still has something to offer in that category in the hit single Lose Yourself. It's a terrific song, should get nominated for an Oscar and undoubtedly will sell some tickets. Hey, let's not kid ourselves; of course Eminem wouldn't be the star of this movie if he weren't a multi-platinum-selling rap artist (though his popularity almost pushes him into the pop category). It's not simply his record sales that make this a viable project, either; casual movie fans are interested, either from the story, the director or being pushed over the fence on the music. Love him or hate him, everyone knows who Eminem is. It's certainly not his film alone to carry, either, as rising star Brittany Murphy and Oscar® winner Kim Basinger (that still doesn't sound right) fill out supporting roles.
Perhaps the most surprising development is the burgeoning Oscar® campaign, not just for the film and director, but also for Eminem himself. It'll have to be seen to be believed but hey, if Sylvester Stallone can get an Oscar® nomination, so can the rapper. Universal is choosing to start this picture at a modest 2,471 theaters, which will limit its initial take somewhat. However, even starting from this point, it should take the number one spot for the weekend, earning approximately $33 million. A quick start will go a long way towards establishing it as a major Oscar® contender.
The second significant release this weekend is Brian De Palma's Femme Fatale, which is notable because it gives a lead role to Rebecca Romijn-Stamos. Surprisingly, the commercials seem to indicate that she has done a satisfactory job, but playing sexy and sultry for one of the sexiest women alive can't have been that difficult. As with all De Palma films, it's undoubtedly directed within an inch of its life. The opening set piece is hailed by many as a masterpiece, just like the one in Snake Eyes (and we all know how well that turned out). Also worthy of mention is the fact that De Palma has given all red-blooded heterosexual males and homosexual females a treat by having Romijn-Stamos participate in a lesbian scene that's practically shown in the commercials, they're so desperate to let people know about it.
Prurient interests aside, is there much else going for this film? Probably not, and the presence of Antonio "Will Ruin Movies for Food" Banderas as the co-lead doesn't help. The film already debuted on Wednesday, with its meager total of $346,000 putting it between Ghost Ship and Sweet Home Alabama. Since these early debuts tend to be a bit inflated, its relative position could fall further from that spot. Especially on a launch of just over 1,000 venues, Femme Fatale isn't likely to make a big splash, or even a medium one. A weekend total of about $3 million will have to suffice.
The Santa Clause 2 hopes to shore up a solid second weekend before the debut of the second Harry Potter film; with a satisfactory take of $29 million last weekend, it's put itself in good shape to at least be profitable and could develop into a top earner if it can hold through the holiday season. Some have even called it an improvement on the first film (which, if you ask me, isn't hard). Whether that translates into the kind of bucks that the original saw is another story; as a smaller fish in a Harry Potter-sized pond, it'll have to settle for being, at best, the number two choice for families after this weekend, whereas the original had the run of things in 1994. Let's hear no more talk about the first week of November being too early for a Christmas film, though. About $18 million is reasonable for this weekend's figure.
Just when you thought there was no longer any such thing as a leggy film, along come two films to blow out all expectations on that front. The Ring is the current champ, following up a weekend of $15 million with one of $18.5 million and then $18.1 million, quickly racking up a $65 million total figure. It adds screens for the third straight week, bringing its total to just shy of 3,000. Impressively, even with these expansions, the per-venue average has fallen just 15% since the first weekend. In general, these performances continue for a few weeks then suddenly, after some kind of trigger, fall off. Usually this drop does not happen while the movie is still gaining screens, and The Ring's spooky atmospherics and twist ending are obviously hitting a chord with audiences. With the gain in screens, The Ring should be able to clear about $17 million this weekend, pushing the film past the $85 million mark in just four weeks. The big-budget gamble for DreamWorks has paid off handsomely.
The small-budget gamble continues to pay off for IFC Films, as My Big Fat Greek Wedding continues its amazing ride in the now-ridiculous 30th weekend of its run. It's seen a very slow bleed of its earnings, to the point where it's lost its spot in the top five of the box office. It's hard to complain, though, as the march to $200 million has come within a few weeks of its goal. It loses just two screens this week as exhibitors rake in the benefits of their increased percentages; if it can keep those screens in the face of the next few weeks, it will receive an amazing dollar bonus as a terrific holiday choice. For this weekend, it should earn another $5 million, moving across the $190 million mark.
I Spy and jackass: the movie should begin their race from the top ten starting this weekend; both are evenly matched at $12.7 million takes last weekend. Surprisingly enough, jackass is the favorite to last longer, since its drop-off from its first weekend was a modest 44%. It's likely to start falling a little faster beginning this weekend, as the shelf-life for this kind of film is limited, even though it has its fans. I Spy simply wasn't good for anyone, with an inter-weekend bomb phenomenon developing, as its estimate was over by more than $1 million. Both ought to find themselves in the $6-7 million range for this frame.
Many of the rest of the weekend's stories involve expansions. Punch-Drunk Love kicks out a small number of prints to add onto its wide release last weekend, putting 41 more into circulation. It's just too strange a film to keep its viewers, though, as even the more than doubling of venues last weekend wasn't enough to move up in the rankings of the top ten. About $2.5 million should be expected here.
Last week's trio of upper tier limited releases, Frida, Bowling for Columbine and Comedian, all add screens again this weekend, with Frida jumping out into the forefront with 319. At an even $1 million, it did an excellent job of holding a per-venue average in an expansion. The trick, of course, is to keep that when it counts. It definitely could reach the top ten this weekend, and may make as much as $3.5 million. Bowling for Columbine came oh-so-close to the top ten last weekend, losing out by just $131,000. It goes into 222 theaters this frame, after holding very solid numbers in the theaters it did have before. A repeat of that trick would give it around $2 million for the Friday-to-Sunday period. Comedian is the weakest performer of the three, failing to break seven figures. It's doing worse at holding its theatre averages up and will probably drop its overall take to a little over $500,000.
Last, but certainly not least, is the prestige limited release film of this weekend, Far From Heaven. The latest from director Todd Haynes, it stars Julianne Moore, Dennis Quaid and Dennis Haysbert in an homage to the Douglas Sirk films of the 1950s. Very stylized, it may prove a difficult watch for some, who won't be used to its retro-Hollywood style of scandal film. Support from those who have seen it is deafening; it is the second major Oscar contender this weekend and in multiple categories. Debuting on six screens, look for Far From Heaven to earn around $250,000, with room for upward improvement.
This is a weekend that Oscar watchers have been waiting for; several films are on the block to prove themselves as contenders, either as their first chance at doing so or in their last chances to be perceived as winners. It will make for an interesting weekend as the films jostle among each other for both viewers and voters.
Forecast: Weekend of November 8-10, 2002

Rank

Film

Number of Sites

Change in Sites from Last

Estimated Gross ($)

1

8 Mile

2,471

New

33.3

2

The Santa Clause 2

3,352

+2

18.3

3

The Ring

2,927

+119

16.9

4

jackass: the movie

2,532

+2

6.6

5

I Spy

3,182

No Change

6.0

6

My Big Fat Greek Wedding

1,975

-2

5.0

7

Ghost Ship

2,361

-426

3.2

8

Frida

319

+272

3.1

9

Femme Fatale

1,006

New

3.0

10

Sweet Home Alabama

2,004

-437

2.8