Weekend Forecast for
November 7-9, 2003
By Reagen Sulewski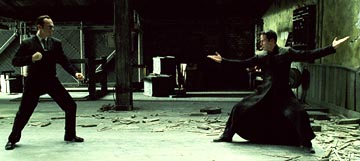 Here's how to start a holiday season right: kick it off with the third and final(?) film in one of the most important trilogies of the past dozen years. The Matrix Revolutions is film number one of the two guaranteed mega-blockbusters between now and Christmas; the question now is whether it can satisfy audiences clamoring for a conclusion.

A lot of the mystery of the film's potential performance has already been removed with a Wednesday debut of $24.3 million (and $18.8 million more in its global premiere), the third-highest Wednesday figure in history and debatably the biggest "pure" Wednesday total. This is a far cry from Reloaded's $42 million wind-aided Thursday debut. Taken directly against each other, this represents a 43% drop. Subtracting a few million for midnight screenings that didn't occur for Revolutions, we're left with a 30-35% drop from that record total. Any way you can spin it, it still represents a fall off from Reloaded.

In hindsight, this drop was basically inevitable considering how praised-to-the-sky the original The Matrix was. While I personally found Reloaded to be a satisfying extension of the series, many found it not up their standard of what they wanted a Matrix sequel to be. So while initial excitement took it to $91 million in its first weekend and $134 million in four days, it tapped out at "only" $281 million. That's still enough to hold every significant record for an R-rated film but obviously it had more potential. Passed by two films in the summer alone, it's now faced with the prospect of finishing somewhere from fourth to sixth in the final year's ranking, something you probably could have gotten excellent odds on in Vegas earlier this year.

Revolutions will not be so lucky, and doesn't even get the Thanksgiving weekend in time to make a big effect on its box office. This time around, the theme seems to be "lowered expectations" and those expecting a neat, all-encompassing ending won't entirely get their wish. The answers are (mostly) there if you look for them, but not in a clear or concise manner. As an action film, it's top notch. As the conclusion of an epic trilogy, not so much (it's as much a "conclusion" of a series as Terminator 3 was).

The Thursday total will go a long way to illuminating how Revolutions is going to perform. There are an inescapable number of people who will want to see how the series wraps up regardless of what they thought of Reloaded. If we see a large drop in the 33% to 50% number from Wednesday's figure, the weekend figure could be a bloodbath, if a bloodbath is defined in the $50 million range. More likely, we should be seeing something like a $20 million Friday and a $60-70 million weekend for around a $100-110 million five day total, respectable but not outstanding. It should certainly break the $200 million total mark but will struggle mightily to hit $250 million. This would give the unusual pattern where the second film of a trilogy is the highest-grossing. Usually, the second movie in a series is known as the "let-down."

In a classic case of counter-programming, the PG-rated Elf goes up against the R-rating of Matrix Revolutions (though judging by audiences, parents pay as much attention to the R-designation as the gas mileage on their SUV). Here's Will Ferrell doing one of the roles he does best, the idiot man-child. With scene-stealing bits in films like Jay and Silent Bob Strike Back and Old School, Ferrell's about to make the leap to Comedic Leading Man, or perhaps more appropriately, Carrey-esque Force of Nature. Featuring him as a human raised as an elf at the North Pole, Elf is pretty much a showcase for his brand of wacked-out "110%" comedy, albeit aimed at warping younger minds. It's the first in a very heavy run of family films this month, and being first out of the gate could help it a ton.

You'd better stock up on your insulin before venturing out to this one, though. Despite the potential edge-inducing presence of Jon Favreau as director and James Caan(!) in a supporting role, the "spirit of family and Christmas" and the PG rating rule over all, and you're likely to have an experience like The Santa Clause (number 1 or 2). That's a comparison that New Line would welcome given the incredible returns from both those films (even after Tim Allen was washed up), both making around $140 million (the first making significantly more adjusting for inflation). It's getting to almost be a tradition to release the Christmas films as early in November as possible and it certainly doesn't seem to hurt (look around your department stores, the Christmas decorations are up, aren't they?). Will Ferrell is going to be the first SNL cast member of the new wave to have a real career (unlike those that are being supported by Adam Sandler's cottage industry) as a leading man and a $28 million opening will start him well on that road.

An opening of that magnitude for Elf is going to cause a bit of trouble for Brother Bear. Disney missed its opportunity with the two-day opening they gave it last weekend; it wasn't able to take first place in such a short period and isn't even going to be the number one family film in its first three-day weekend. On the other hand, it's going to be able to crow about an impressive 0% (or so) drop off in weekend number two. As the second-to-last (Home on the Range arrives in five months) 2-D animated film from Disney to be released theatrically, it's helping to take the format out with a bang and should still end up in the $125-150 million range.

Scary Movie 3 owes a second weekend on the top to Disney's release strategy as, despite falling almost 60%, its $20 million take in weekend number two was still enough to win the box office race. It may even take a run at being the highest opening film to not reach the $100 million mark. With about $20 million to go and theaters starting to jettison it, this is a distinct possibility. Some of this drop was due to Halloween, but it certainly didn't bother The Texas Chainsaw Massacre, which held on to a surprising 70% of its business from week two to week three. It too will find it difficult to reach the $100 million mark, though with an opening weekend of $28 million comes by that trouble a little more honestly.

Love Actually, the latest Brit-com export from Working Title films (they of Notting Hill and Four Weddings and a Funeral) starts just below the radar at around 600 venues. An ensemble about romance, it follows about a dozen couples in London in romantic misadventures. Notable among the group is Hugh Grant as the new Prime Minister of the UK. It follows in the pedigree quite nicely, being equal turns improbable, saccharine and heart-warming. The small-to-medium sized release is a little curious since it snuck on nearly the same amount of theaters last weekend. Perhaps the Anglo-centric nature is a bit of a tough sell in Universal's eyes. Hoped by some to be a late-year Oscar contender (there's always at least one populist film), it's going to need a lot of help, starting this weekend, to get into that category. Look for around $5 million over its first official three days of release.

Big losers last weekend were other Oscar hopefuls In the Cut and The Human Stain, neither of which made the top ten nor earned a high enough per venue average to inspire much wider releases. In the Cut was stillborn, with just over $2,500 per venue; it's hard to believe pure voyeurism couldn't push it further than that. The Human Stain had, at first glance, a respectable $6400 per venue, but on 160 screens, that's kind of miserable. It's only getting 27 more screens this weekend and if it doesn't hold up significantly, we can wave bye-bye to another contender in this already murky Oscar race.
Forecast: Weekend of November 7-9, 2003

Rank

Film

Number of Sites

Change in Sites from Last

Estimated Gross ($)

1

The Matrix Revolutions

3,502

New

66.4

2

Elf

3,337

New

28.7

3

Brother Bear

3,030

0

18.5

4

Scary Movie 3

3,288

-217

8.9

5

Radio

2,811

-263

6.0

6

The Texas Chainsaw Massacre

2,378

-592

5.6

7

Love Actually

576

New

5.0

8

Mystic River

1,581

+30

3.9

9

Runaway Jury

2,133

-603

3.5

10

School of Rock

1,982

-804

2.8