Weekend Forecast
for January 4-6, 2002
By Reagen Sulewski
One "true" new release hits theaters on this first weekend of 2002, with one major expansion to keep it company. There's also a (relatively) major IMAX re-release, but the weekend will still belong to the Rings.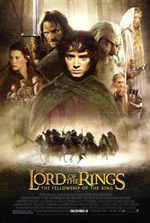 Successful to nearly everyone's expectations after earning $175 million in just 14 days, this weekend will go a long ways towards determining whether it will be merely a blockbuster or one of the most successful films of all time. A miniscule drop in box-office take on this weekend of 30% or less would seem to cement it a place in the top ten all-time box-office earners. Legs during the Christmas week are expected, but to really make millions, you need to carry that performance into January. Of course, the pattern that all films would want to follow is Titanic, which fell only 14% on the comparative weekend in 1998. I think it would be foolish at this point to draw a direct comparison, since there are certain aspects they have in common, including terrific audience reception (both with straight-A CinemaScore ratings), an "epic" scale and superficially, a three-hour running length.
The awards season starts early this year, as the newly created AFI awards are broadcast on Saturday. Similar in scale to the Golden Globes, it may take a couple of years for them to achieve the same level of recognition as the ceremony they hope to supplant, but any recognition could only boost the box office.
Also in the running for end-of-the-year awards is A Beautiful Mind, expanding to 1,855 theaters from 525 this weekend. It performed to an extremely impressive extent over the Christmas week, and has already racked up $18.5 million. The Ron Howard-helmed film should have little trouble translating its success in the larger markets to broad success across country. This is almost certainly not the final expansion for this film, especially if it is able to snatch up some AFI and Golden Globe awards. The marketing for this film has been heavily promoting this aspect, with, of course, Russell Crowe front and center. Last year's Best Actor looks likely to make it three nominations in a row. It's debatable whether he's more famous for his off-screen doings as opposed to his on-screen performances, ever since the reports from the set of Proof of Life of his affair with Meg Ryan. That film was either helped or hurt by that press (depending on which side of the fence you sit on), but only took in $10 million in its opening weekend. Mind looks like it will easily pass that, even on far fewer screens. Standard depreciation in screen average would give it a $12.5 million weekend; I think it will surpass this by a small amount and take in $14 million.
Definitely not in contention for any awards is the oft-delayed Imposter. A film with one of the more curious stories from concept to completion, this was originally set to be part of a trilogy of short films entitled Alien Love Trilogy, but was expanded to feature length when initial reports impressed executives. Obviously, this potential was not achieved, as after it was completed, it was delayed several times (including a last-minute delay from Christmas Day) and has now been over a year in the can. Its release on this weekend can only be considered a dump, as this weekend has become a traditional spot for black-sheep films that simply have to be released somehow (probably due to contracts). This treatment has been given to such notable films as Firestorm, Virus and Supernova, all of which couldn't close fast enough to prevent being mocked. With a perfunctory 1,870 venues, this should take in the area of $4-6 million dollars for this weekend.
The Royal Tenenbaums steps up to the next platform level in its release, to 751 venues from 291. Also performing extremely well in limited release, it already has over $10 million banked away. The success of this expansion will determine a great deal as to what kind of national release this may get, and how soon. I would not be surprised to see a take of about $6 million over this weekend. Other expansions include In The Bedroom (from 103 to 207), The Shipping News (186 to 213) and Gosford Park (9 to 131).
Among other returning films, the most notable story will be Harry Potter, as it comes closer to the $300 million mark. Although the month of January is not typically kind to family films, it has earned so much that reaching this mark is a foregone conclusion, which could happen as early as this Sunday. If not then, certainly by the end of next week, which will make Potter the first film to reach that mark since 1999's The Phantom Menace. Another milestone that should take place this weekend is for Ocean's 11, at $150 million.
Forecast: Weekend of January 4-6, 2002

Projected
Rank

Film

Number of Sites

Change in Sites from Last

Estimated Gross ($)

1

Lord of the Rings: The Fellowship of the Ring

3,381

+22

26.7

2

A Beautiful Mind

1,855

+1,330

14.2

3

Ocean's 11

2,770

-305

11.3

4

Ali

2,446

No change

8.5

5

Jimmy Neutron: Boy Genius

3,151

No change

8.2

6

Vanilla Sky

2,842

+98

6.6

7

The Royal Tenenbaums

751

+460

6.5

8

Harry Potter and the Sorcerer's Stone

2,681

-505

6.0

9

Kate and Leopold

2,467

+8

5.6

10

Impostor

1,870

New

5.0