Weekend Forecast
for October 26-28, 2001
By Reagen Sulewski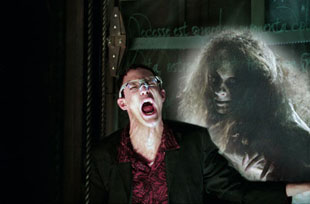 The pre-Halloween weekend brings two horror films...and then there's 13 Ghosts and Bones. Ahem. In the case of K-PAX, it's not the movie itself so much as the fact that I've been deadened against all feeling for this movie by the approximately 7,000 viewings of the trailer in theaters...and I haven't even seen that many movies lately. Owing a great spiritual debt to two of the stars' previous films, Starman and Pay it Forward, along with films like Patch Adams, K-PAX is relying on the somewhat dubious opening power of Kevin Spacey (highest non-animated opening film: A Time to Kill, $14.8 million) and Jeff Bridges (highest opening film: Arlington Road, $7.5 million), both of whom have firmly entrenched themselves in the box office middle-class for several pictures (despite both of them being very fine actors). What it does have as a positive is a decent, workable concept and heavy promotion, as noted earlier. Working against it are a goofy title (openly the recipient of mocking) and possibly a treacly, preachy feel which could turn viewers off, as in the case of Pay it Forward, but which has also been shown to work in the right circumstances, as in the case of Patch Adams. I think this movie could have worked better at a more family-oriented time, such as Thanksgiving weekend or nearer to Christmas, when it could become the compromise pick among families at theaters. As it is, Universal has given it plenty of support with 2,543 venues, which ought to be enough to give it $14 to $15 million this weekend.
From Warner Bros. via Dark Castle, the production company created by the relatives of '50s/'60s horror master William Castle's relatives to remake his films, comes 13 Ghosts. Two years ago at Halloween, a similarly low- or no-named cast propelled House on Haunted Hill to first place with just under $16 million. This time around, the makers seem to know what they've got, as the ads have been noticeably sleeker and more frequent. Some of the ads have even singled out Shannon Elizabeth as the main draw. October and Halloween weekend have not typically been a boon to horror films in and of themselves; the three highest opening horror films have opened in either February or December. Halloween night itself is a depressed day at the box office, with people heading to parties or ferrying rugrats out trick-or-treating instead of heading to the movies. Launching in almost the same number of venues as House on Haunted Hill - 2,781 - 13 Ghosts should be able to recreate the success of its company's predecessor and add a bit more to the tallies, grabbing the first place slot this weekend with about $17 million.
Competing directly against it, although only in select markets and at a barely-wide (though typical release level for black-themed film} of 847 venues, is Bones, Snoop Dogg's most prominent starring role, although it is his third film this year, after Baby Boy and a barely-credited appearance in Training Day, and with The Wash still to come. Resembling nothing so much as a black version of The Crow, it has had very positive awareness early on and could end up being the movie of choice this weekend in cities where people can actually get to it. A modest total of about $4-5 million would be a positive showing for both the venue count and the genre.
The fourth new wide film this weekend is On the Line, starring Lance Bass from N'Sync. Aside from the fact that the movie looks horrible, it doesn't even star one of the prominent members of the band, just two of the guys who stand in the background and shout. The 900-venue release is a giant flashing danger sign for this film, and makes me think immediately of Glitter, which vanished without a trace just over a month ago. There isn't quite the smell of desperate vanity around this film, but it seems to share a "make it and they will come" attitude that underestimates and frankly insults supposed core audiences; you have to make a quality product and sell it well or you may as well just go home. A dismal $2 million should send this film to a quick video release, where it really belonged in the first place.
From Hell's disappointing $11 million last week will have to compete with Riding in Cars with Boys' $10 million for the third and fourth spots. I suspect that Riding's cheerier tone will carry further than From Hell, which likely exhibited much more gotta-see-it behavior, with a small positive follow-up, and could face a sharp drop off, possibly even slipping below Training Day into fifth. Nothing from last week really showed heavy drop-off save Iron Monkey, but From Hell and The Last Castle should both be the heavy droppers this weekend.
Forecast: Weekend of October 26-28, 2001

Projected
Rank

Film

Number of Sites

Change in Sites from Last

Estimated Gross ($)

1

Thirteen Ghosts

2,781

New

17.3

2

K-Pax

2,543

New

14.5

3

Riding in Cars With Boys

2,770

No change

6.9

4

Training Day

2,328

-275

6.3

5

From Hell

2,335

+30

6.3

6

Bandits

3,015

-192

5.0

7

Bones

847

New

4.7

8

The Last Castle

2,270

+8

3.8

9

Serendipity

2,203

-407

3.3

10

Corky Romano

2,001

-93

3.0

out of top ten

On the Line

900

New

2.1

out of top ten

High Heels and Low Lifes

175

New

0.6

out of top ten

Donnie Darko

58

New

0.3