Weekend Forecast
for October 25-27, 2002
By Reagen Sulewski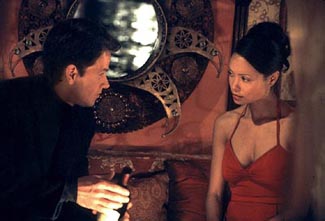 The pre-Hallowe'en weekend usually brings some scary releases and this year is no exception. I'm not just talking about Ghost Ship, the scary-for-its-own-sake entry this weekend. There's also the scary, "What were they thinking?" remake of Charade in The Truth About Charlie and the scary-for-humanity jackass: the movie. I can't think of anything scary about Paid in Full at the moment, but the potential furthering of the career of the director of the "Whassup" Budweiser commercials fills me with at least a tinge of unease.
Despite the lameness of its generic title, Ghost Ship probably has the best shot of unseating The Ring at the box office this weekend. The third in a series from Dark Castle Entertainment, these films are getting dangerously close to developing into a yearly tradition. The previous two, The House on Haunted Hill and Thir13en Ghosts, performed to a remarkably consistent degree: $15 million opening, $40 million total and decent life on video. There's every reason to think that they can make this a continuing venture, which is no doubt good news for horror fans. The formula appears to be, so far: mix spooky setting, B-list cast, add ghosties and stir. On hand as possible ghost fodder this time are Gabriel Byrne, Julianna Margulies and Ron Eldard (finally, a project he wasn't kicked off). As members of a salvage crew that stumbles across an abandoned ocean liner in the middle of the ocean, they discover that sometimes things are best left alone. Appearing to borrow liberally from The Shining (hey, at least they're lifting from stuff that works), Ghost Ship could offer the more traditional schlock scares (and I mean that as a compliment) that those looking for a Hallowe'en fix often want. I'm not sure the ad campaign is as crackerjack as the one for Thir13en Ghosts but this has a slightly better cast (including the re-teaming of Margulies and Eldard from ER), which could even things out somewhat. I'm calling for about a $15 million weekend here and a similar steep decline to about $40 million total.
What better time of year to release a movie about a bunch of stupid pranks than Hallowe'en? Probably a shoo-in to be cited in not only end-of-year worst lists but on downfall-of-society lists is jackass: the movie, which is probably the quintessential MTV Movie, or at least in regards to its current incarnation. It's difficult to speak intelligently about this film; I mean, it's not even really a movie, is it? Although the phenomenon was incredibly popular in its TV version, the history of getting people to pay for things that they can see for free on TV isn't an illustrious one. Take a look at Ringmaster, the 1999 "exposť" about the Jerry Springer show, or The Jerky Boys, which inexplicably earned itself a theatrical release in 1995, suckering $10 million out of the public. While the X-Files movie is the best example of something succeeding at this feat, that was a heavy mythology show at the height of its popularity, while jackass is a plotless collection of skits that's probably two years too late. That said, it looks far more entertaining than it has any right to be. The film isn't likely to win over any converts, but it's done a very good job of advertising itself to those who could be pushed over the fence (in fact, that's probably a featured stunt). Complicating the issue is the fact that Jackass-in-Chief Johnny Knoxville appears to be developing an actual acting career. He was probably the best thing about Men in Black II (which I suppose isn't saying much) and was quite funny playing a doofus (must've been a stretch) in Big Trouble. With a fairly large release, this could make an impact of about $7 million this weekend. Next time maybe stick with the "Too Hot for MTV" video.
Also probably doomed to be dismissed by some on principle is The Truth About Charlie, a remake of the 1963 Audrey Hepburn-Cary Grant film Charade. Though the casting of Thandie Newton in the Hepburn role is a slight bit of blasphemy, it's the casting of Mark Wahlberg in the Grant role that will leave some crying for the heads of everyone involved in the project. I'd advise everyone even slightly interested to just "close your eyes and think of England", because without the baggage of being a remake of a classic film, The Truth About Charlie actually looks pretty fun. Unless they've botched it completely, it should still retain a lot of the joys of the original. Indeed, Jonathan Demme is more than a capable director and surely isn't trying to get Wahlberg to play his role as Grant did. As a caper movie, it's probably going to remind people a lot of Out of Sight, with sexual tension interwoven into the plot. Too bad that Out of Sight did so poorly (and undeservedly so). Universal apparently has little confidence that there's any audience for this kind of film, burying it in just 752 venues. Although Wahlberg and Newton have both appeared in some of the biggest movies of the past few years (The Perfect Storm, Planet of the Apes, Mission: Impossible II), they're still not taken seriously as leads. Even on these limited screens, Charlie should be able to manage a debut of about $4 million. Something in the neighborhood of $7 million would probably be necessary to see this take a wider bow.
Definitely moving wider is last week's number one film, The Ring. After earning a healthy $7,500 per venue in 1,981 theaters, it's jumping up to about 2,700 venues, a "real" wide release. It's going to be extremely interesting to see how the film reacts to this expansion. As is wont to happen with horror films, the film has split many viewers, with some hailing it as a masterpiece and others picking it apart. I recall similar criticism laid against The Others last year, another minimalist horror/thriller film that took a similar path to The Ring in release, spending four weeks at number four on the way to $96 million. The Ring has just a few more detractors, which could stop it from being a terrifically leggy film, but the show- stopper of a finale has definitely won over a large group of its viewers. Weekday figures have been outstanding and are outpacing the expectations here, with the movie earning nearly two-and-a-half times its nearest competitors. It should be able to hold its own with this significant increase in exhibitors, earning about $12 million this weekend.
The other significant expansion this weekend is Punch-Drunk Love, which goes from under 78 to just under 500 venues. The true commerciality of the film is going to tested this weekend; it will be decided if it's mostly a PT Anderson film or an Adam Sandler one. I'm leaning towards the Anderson angle, myself. It seems likely that Punch-Drunk Love is just not going to appeal to the vast majority of Sandler's fans, who made Mr. Deeds such a success. Little Nicky (though it bears few similarities to Punch-Drunk Love) proves that there's only a limited number of Sandler fans that will see everything he's in. Punch-Drunk Love fell 75% in screen average in the jump from five to 78 venues but I don't think we'll see a repeat of that drop this weekend, as much of that would be due to the typically large seating capacity of the initial theaters for limited releases. After finishing short of the top ten last weekend, it should crack it this one, earning about $5 million.
In middle-to-limited release, there's another large selection of films again this week, with 11 in all. Paid in Full, The Time Changer and Wakin' Up in Reno are the three in middle release. As Below and the retreating-with-its-tail-between-its legs Swept Away have recently shown, this level of initial release is almost as good as a slap in the face; don't expect any more than half-a-million for any of them. Salma Hayek will try to make her bid for an Oscar starting this week with the launch of Frida, about Mexican painter and Communist figure Frida Kahlo. Like another recent film about a painter, Pollock, this will struggle to receive a lot of commercial attention but could lead to big things personally for Hayek.
The biggest remaining battle among returning films is Sweet Home Alabama vs. My Big Fat Greek Wedding. This pair of rom-coms will be doing battle for fourth and fifth spot (or third and fourth, should Jackass flop entirely). Greek Wedding showed its largest percentage drop to date since hitting wide release, even though it still gained a spot. However, its see-saw pattern has seen a drop followed by a slight rebound, and the 15% drop of last weekend will probably not be repeated this time, as tiny as it was. Sweet Home Alabama has put together two straight weekends of about a 33% drop on its way to the $100 million mark (passed this Wednesday). Both of these films will end up at around $6 million for the weekend, with the overall race being almost too close to call. As the film with the most momentum, I give the slight edge to Greek Wedding by a couple hundred-thousand dollars.
This is the last weekend for many films to jockey for position as we move into the start of the holiday movie season next week; strong performances this week could make the difference between keeping your screens or giving up 500 of them to the newest blockbuster waiting in the wings.
Forecast: Weekend of October 25-27th, 2002

Rank

Film

Number of Sites

Change in Sites from Last

Estimated Gross ($)

1

Ghost Ship

2,787

New

15.5

2

The Ring

2,634

+653

12.3

3

Jackass: The Movie

2,509

New

7.4

4

My Big Fat Greek Wedding

1,967

-47

6.3

5

Sweet Home Alabama

3,182

-100

6.0

6

Punch-Drunk Love

481

+403

4.9

7

Red Dragon

2,875

-432

4.2

8

The Truth About Charlie

752

New

4.2

9

Brown Sugar

1,149

-229

2.8

10

Jonah: A VeggieTales Movie

1,625

+44

2.6