Weekend Forecast for October 24-26, 2003
By Reagen Sulewski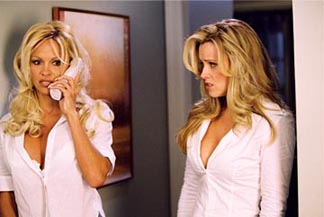 A very mixed bag greets moviegoers this weekend with a horror spoof, a family drama and an Oscar-bait romance making up the new offerings. This lineup, though, looks almost like a summer or holiday season weekend. The past few years have seen a steadily shrinking "off-season" for box office, and at least one of these films shows blockbuster potential.
That film is the unusually buzz-laden Scary Movie 3. Scary Movie revitalized the spoof genre (a second time) in the summer of 2000 opening to a ridiculous $42 million. The second go round, which was quickly produced and released the next year, suffered from backlash and an exhaustion of fresh material to mock, opening and finishing with half the amount of the first film. Exit the Wayans Brothers and enter David Zucker, one of the men who invented the genre.
With a new creative team and two years of new films to thrash, Scary Movie 3 has a freshness that elevates it above the middle film of this string. Sticking mostly to horror parodies, this series has also branched out into being a mock of pop culture, with The Matrix, Lord of the Rings and 8 Mile featuring prominently in this installment. And then there's the savage beating that Michael Jackson takes (remember when he was an untouchable entertainment figure?).
Charlie Sheen, no stranger to this kind of parody, takes the lead role, with Anna Faris being the consistent element through this trilogy (so far -- a fourth film is planned for next year already). Eddie Griffin, Anthony Anderson and Leslie Nielsen (as much a passing of the torch as Arnold to The Rock) round out the cast. These films are basically unreviewable; the gags either work or they don't and it's all to do with the sharpness of the jokes. So while a third film in this series does have to deal with a bit of a "why is this sequel happening?" vibe, the hilarious commercials and trailers answer that question. Launching at over 3,500 venues, the most of any film since July, Dimension and Miramax clearly have high expectations. They should be at least partially met, with a rebound to around a $33 million opening weekend.
If Radio seems like a Hallmark Movie of the Week writ large there's a very good reason; its director and producer Michael Tollin has done the vast majority of his work on the small screen -- most notably Smallville, but also a variety of smaller failed shows (though including Smallville, he has four shows on TV right now). He's also carved out a niche in sports, having a hand in Varsity Blues, Summer Catch and Hardball. There's some continuity for him, then, in bringing Radio to the screen. It's a movie about a mentally-challenged man (played by Cuba Gooding, Jr. in full Oscar beg mode) and his role helping out a high school football coach (Ed Harris) in South Carolina in the '70s.
It's hard to fault this film's heart but it has all the emotional depth and subtlety of a sad clown painted on velvet. It's manipulative, and not particularly frightened of admitting that fact. The line from the trailer -- "We weren't teachin' Radio..." -- is about as clear a dividing line as I can make for it; if that's a line that inspires you, then nothing I say can dissuade from seeing it. If such dialogue inspires a retch from shmaltz overload, then welcome to the club. A spiritual cousin to Patch Adams and other films of that ilk, Radio is likely to become a modest sized hit (subtle entertainment is not in demand). I expect this one to start off with about $15 million after sneaks last weekend and keep decent legs through November.
Beyond Borders has its work cut out for it in attracting audiences this weekend. Bringing up the rump in screen counts for new films at just under 1,800, it's a romance involving political intrigue and international locations. On first glance it resembles nothing so much as The English Patient, which may or may not be good news to you (that film has taken an unfair hit to its reputation, in my opinion).
Angelina Jolie stars as the female lead and her record in non-Tomb Raider films is spotty at best with just The Bone Collector and Gone in 60 Seconds showing results in the positive column (and of course her Supporting Actress Oscar win for Girl, Interrupted). Clive Owen, the male lead, is a rising star but not at that point yet, and doesn't really scream romantic lead (James Bond grooming notwithstanding).
A tour through the war-torn Africa of the 1980s (though depressingly, it could have been today), Borders has Jolie searching for the idealistic Owen after he goes missing under suspicious circumstances on a relief mission. It's a noble story but sadly is not that interesting to the public at large. Beyond Borders looks likely to take in about $5 million for the weekend, making it difficult for the clearly desired Oscar hopes of this film to materialize.
The Texas Chainsaw Massacre will cede the number one spot to Scary Movie 3 and will cede it hard, even with the pre-Halloween run-up on horror. After a $28 million opening weekend, though, everything else is gravy for this inexpensive film. Week two should bring approximately $12 million.
Kill Bill did an admirable job in not dropping off the face of the Earth like other genre films have, though a 45% decline isn't anything to throw a parade over, either. Volume 1 of this two-parter should top out at about the $75 million mark so it's a big win for the two-movie experiment.
Runaway Jury surprisingly failed to capitalize on the high-powered cast and familiar subject matter; I guess John Grisham is too 1994 for people now and terrifying lawyers seem a quaint idea. Still the $11 million it took in last weekend is better than The Juror or The Chamber. It may prove difficult to make many more of Grisham's books into films after this test.
The spotlight of limited release shines on three films this weekend -- Elephant, Gus van Sant's teen violence missive, In the Cut, Jane Campion's latest (and notable for Meg Ryan nudity) and The Singing Detective, Robert Downey, Jr.'s first starring role in a while. Of these, In the Cut is the one most likely to make an impact at the box office long run; the misplaced buzz surrounding the nude scenes certainly have given this generic-looking thriller a high enough profile.
Forecast: Weekend of October 24th-26th, 2003

Rank

Film

Number of Sites

Change in Sites from Last

Estimated Gross ($)

1

Scary Movie 3

3,503

New

33.6

2

Radio

3,074

New

15.3

3

The Texas Chainsaw Massacre

3,018

+2

12.4

4

The School of Rock

2.951

0

7.7

5

Kill Bill Vol. 1

2,633

-469

7.2

6

Mystic River

1,493

+26

7.1

7

Runaway Jury

2,815

0

6.7

8

Beyond Borders

1,798

New

5.6

9

Good Boy!

2,762

-463

4.6

10

Intolerable Cruelty

2,290

-280

4.0