Weekend Forecast
for October 18-20, 2002
By Reagen Sulewski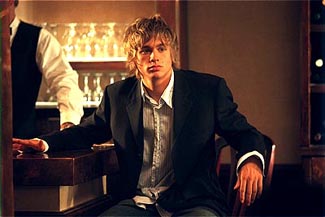 In contrast to last week's spate of releases, this weekend offers just a relatively spartan three major releases. While it gives marquee operators a bit of a breather, the films themselves are still in stiff competition for attention, with some of last week's six wide releases likely to fall off the map. The three new releases all have a decided edge to them, consisting of a remake of a classic Japanese horror film, a teen/college thriller and the latest Brit gangster film. Although none of these has a super-high profile, with Red Dragon slipping rapidly, one of them has a good chance at unseating it for the top spot at the box office.
That film is The Ring, starring Naomi Watts of last year's Mulholland Drive. Something of a rarity in the horror world, The Ring carries a PG-13 rating, which means it focuses less on gore and more on disturbing imagery. It also boasts one of the creepier ad campaigns in recent memory: "Before you die, you see the ring." It just has a quality that gets under the skin. Superficially similar to The Cell and the recent fear dot com, this has the potential to be much, much more than either of these. The Japanese original, Ringu, was a phenomenon in Japan comparable to (and maybe surpassing) the Scream series, shattering box office records and inspired a trilogy of films. DreamWorks is betting a $60 million budget that it does the same here. The director tapped for this film, Gore Verbinski, is something of an unusual choice; his previous films, The Mexican and Mouse Hunt, wouldn't seem to lend themselves to a psychological thriller such as this. What's been shown so far looks like he's captured it perfectly, though. Something that they've done brilliantly is to present the basic premise as a kind of urban legend; "Didja hear about the tape that kills you if you watch it?". It's a similar strategy to 1992's Candyman, which made $35 million in adjusted dollars.
For a film with a budget as large as it has, it's curious that DreamWorks is choosing to launch it only in 1,981 venues; however, horror films are a genre that has been able to survive OK with lesser screen numbers. Last year, The Others was able to earn an impressive $14 million in just 1,678 venues. Naomi Watts isn't in Nicole Kidman's class as a box office draw yet, but she's certainly in the same class as an actress. Where her role in Mulholland Drive endeared her to David Lynch fans, this role may endear her to a wider swath of moviegoers. It's certainly setting its standards high, with ads proclaiming it the scariest film since The Exorcist. It's undoubtedly the buzz film of the week, and even on its limited number of screens, it has an excellent chance to take the first spot with about $12-13 million. Don't forget that just last month, Barbershop spent two weeks at the top of the box office with 1,600-1,800 venues.
Formula 51 owes a certain amount of its existence to the recent renaissance of British gangster films, epitomized by Guy Ritchie's last few films (OK, not Swept Away) by way of Quentin Tarantino. I doubt it's directly influenced artistically but after the premiere of Snatch, this kind of vibe in crime comedies proved to be in vogue. Another ingredient in this genre blender is a Hong Kong influence by way of Ronnie Yu, who's among the group of HK directors that seem to make endless numbers of strange, surreal films (like his own Bride of Chucky or any Tsui Hark film). Stylistic touches that look like his handiwork are the presence of Meat Loaf as a scarred villain named The Lizard and the fact that Samuel L. Jackson's character wears a kilt through the whole movie. Jackson's recent career has been filled with some excellent mid-level successes; as the headliner on films like Shaft, Rules of Engagement and either second fiddle or co-headliner in films like Unbreakable, Changing Lanes and xXx. However, in contrast to some of the established genres those films represent, while Snatch did create a new vogue for crime films, it really wasn't that successful, earning $30 million total, mostly on the back of a Brad Pitt supporting performance. Rave culture also plays an important role in this film, but the last mainstream film to try and use this to its advantage, Go, found it hard to capitalize on, raking in $17 million in 1999.
Released late last year in the UK as The 51st State, it was met with a collective shrug, earning £3.7 million and a critical scorn. Accused of, among other things, mindless violence and incoherence, critics teed off on it with glee. Although it's sure to find a small core of viewers that hail it as a masterpiece, it's hard for me to imagine a fundamentally different reaction on this side of the pond. Sony doesn't seem to be banking on a huge success here; it's been farmed to its Screen Gems wing and is getting a medium-sized release of about 1,800 venues. Based on the strength of Jackson's presence, this should be able to manage an $8 million opening weekend but should also suffer a brief run in theaters.
The week after her Dawson's Creek co-star James van Der Beek bombed with The Rules of Attraction, Katie Holmes gets a bomb of her own with Abandon. In a story line that looks like it was originally designed for Ashley Judd but then aged down ten years, Holmes' character deals with the reappearance after two years of her old boyfriend, who everyone else thinks is dead. Before you can say "restraining order", Holmes is dealing with her menacing white male and a prying detective and will she ever be able to truly find herself? Written and directed by Stephen Gaghan of Traffic fame, it also stars Benjamin "Julia's Ex" Bratt and Charlie "Don't Tell Anyone I'm Not Heath Ledger" Hunnam, which pegs it firmly as a B-level thriller. For some reason, Holmes has been one of the least-successful actresses at transitioning from TV to film. Her best result as a lead is Disturbing Behavior, with a $7 million opening and $17.5 million total. The most successful film with her in a supporting role doesn't exceed that by much, as Wonder Boys started with $6 million and finished with $19 million. Despite getting the biggest rollout of the three new films this week, it's destined to be the lowest grossing, starting off with perhaps $4 million.
Red Dragon took a bit of a tumble last weekend, falling over 50% to $17.6 million but still retaining the top spot. It'll need a terrific holdover this weekend to maintain that position, as it faces challenges not only from new releases but the film it passed for the number one spot, Sweet Home Alabama. Alabama would pass Red Dragon these weekend if both their previous declines hold up. However, I think there's going to be a bit of softening towards the middle for both of them. A 45% drop for Lecter and Co. and a 35% drop for Reese and Co. would leave them in a virtual dead heat at just above $9 million each. Tie goes to the runner, so with Alabama's better momentum, it should be the one to finish in second place this weekend. It'll be awfully close to reaching the coveted $100 million mark on Sunday. Red Dragon should eventually reach that mark as well but will probably not earn significantly above that mark. This bodes ill for future entries in the Hannibal Lecter series, although it's always been popular in the foreign territories. No crying for Universal over this one, even with its reported $78 million budget.
Among the six returning wide films, the one with the best chance for sustained success is - no surprise - the one that earned the most of them. Brown Sugar was the latest in the series of recent urban films that has done very well, outperforming films with bigger stars and budgets and more locations. With an even A across the board at CinemaScore, it obviously appeals across age groups and sexes. One of the better examples of a film like this keeping its audience is The Best Man, which strung together two weekends of just over 30% drops in October of 1999. Brown Sugar should approach that kind of performance and should end up with about $7 million this weekend.
Tuck Everlasting is getting the biggest second push of the films with lower screen numbers, moving from around 1,200 to 1,450. Despite this expansion, it's unlikely to respond significantly to the extra effort. For a PG-rated film that targets a young audience, its weekend behavior did not show the benefits of that kind of audience. Only a 20% increase was seen on its Saturday earnings and Sunday had a significantly lower figure than Friday. It may have missed its market entirely. This increase in locations should stem the tide a bit but only to the point of about a $4 million weekend. Jonah: A VeggieTales Movie also expands to a nearly identical ratio but had a very difficult second weekend, dropping 40% even after a 25% increase in locations. This increase is larger but will not keep Jonah floating, as it slips to under $3 million this weekend.
Almost six months into its release, My Big Fat Greek Wedding continues to defy traditional patterns; after dropping from its heights of $10-11 million per weekend, it's found a new plateau at about $8 million, even enjoying a slight increase of about 2% last frame. Even its own studio can't get a handle on its performance, as it underestimated by about $500,000 on Sunday. Well into the prime time for most theaters, where ticket receipts shift from the studios to theater owners, it's difficult to imagine them letting this go until it's completely exhausted itself (though it loses two venues this weekend, its first drop in locations). This could be a while, judging by its miniscule drop-offs. Theater owners and IFC Studios are both no doubt hoping that this run lasts until at least Thanksgiving weekend; a run into that period or the golden earning period of the Christmas holidays could lead to a total that executives could only dare whisper about. In this weak slate of films, it should have no problems maintaining and even improving by one or two slots with $8 million more.
Punch-Drunk Love showed other limited release films how it's done last weekend, earning over $350,000 in 5 locations. It moves to 87 this weekend and could threaten the top ten. Is it Adam Sandler fans or PT Anderson fans that are seeing this? A wide release will probably tell the full tale but it's already outpacing Anderson's previous films by a huge margin; on a similar scale of release, Magnolia and Boogie Nights only earned about $25,000 per location. If it's Adam Sandler fans packing these seats, this location average should stay steadier than otherwise might happen. Time will tell if this offbeat comedy will satisfy fans of Sandler's typical comedies, but it should earn at least $2 million this weekend. Bowling for Columbine also makes a significant leap from limited release, after earning a healthy $209,000 in eight locations. Michael Moore's latest documentary/visual essay, it's been drawing some of the most reverential comments for a documentary since Hoop Dreams. He's done this by taking on his most important subject yet, America's gun culture. Something about this film that's different from his other efforts that has even his detractors impressed is that he doesn't offer a pat answer and maybe raises more questions than he starts with over the course of the movie. More topical than ever, it could challenge the box office of Moore's most successful film, Roger & Me, which earn a massive-for-documentaries $6 million in 1989.
Forecast: Weekend of October 18-20, 2002

Rank

Film

Number of Sites

Change in Sites from Last

Estimated Gross ($)

1

The Ring

1,981

New

12.9

2

Sweet Home Alabama

3,282

-30

9.6

3

Red Dragon

3,305

-58

9.5

4

Formula 51

1,857

New

8.4

5

My Big Fat Greek Wedding

2,014

-2

8.0

6

Brown Sugar

1,378

+6

6.9

7

The Transporter

2,610

+37

5.5

8

The Tuxedo

2,424

-561

3.9

9

Tuck Everlasting

1,448

-263

3.9

10

White Oleander

1,510

No Change

3.7