Weekend Forecast for October 17-19, 2003
By Reagen Sulewski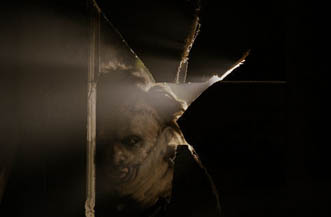 October is kicking the box office into high gear well in advance of the holiday season, no doubt in part because studios are afraid of Matrix Revolutions. This phenomenon makes for an unusually high-powered fall weekend with two certifiable blockbusters and the strongest Oscar contender this year to date.
Blasphemous as it may be by its existence, the remake of The Texas Chainsaw Massacre is poised to become a tremendous hit. The first in a planned series of classic horror remakes by Michael Bay's production company, TCM is more ridiculous than perhaps even the Psycho remake (which was more like a lab experiment than a movie). This latest attempt at "re-imagining" is simply an attempt to "modernize" a classic for no other reason than crass commercialism.
Not that crass commercialism isn't the raison d'etre of Hollywood, but I'm sure there's plenty of original or at least seemingly original projects out there to produce. What New Line has done well of is to sell the hell out of this film. A stern announcer relates the true-to-life claims of this film as terrified teens scream in the background. Truly the major way this film differs from the recent spate of teen horror (i.e. Jeepers Creepers, Wrong Turn) is with the cachet inherent in the previously established name of the 1974 Tobe Hooper original.
Video director Marcus Nispel takes the helm under Bay's production. Jessica Biel would be the biggest name in the cast with male lead Eric Balfour (familiar to Six Feet Under fans) coming in second (though in a cute touch, John Larroquette recreates his first acting role as the narrator of the film). The trailer is probably one of the fall's best, with a slow building sense of dread and the shock cut of a chainsaw through a door. This next generation of slasher film should be one of the fall's biggest hits, but time will tell if TCM can have any of the staying power of the original. Releasing on 3,016 theaters, this next generation of Texas Chainsaw Massacre will make an immediate impact this weekend with an opening figure of $27.5 million.
After several disappointing adaptations of his work, the John Grisham book that even non-John Grisham fans liked makes its way to the screen. Runaway Jury, with its all-star cast and topicality has the market pegged for potboiler drama for fall. Told on all three sides of an important case about gun manufacturers (prosecution, defense, and jury) Jury deals with an attempt to buy a jury's result... except someone on the inside wants to bargain.
With Gene Hackman, Dustin Hoffman, John Cusack, and Rachel Weisz, it makes a strong case for best cast of the fall. In typical fashion for Grisham films, the plot is preposterous and the acting is turned up to 11, but man, is it fun when done right. Hackman and Hoffman (appearing in their first film together, but it's not like they're Pacino and DeNiro) are some of the best at selling this kind of melodrama, speechifying and standing above the movie. John Cusack is a bit of a strange choice for this film, as he has generally stayed away from more mainstream films and his typically brooding persona would not seem to fit into the legal-drama genre. However, he's recently branched out into more mainstream films like this year's Identity, a ridiculously gimmicky piece of work.
The film's dynamite trailer, which while in the recent style of revealing almost all the plot, manages to do so in an interesting way, twisting and turning into knots. It's been a long time a good legal thriller has been a hit and even that one, Erin Brockovich, took place almost entirely outside a courtroom. This has all the elements in place to be a major hit for Fox, starting this weekend at around $22 million.
Mystic River comes in with reams of critical praise a mile long. Based on a best-selling book, this film tells the story of three Boston friends linked by tragedy in their past and in their present. The subject matter is not the cheeriest, to be sure. Staring Sean Penn, Tim Robbins and Kevin Bacon and directed by Clint Eastwood (to be a fly on the wall for the political discussions on that set), this looks to have multiple Oscar potential and has nearly since it was announced.
Opening in a few markets last weekend and grossing an amazing $49,000 per screen in 13 theaters, it has earned its advance buzz. Naturally, these kinds of numbers can't be kept up in its wider release of nearly 1,500 theaters but that's an outstanding figure that few limited releases hope to match. Considering the combination of cast (none of the primary three have had much in the way of a hit for some time) and subject matter (not crowd pleasing stuff), we should see a wide release figure of approximately $12 million, which could further cement itself in the Oscar race.
In semi-limited release, Veronica Guerin promises another bit of downer cinema. Cate Blanchett stars as the titular character, an Irish reporter who runs afoul of drug mobs in Dublin for exposing their activities. Based on real life, this story also has no happy ending. Cate Blanchett is a terrific actress who always brings tremendous ability to any part, and I expect her name to be in the mix at the end of the year for Best Actress consideration. It's directed by the unlikely choice of Joel Schumacher (who I'm fine with as long as he doesn't try to dress anyone up in rubber suits), which would probably explain why the film is getting as big of a release as it is. Blanchett is not a big box office name and the Irish setting will scare off viewers on this side of the pond. Still, on about 400 screens, it ought to manage a decent $4 million.
Moving right along to far more crowd-pleasing cinema, Kill Bill hopes to be more than a one weekend wonder. It could end up as one of the more polarizing films of the year, with its extreme violence and quirky in-joke humor grabbing people by the throat and not letting go. The film's future success depends on whether it is a more mainstream audience's cup of tea. A 40% drop is probably a win in this case, given the outside expectations of this genre; compare (again) to Once Upon a Time in Mexico, which fell over 50%. Kill Bill Volume 1 is a better example of the genre, though, and should be able to keep more audience.
The School of Rock stuck it to The Man by dropping just over 20% in its second weekend, proving that its power of Rock could vanquish all enemies. Jack Black has definitely staked his claim to the comedy actor's mantle by not only opening a film, but also opening one with staying power. While final totals are always a guessing game after just two weekends, current trending would make it seem like over $100 million is an easy reach for this age-group branching comedy.
Good Boy! likely gets to play dead after this weekend; that said, a $13 million opening weekend is more than enough for what this film needed to become profitable.
The Coens saw Intolerable Cruelty become their fastest starting film ever (at $12 million and change, not that big a claim); the question now becomes if it can, like their previous collaboration with George Clooney, O Brother, Where Art Thou?, carry on week after week and therefore become their most successful of all-time. The romantic comedy angle and generally positive reception leads me to believe that it can. I predict around $9 million for Cruelty's second frame.
Forecast: Weekend of October 17-19, 2003

Rank

Film

Number of Sites

Change in Sites from Last

Estimated Gross ($)

1

The Texas Chainsaw Massacre

3,016

New

27.5

2

Runaway Jury

2,815

New

22.1

3

Kill Bill Volume 1

3,102

0

13.2

4

Mystic River

1,467

+1,454

12.6

5

The School of Rock

2,951

+22

12.2

6

Intolerable Cruelty

2,570

+6

9.0

7

Good Boy!

3,225

0

8.8

8

Out of Time

2,344

-732

4.6

9

Veronica Guerin

472

new

4.1

10

Under the Tuscan Sun

1,663

-38

3.3