Weekend Forecast
for October 11-13, 2002
By Reagen Sulewski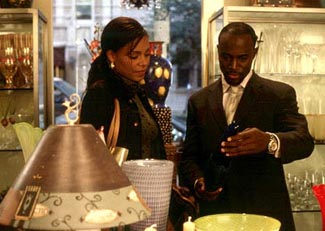 Call it the Weekend of the Damned; it's one of the largest and strangest bunches of films released in a single weekend that I can recall. Among the (at minimum) 14 (!) new wide and limited movies hitting screens this weekend are: A film that has been collecting dust for over a year, one that was moved off its original release date just one week before the date, a career-threatening potential disaster that was nearly deemed unreleasable and a controversial sex comedy that had to fight not to get slapped with an NC-17 rating. If that's not enough to get your head around, one of this week's films is developing Oscar buzz for none other than Adam Sandler. Whoever hit the On button on the Crazy Machine can switch it off any time now.
Six of these new films are set to grab over 1,000 locations, which is the most since August of 1999, when the last week of that month gave us The 13th Warrior, The Astronaut's Wife, A Dog of Flanders, Dudley Do-Right, In Too Deep and The Muse. Only one of those films was able to surpass a $5 million opening. In fact, one was unable to break $1 million. It is very possible that one or more of these films will simply fail to show up this weekend.
The only one of the six to get more than 2,000 locations is The Transporter. Are you ready for Jason Statham, action star? Apparently, Fox thought we needed another month to mull it over, so they yanked it just a week before it was about to be released in mid-September. Why they then decided to move it to the busiest weekend of the year is anyone's guess. Statham is probably best known from Snatch, Guy Ritchie's sequel-slash-remake of Lock, Stock and Two Smoking Barrels. Although he doesn't have quite the kung-fu credibility of a, say, Jet Li, he's got an imposing enough presence and a soccer-hooligan toughness to him to credibly play a tough guy. What matters most here is that the action in the ads look impressive, which it does. Here's an angle where the delay seems to have helped the film, as the new round of ads developed are definitely better than the first. The Transporter is from a script by Luc Besson of Fifth Element and La Femme Nikita fame, meaning that there's sure to be some over-the-top action. This is both a positive and negative, since it will attract a certain degree of hard-core action fans looking for the next bizarre and superhuman stunt, but will turn off the fans of more realistic action. While Statham is certainly no Jet Li, I think that this film's potential is similar to Li's collaboration with Luc Besson, 2001's R-rated Kiss of the Dragon, which earned $13.3 million around the July 4th weekend. Statham's rising star combined with the friendlier PG-13 rating should let it approach this figure, with between $12 and $13 million for the weekend.
New Line finally blows the dust off the film canisters for Knockaround Guys, which wrapped all the way back in mid-2000. While the studio sat around wondering what they should do with it, one of its stars became the hottest leading man on the planet, so hey, what do you know, they've got this here film with him all ready to go! "Er, we were just waiting for the proper positioning of the product..." Yeah, right. Vin Diesel is perhaps the sole reason this is seeing a wide release instead of a trip straight to video. He's not the only thing the film has going for it, though, as the cast is actually an interesting mix of intriguing young actors and legendary tough guys. In the mix are Barry Pepper (the ostensible lead, before having that whole Battlefield: Earth career-derailing thing happen to him), Seth Green, John Malkovich and Dennis Hopper, which is a nice balance between edgy and commercial for a crime thriller cast. Call it The Way of the Gun with more money for actors. Pepper plays the son of Mob boss Malkovich (and nephew of Hopper) who gets into trouble on a job in the Mid-West. Diesel would be the muscle sent to protect him and, well, high-jinks and bullets ensue. It doesn't look to offer anything particularly original and given its checkered history, it's unlikely to pull a rabbit out of its hat with a big opening. New Line for the most part agrees, giving it under 2,000 venues. It should be able to ride Diesel's fame to about the tune of $6 million, though, this weekend.
Stealing its thunder for edginess is The Rules of Attraction, based on the novel by Bret Easton Ellis (of American Psycho fame) and directed by Roger Avary (of Pulp Fiction co-writer fame). All about a group of hedonistic college students, it's like Cruel Intentions cranked up to 11. Controversy has followed this film from the start, as the MPAA slapped the dreaded NC-17 on the film initially. Even its original poster had to go. Then there's the boy-wants-boy-wants-girl love triangle. It might too much for those that are going in expecting a simple sex comedy. With Jessica Biel, Shannyn Sossamon and the Big Giant Head...er, James Van Der Beek, it's going to have some perception as a teen film, but it doesn't take much to see that it's aiming higher (and dirtier) than that. It's probably not going to appeal to anyone outside of those that are already tuned into its extremely cynical point of view; it says right off that it's "From the sick minds behind Pulp Fiction and American Psycho". It's a cult movie in the making, but of course to be a cult movie, it first has to bomb. It should satisfy that requirement with about a $3 million opening weekend.
Perhaps the spiritual opposite of Attraction is Tuck Everlasting. It's a life-affirming tale of a family that discovers and protects the Fountain of Youth. To no one's surprise, it's released by Disney. Starring Alexis Bleidel of the TV show Gilmore Girls, its main appeal will be to the family audience and teen and pre-teen girls. Perhaps the most successful example of something like this in films is 1998's Ever After, which took a revisionist look at the Cinderella tale. Bleidel is no Drew Barrymore, though, and Tuck Everlasting, while a classic novel, is not nearly as well known. The director Jay Russell's previous movie, My Dog Skip, was actually a decent surprise in this same family genre, opening to just under $6 million and totaling $34 million in March of 2000. Tuck Everlasting has potential in this range, and the Disney name can only help for younger audiences. The rest of the cast is quite solid, with William Hurt, Sissy Spacek, Ben Kingsley and Jonathan Jackson (fresh off the cover of Non-Threatening Boys) rounding it out. Although it's seeing the least of the venues among the wide opening films at just over 1,000, it shouldn't be the least in box office, earning between $5 and $6 million.
White Oleander is the first big Oscar-bait movie of the season. Following ten years in the life of a young girl after her mother is sent to prison, it deals with the complexities of mother-daughter relationships, the problem of coming of age on your own, and the difficulties of foster care. It's perhaps no surprise that the book it's based on was an Oprah Book Club selection. Much is often made of the "Cult of Oprah", which apparently guarantees success for anything associated with her. The empirical evidence, though, points to something a little different. While her endorsement of a book is well-documented to be a major boost to its sales, the highest profile movie to come from these books, The Deep End of the Ocean, was a dismal financial failure. Oprah's own movie, Beloved, also flopped. Clearly, White Oleander will have to find success on its own merits. Material like this needs a strong cast, and it's got one, with Michelle Pfeiffer, Renée Zellweger and Robin Wright Penn holding down three important roles. The central role goes to the relative unknown Alison Lohman, though, and this could be her breakout performance if the movie becomes a success.
A major portion of its momentum was, if not lost, set back when it failed to capture the top prize at the Toronto Film Festival, as it was expected to. Starting out on 1,500 or so venues, it's already in the mindset of slowly expanding, so this isn't as much of a problem as it could be, as long as it performs well off the blocks. However, the biggest name in the film plays a convicted poisoner, and I don't think it's stretching to say this might put some distance between the audience and the film. Critical support will be important; a positive recommendation could definitely shift some fence-sitters (most with XY chromosomes; it's not fair, but true) into checking this out. A poor showing this weekend doesn't necessarily eliminate its Oscar potential - the actresses should always be in contention - but if it wants to be a Best Picture candidate it will need to do well quickly. It seems likely to do just $6 million this weekend, which will make that possibility a remote one.
The black romantic comedy has almost become a franchise unto itself in the past few years; from The Best Man to Love & Basketball, from love jones to The Wood, they've been funny, well-made and, more importantly, profitable. They've shown that a film with mostly black stars doesn't have to be marginalized. They've also kept Taye Diggs a very busy man. He's here again in Brown Sugar, which combines elements of some of the films mentioned above. Also starring Sanaa Lathan of Love & Basketball, it follows the two characters from a young age through their careers. Will they realize that they're right for each other or will he marry the wrong woman? Please, it's a romantic comedy. We know how it's going to end. The point, as in life, is the journey. Something that does make Brown Sugar unique is one of its producers, Magic Johnson. Perhaps you've heard of him. Celebrity producers normally wouldn't be an issue, except when they own one of the largest chains of urban movie theaters. It's in a slightly lesser number of theaters than other urban films, but should be exceptionally targeted thanks to Johnson's connection. It looks about as good or better than other films in this sub-genre and it ought to be able to reach the $12 million mark this weekend.
If anyone still remembers after all this, there's two films that made over $20 million last weekend; Red Dragon and Sweet Home Alabama set in consecutive weeks their respective monthly opening weekend records. Red Dragon is both a success and a disappointment; a $36 million weekend is nothing to cry about, but Dragon was an expensive movie, with a budget in the $75 million neighborhood (foreign popularity should guarantee profitability, though). Also, it doesn't compare well with the opening take of Hannibal, which shattered numerous marks with a $58 million opening weekend. Even though its word-of-mouth is better than Hannibal's, it's quite unlikely that it will be able to match the total put up by that film of $165 million. Another $20 million weekend for it is a good consolation prize; even Hannibal, with a C+ CinemaScore fell just 42% in its first weekend. With nothing presenting a serious challenge, it should repeat at number one with about $21 million.
This would parallel nicely the figure for Sweet Home Alabama, which went from $35 to $20 million going from week one to two. I expect a slight improvement in holdover this weekend, as typical for later weeks of the run of romantic comedies. A 35-40% drop would place it around $14 million, and close to $85 million for its total run so far.
My Big Fat Greek Wedding finally started to show some chinks in its armor last weekend, falling an "excessive" 13%, its biggest drop since May. This makes three straight declines after increasing for 12 of its last 15 runs. It appears that its amazing run has reached its peak, but at this rate of decline, it could still be a factor in the top ten for another six weeks or so. It should hit the $150 million mark on Friday, with $175 million definitely in its sights.
Several limited releases will also be clamoring for attention this week; in the medium-range level are Below and Swept Away, both of which happen to have Bruce Greenwood in their cast, although they're very different films. Below is the latest from director David Twohy (of The Arrival and Pitch Black). Twohy is a terrific suspense director but has had difficulty getting his films respect. Below takes the form of a psychological thriller on a WW II sub. After they take on three survivors of a boat wreck, including a woman (trouble for this all-male, enclosed-space crew), tensions are high and sabotage is suspected. However, they begin to suspect that it may not be human sabotage. Swept Away is a remake of an Italian comedy from the 1970s, and stars Madonna and is directed by her husband, Guy Ritchie. Dubbed unreleasable in its original two-hour cut, Ritchie trimmed it to 90 minutes for release, but there's no silk purse coming out of this sow's ear. It's been called misogynistic, hopelessly dated and simply incompetent; this is a movie that may enter the annals of the all-time worst films. Neither of these two films are likely to make much noise and will probably have trouble breaking half-a-million.
Among the more prominent true limited films are a new PT Anderson film and two documentaries. The PT Anderson film, Punch-Drunk Love, has an unusual leading man for his films, Adam Sandler, for whom he specifically wrote the film. This is no Happy Gilmore or The Waterboy, although he did manage to keep the film to 90 minutes, a first for him. This is, to my knowledge, the first Adam Sandler film to arrive with Oscar buzz; Anderson won Best Director at Cannes and his last two scripts have been nominated. The real surprise is Sandler's performance, which is probably the result of working with a strong director for the first time. Remember, Anderson is the guy who got us to take Mark Wahlberg seriously as an actor. It's almost assured to not perform as well as Sandler's recent films; Tom Cruise's presence in Magnolia didn't turn it into a Tom Cruise Film. It's essentially a romantic comedy, but filtered through Anderson's quirky style. Watch for this film to be a strong performer in the weeks to come. The two documentaries of note are Bowling for Columbine and Comedian. Columbine is Michael Moore's look at American gun culture. He's certainly never been shy at taking on controversial subjects, and this is perhaps his most topical film yet. It's certainly given him the most recognition since Roger & Me. Comedian is billed as "a film about comedy with Jerry Seinfeld". It's sort of a cross between a concert film and a documentary, but one thing's for sure; it's got one of the funniest trailers in history, mocking the generic-ness of movie trailers featuring the "In a world..." guy.
With more films than theaters know what to do with this weekend, it's going to be difficult for many to distinguish themselves from the pack. This is part of the problem, really, as few of the new films really offer themselves as something that has to be seen. It's already a busy weekend with college football, baseball playoffs and the start of the NHL season, and with attention spans severely divided, the movie-going public can probably only deal with at most four new films at a time. This means some of this week's releases are doomed even more than they might have already been. I know if one of these movies was mine, I wouldn't be happy seeing it fighting for recognition in this mess.
Forecast: Weekend of October 11th-13th, 2002

Rank

Film

Number of Sites

Change in Sites from Last

Estimated Gross ($)

1

Red Dragon

3,360

+4

21.5

2

Sweet Home Alabama

3,313

+10

13.8

3

The Transporter

2,572

New

13.1

4

Brown Sugar

1,372

New

12.3

5

My Big Fat Greek Wedding

2,016

+45

7.9

6

Knockaround Guys

1,806

New

6.6

7

The Tuxedo

2,985

-37

5.9

8

White Oleander

1,510

New

5.8

9

Jonah: A VeggieTales Movie

1,174

+234

5.7

10

Tuck Everlasting

1,185

New

5.3

11

Barbershop

1,911

-265

4.6

12

The Rules of Attraction

1,430

New

3.2