Weekend Forecast for October 10-12, 2003
By Reagen Sulewski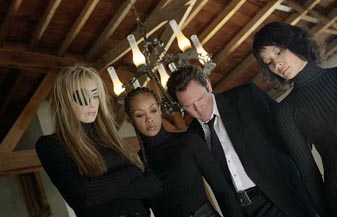 This weekend at the box office has prestige to spare. A new film by the Coen Brothers would usually be enough to make it a weekend for film buffs; however, we also have the return of indie film god Quentin Tarantino after a six-year absence with Kill Bill Volume 1. A kids film and a DOA video-game adaptation round out the new films for a fairly busy weekend, but these can't compare to the excitement surrounding the two highest-profile films.

After a four year gap between Pulp Fiction and Jackie Brown and now a half dozen years between that film and Kill Bill, Quentin Tarantino has certainly made his fans wait, patiently or not, a long time for his films. He'll test them a little more, as this release is literally half a film. An ultra-violent revenge fantasy, Tarantino reportedly asked for the film to be cleaved in two to preserve the content and three-hour plus total run length rather than lose material.

The serial film has achieved some degree of a renaissance with the Lord of the Rings trilogy and the two Matrix sequels, but I think we're moving in the wrong direction here if films are being split into multiple parts for no other reason than to keep butts from going numb. Studio suits are of course excited at the prospect at doubling or tripling their revenue for a single film but if this tactic succeeds, don't come crying to me when Kevin Costner directs his four-part, ten-hour, post-apocalyptic mutant cowboys epic.

However, I digress. In Kill Bill, Uma Thurman stars as The Bride, a member of an elite assassin squad. When she wants out, the remainder of her team attempts to wipe her out on her wedding day. Left for dead, she then comes back for revenge working her way back to her boss (played by none other than Kung Fu, David Carradine). So the film is battle after battle, but if there's anyone that I'd like to see play with excess, it's Quentin Tarantino, given that he's likely to be more inventive with the Most Violent Movie Ever Made.

The trailer for this movie, which debuted all the way back in 2002, is undeniably cool, with fantastic music and just enough hints at the ridiculously inspired action scenes that little else has had to be revealed since then. Tarantino's affinity for Asian cinema (and specifically Hong Kong cinema) is well-known and it certainly shows here (though he's also borrowing heavily from samurai movies too). So while releasing his "Hong Kong" movie after that style has finally become popular in North America may be opportunistic, he comes by it naturally.

With Uma Thurman, Michael Madsen, Lucy Liu, Daryl Hannah, Vivica A. Fox, et al making for a solid cast of character actors but no bankable leads, the question becomes how much does Tarantino's almost mythical status as a filmmaker count for at the box office and how much have the striking visuals made an impact with potential film goers? Pulp Fiction made it to $100 million with the help of the Oscars but Jackie Brown was an underwhelming setback. Action always sells better than a gritty crime drama so there's no real comparison. Miramax knows it has a winner on its hands and is throwing Kill Bill Volume 1 out in over 3,000 venues. The studio suits should be rewarded with an approximately $26 million opening weekend. Compare this debut to the start of Once Upon a Time in Mexico (directed by Tarantino compadre Robert Rodriguez) and we've got a great fall for high-pitched action. Miramax will be watching the returns of Matrix Revolutions very closely, though, to see how Kill Bill Volume 2 might be received in early next year.

The Coen brothers are known for their quirky and visually inventive films and their ability to tweak and wring the most out of a genre. It's a bit of a surprise, then, to see them tackle the humble romantic comedy. Perhaps for that reason, though, it's best to give them the benefit of the doubt. Intolerable Cruelty has them working once again with George Clooney (seemingly reprising his character from O Brother, Where Art Thou?) as a divorce attorney representing the philandering ex-husband of Catherine Zeta-Jones's character while simultaneously falling in love with her. Screwball comedy ensues.

While this seems like an unusually mainstream idea for the Coens to tackle, there's interesting hope in a counter-intuitive thought process. Universal appears completely baffled by how to sell this film, with oddly disjointed scenes making up the advertising (along with some trademark goofy humour). And still, under the surface, it looks like there's an entirely different film to be revealed. It's tough to think of a time when a Coen Brothers film was ever an easy sell, so perhaps this should be no surprise.

George Clooney brought the Coens to their greatest success in the aforementioned O Brother, Where Art Thou? and it's easy to see why he'd return to work with them again (like Tom Cruise, since gaining clout he's sought out the best directors to work with instead of demanding his ego run the show). Zeta-Jones might be more famous lately for advertising phones and being a tabloid figure than for starring in films although there is that small matter of the Best Supporting Actress Oscar win of hers. Can the Coens hoodwink audiences into their unconventional style of filmmaking with big stars? Have they actually made an unconventional film? Intolerable Cruelty has the feel of a movie that will miss its audience on first run much like much of the Coen filmography. I think it can start out with around $14 million and try and build an audience from there.

For the kids this weekend, we have Good Boy!, another entry in the "let's make animals as creepy as we can by making them talk" genre. The plot of this one has dogs as alien visitors who have tried and failed to take over the world. The obvious comparison here is with Cats and Dogs of two years ago although this film misses what felt like an epic battle with a score to settle from that one. As such, it'll be very hard pressed to keep up with the $23 million opening weekend and the nearly $100 million total the earlier movie managed. That hasn't stopped MGM from blitzing with this one, releasing it at over 3,200 venues. A healthy $12 million should be an adequate start for this film aimed at the pre-teen set.

Bringing up the rear is The House of the Dead, the adaptation of the classic FPS arcade game. It's the second major zombie movie of the year (After 28 Days Later) but this one is better left in the grave. Over a full year late in getting to theaters The House of the Dead was nearly derailed after a ridiculously bad teaser was released. Things haven't gotten much better since then. The clips bear little resemblance to the idea of the game (it looks more like a zombie version of the recent Cabin Fever than anything) and the no-name cast (ooh, Clint Howard!) gives this movie all the look of a quick capitalization on a title than anything resembling an entertaining evening out. Video-game based movies can succeed, but as one of the more fickle audiences out there, gamers know when the product they've been given isn't worth their time. Starting at a middling 1,500 venues, this should only manage about $3 million from Friday-to-Sunday. It's destined to be both a reviled movie and a cherished movie to mock.

Though The School of Rock will fail to hold the number one spot this weekend, it hopes to keep some of its momentum by adding a few hundred screens. It's positioning itself as the comedy of the fall, appealing both to a family audience and to an older audience that appreciates the advocacy of Rock as a life tool. It should avoid the free falls that have plagued most films this year but I'm not looking for this to be any world beater in terms of legs just yet. Give it $12 million for weekend number two. Denzel Washington's latest thriller, Out of Time, is making out to be as generic a performer as its title. A lukewarm $16 million opening frame and virtually no supporting buzz doesn't bode well for the extended life of this one. Give it about $9 million and a place among Denzel's forgettable films like The Bone Collector and John Q.

One of the year's major Oscar contenders gets a small start this weekend. Mystic River will preview in 13 theaters before going wider in successive weeks. Directed by Clint Eastwood and starring Tim Robbins, Sean Penn and Kevin Bacon, it's a story of three friends and lifelong consequences to actions in childhood playing out in their adult lives after a tragedy brings them together. Based on a best-selling book, this is one of the more hyped prestige films of the year. Even on these 13 screens it should make an impact at the box office, perhaps earning close to $1 million.
Forecast: Weekend of October 10-12, 2003

Rank

Film

Number of Sites

Change in Sites from Last

Estimated Gross ($)

1

Kill Bill Volume 1

3,102

New

26.2

2

Intolerable Cruelty

2,562

New

14.3

3

Good Boy!

3,225

New

13.2

4

The School of Rock

2,929

+315

12.4

5

Out of Time

3.076

No change

9.4

6

The Rundown

2,820

-334

5.6

7

Under the Tuscan Sun

1,701

+4

5.4

8

Secondhand Lions

2,563

-469

3.5

9

The House of the Dead

1,520

New

3.2

10

Lost in Translation

882

+18

3.0