Weekend Forecast for
September 26-28, 2003
By Reagen Sulewski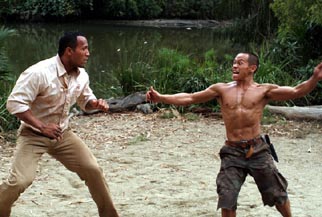 September is suddenly a hot month for action. Last weekend Underworld lit up the box office for $20 million plus, following a weekend where Once Upon a Time in Mexico did the same. Now that figure is set to be matched and bettered by this week's The Rundown. There are sideshows as always, but this weekend's box office story promises to be a coronation once again.

A lot can be said, positively and negatively, about the transition of The Rock from wrestling to cinema. He has an undeniable chemistry; otherwise he wouldn't have shot to the top of the wrestling world. His acting ability still remains at the "suspect" level, though that's never been too much of a handicap for an action star. The Scorpion King, while certainly no cinematic masterpiece and really only mediocre as an action film, was promising in that it didn't actively suck and showed that The Rock had a certain adeptness for physical comedy. An opening weekend of $36 million certainly showed that he was capable of bringing not only a wrestling audience to the theaters but also could expand to other demographics. The Rundown holds the potential of being a quantum leap beyond that.

With The Rundown, The Rock is hoping to remove the phrase "for a wrestler" from the sentence "That was a good movie." Early word is that he may have done it. Pull quotes are name checking 48 HRS. and Midnight Run with no irony intended and that's a big deal, at least in my world. Chief among its defenders is The Hot Button's David Poland who has called it nothing less than "evolutionary." That remains to be seen, but it's not the kind of comment that can be ignored. Pairing Mr. Johnson with Seann William Scott is actually something of an inspired idea as Comedy Odd Couples equal Box Office Gold. TV spots have outdone the theatrical trailer on this one, which had made it look like two hours of blows to the crotch. Instead a little more byplay between the two leads has this one looking like a unique and fun film (and making "Establish Dominance!" the strangest catch phrase of the year so far). The Rock's bounty hunter character goes to Brazil to collect Scott to secure a debt. Scott, on the trail of a priceless treasure in the jungle, isn't too anxious to leave, nor is Christopher Walken's (being more Walken than Walken in this one) gang of thugs who want the treasure for themselves. Hijinks and fisticuffs ensue.

Universal, who is back in its "can do no wrong" phase, are obviously high on the film's potential, having taken the unusual step of previewing the film last weekend and banking on word-of-mouth to drive the film over the $20-25 million hump. The combination of this strategy and the previously demonstrated draw of The Rock should handle this task easily, leading to a first place finish at around $31 million.

Duplex should be a fine test of just how many die-hard Ben Stiller completists there are as these are these are the only people I can imagine needing to see this laughless-looking "comedy." Danny DeVito directs another attempt at black comedy, one of the lowest percentage genres in Hollywood (though Death to Smoochy certainly had its moments). The reason for this negative effect seems simple to me; to make a successful black comedy, you need to make your audience really dislike the protagonists and there's only a small amount of people willing to go along with and enjoy doing that. Watching nasty people get their comeuppance is fun and all but it doesn't always make for a satisfying 90-120 minutes. In Duplex, Ben Stiller and Drew Barrymore play a New York couple in a hybrid of The Money Pit and Throw Momma From the Train. They take over a rent-controlled apartment with the understanding that the old lady upstairs will be allowed to stay until she wants to leave or kicks off this mortal coil. When she proves to be more of a hassle, the two try and resort to more nefarious methods to get her out. The problem here is that the antics seem completely uninspired; falling ceilings and CPR performed on octogenarians do not make for successful comedy unless it's 1922. Launching in only 2,189 venues, Duplex should manage just $8 million to start, mostly on the name recognition of its two leads. Stiller is an expert at this kind of humiliation comedy but he can only take the material so far and Meet the Parents this ain't.

For Oprah-philes everywhere, Under the Tuscan Sun is the film for you. Essentially a white version of How Stella Got Her Groove Back set in Italy, Diane Lane plays a San Francisco writer who needs a lifestyle shift after a divorce. Where better to do that than in Italy? If only everyone had that opportunity. Under the Tuscan Sun is probably one of the better examples of escapism in film, in a very literal sense, which means it could hammer itself home nicely into its target market, young to middle-aged professional women. Lane had a breakthrough critically last year in Unfaithful, riding that film all the way to her first Oscar nomination. It was a decent box office success as well, starting with $14 million and earning $53 total, a nice figure for that size of movie. Tuscan Sun should slip nicely into the niche previously filled by Fried Green Tomatoes, The Bridges of Madison County and the previously mentioned Stella; films that all found small but reverential audiences. Starting in a smallish release of 1,226 venues, Under the Tuscan Sun should grab about $7 million for the weekend and continue strongly into later weeks. This is not an audience that will rush out the first weekend, so staying power should be strong.

Underworld, last week's top film, is trying to turn itself into a trilogy in the latest case of studios jumping on the bandwagon early. Despite this film's $21 million opening weekend, I hope Sony signed the key players cheap as this one's not going to last long. You can grab an audience with style for one week but the movie's got to have substance to make a trilogy. The surprisingly uninspired action (why pit Vampire vs. Werewolf and not have them use their supernatural powers?) and unearned melodrama of Underworld left me with little desire for a second helping despite the untied plot threads at the end of the film. This genre is usually strikeout or grand slam but let's call this one a foul tip. A steep fall to $10 million is in store for the second outing. This would follow in the footsteps of Once Upon a Time in Mexico, which tumbled out of the number one spot like a bandito picked off the roof of a saloon. Dropping over 50% to $11 million in weekend number two, Mexico has shown that it won't break from the pattern established by Desperado. A final total of $70 million, on the other hand, would definitely have to be considered a success for this modestly-budgeted film.

Secondhand Lions and The Fighting Temptations will battle for the title of "Most Leggy" of autumn this weekend, as both these crowd-pleasing films go into their second frames. Clearly there would seem to be room enough for both for now, as their neck-and-neck performance in their debuts showed. I give Secondhand Lions the edge here with stronger reviews, a more universal appeal and the fact that The Lord of the Rings: Return of the King trailer is attached to the film in certain locations. This last factor is minor but noteworthy; though local variations exist, the actual effect of trailer debuts has never proven to be more than a minor blip. Both films should stick in the $8.5-10 million range in this weekend.

The most significant expansion this weekend is the steadily growing Lost in Translation. After breaking into the top ten last weekend, it nearly triples its locations to 488. This performance is exactly the kind that makes Oscar runs and the quirky comedy has what it takes, including widespread critical and popular support from those who've seen it. A second Coppola up for Best Director? Let's hear it for nepotism. Lost in Translation should stay in the top ten0 this weekend, but probably won't advance too much in monetary figures, sticking around the $3 million mark. The sneaks keep on coming, with The School of Rock, Jack Black's latest lead, getting the nod this weekend. Sneaking on both Saturday and Sunday, this schizophrenic (is it a metal film? a kids film? To Sir, With Rock?) comedy hopes to be a very different sort of family film for the fall. Early reports have as a surprisingly sweet yet edgy and funny film so consider your curiosities piqued.
Forecast: Weekend of September 26-28, 2003

Rank

Film

Number of Sites

Change in Sites from Last

Estimated Gross ($)

1

The Rundown

3,152

New

31.1

2

Underworld

2,928

+13

10.7

3

Secondhand Lions

3,038

+25

9.9

4

The Fighting Temptations

2,026

0

9.2

5

Duplex

2,189

New

8.2

6

Under the Tuscan Sun

1,226

New

6.9

7

Once Upon a Time in Mexico

2,922

-367

5.7

8

Matchstick Men

2,666

-45

4.8

9

Cold Creek Manor

2,035

0

3.5

10

Lost in Translation

488

+305

3.2