Weekend Forecast for
September 19-21, 2003
By Reagen Sulewski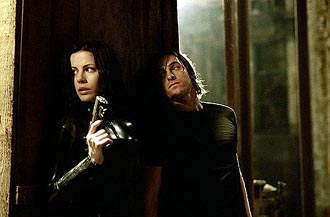 A typically crowded fall weekend offers something for everyone, from action to horror to family entertainment to romantic comedy. While all five new films on their own could run the box office by themselves, with all opening on the same weekend, attracting five separate audiences will test each film's strengths to the utmost.
Coming in with the highest profile and easiest cross-over genre is Underworld. A gothic action film in the vein of Blade, Underworld pits vampires against werewolves in a millennia-old battle for supremacy (can't we take them to Camp David and let them work it out peacefully?). Everything in the killing-each-other business is going swimmingly until a human accidentally intervenes in the battle...or is he human? It's Romeo & Juliet as Anne Rice and the Wachowski Brothers working together might have imagined it. Somewhere along the way, producers got the idea that putting Kate Beckinsale in a lot of black leather could sell some tickets, and really, do you want to be the ones to prove them wrong? I didn't think so.
Mixing heavy amounts of gunplay, swordplay and the kind of cinematography that leads me to believe the D.O.P. was constantly yelling, "More blue filters! Things are not blue enough yet!" Underworld is firmly in the midst of the latest trend in super-human/natural action films. Originating in the wuxia films of Hong Kong, filtering through to North America by way of The Matrix and Crouching Tiger, Hidden Dragon, wire-fu has come into its own, allowing actors who really have no particular business being in an action film (Scott Speedman? Now really.) to kick a little ass. Now, someone has had the idea to combine this with vampires vs. werewolves. Now if you're thinking, "Why didn't anyone think of that before?" publisher White Wolf would like to speak to you. Currently suing Sony for copyright infringement, they are alleging that Underworld borrows too heavily from two of its own products. The slope of influence is slippery indeed, as the whole idea of vampires and werewolves doesn't take that much imagination. This lawsuit is really a grab for cash and a quick way to get publicity for White Wolf's own line of games and books. I know I hadn't heard of them before. Of course, it also gets publicity for the film itself. A savvy move all around.
Not that the film needed that much more publicity -- with one of the hottest trailers of the fall, Underworld was already prepped for a humongous opening weekend. No one in the cast can really say they've opened a film (Kate was in Pearl Harbor, but crediting that to her would be extremely generous) but they can lean back on the genre. Blade II is this film's clearest predecessor, and in March of last year, it opened to $32 million on 2,700 screens (the primary success of this series has been on video, however). Sony must be expecting similar big things from Underworld, as it has already tapped the film for a sequel. Starting on 2,915 screens, Underworld should manage approximately $26 million to start off its run.
One of two films aiming for the family audience this weekend, The Fighting Temptations is the latest unfunny looking film from Cuba Gooding, Jr. (who apparently was serious when he asked us to show him the money). On the other hand, this one actually looks like it could be a bit of a hit aside from that. An amalgam of Sweet Home Alabama and Sister Act (remember when Whoopi Goldberg was popular? Ah, those heady '90s), Temptations has Gooding playing an ad executive who returns to his small Georgia town to collect an inheritance but finds he must direct a gospel choir in order to collect it. The plot is really a flimsy framework for the music and in that sense it's almost the gospel and soul music equivalent of The Blues Brothers. Beyonce Knowles is the headlining singer but the cast is filled with many more famous gospel singers (who I'm not really familiar with -- I'll admit right here that this isn't my scene).
This niche isn't often filled, and given the popularity of the stars and the music in the black community as well as in the southern States, Paramount could in fact have stumbled onto something here. Gooding, despite his awful movie choices (Boat Trip? Which scripts is he turning down?) has managed to keep his head above water in the marquee name sense and Beyonce may just be at the point where she can sell a movie based on her name. As an actress, she's a very good singer, though thankfully that's what she's asked to do for the most part. It's a very broad comedy and while The Fighting Temptations simply isn't something that appeals to me at all, there are times when you have to admit that the world doesn't revolve around you (sad, I know). On just over 2,000 screens, this could make a splash in the neighborhood of $17 million, mostly on the strength of its music.
The second film vying for family audiences this weekend is Secondhand Lions. Initially this seems to be an inoffensive little comedy but on closer inspection, some warning signs appear. Staring a child actor who is growing out of his cute phase and into his awkward teenage years (hrm), the movie has two curmudgeonly old actors as the other leads (uh oh) who teach each other life lessons and perform wacky stunts (er...). In the ads, they have resorted to having the actors explain the film in interviews (danger, Will Robinson, danger!). If the scenes can't sell the mood of the film, you're in trouble. Haley Joel Osment plays a boy sent to spend the summer with two eccentric uncles (Robert Duvall and Michael Caine) who may or may not have a checkered past as bank robbers.
It's getting a huge push from New Line as a heart-warming fable, but it's got a few miscalculations under its belt. Osment, despite being a very talented kid, has yet to show any kind of muscle at the box office on his own; The Sixth Sense can hardly be laid at his feet, nor can A.I., which was sold on Steven Spielberg. Pay It Forward was a not-insignificant flop. Things aren't so rosy for this rosy-cheeked kid. Additionally, the young target age of the film means that adults won't be willing to see Secondhand Lions without a kid in tow; meanwhile, Duvall and Caine are big scary "who?"s to the young teen who will be too cool to want to see this movie. Released on 3,000 plus screens, Secondhand Lions is going to get every opportunity to succeed, but will have a tough time breaking through on first weekend and will probably have to try for strong word-of-mouth. Expect about $10 million for a starter.
The latest film to vie for your horror dollar, Cold Creek Manor, is in the fine tradition of haunted/evil house movies that date back to Poltergeist and the Amityville Horror. This movie is more of a thriller than anything but does try for the spook factor. Dennis Quaid, who has finally shaken his apparent box office curse, now tempts fate by starring in a film with Sharon Stone, a box office weapon of mass destruction. Quaid's character is investigating a series of crimes at the titular house that perhaps aren't quite finished. It most reminds me of the Kevin Bacon film Stir of Echoes, both in level of cast and thematic sensibilities, though I don't hold as much hope for this film. Directed by Mike Figgis, slumming a bit in genre, it looks thoroughly generic. I'm not expecting much so about $6 million could be about the end of it for this first frame.
The final new film for this weekend is the latest from Woody Allen, though you'd never know it from the commercials. Anything Else stars Jason Biggs and Christina Ricci... and waaaay in the background is Woody Allen holding the thing together, this time leaving the love affair with the young 20-something to someone actually in their 20s, thankfully. A trials and tribulations of romance comedy, Biggs must deal with the insanity of his relationship with Ricci while attempting to make it as a comedy writer in New York. Anything Else stands a bit better chance of breaking out than most Woody Allen films because of the young cast but it isn't being handled much differently, aside from getting a couple of spots on MTV. It's only hitting about 1,000 screens, the typical number for Allen's films since switching to DreamWorks. Small Time Crooks has been Woody's most recent "success," opening at $4 million and ending up at $17 million. This film could do a little better, but I don't look for it to pass $5 million on opening.
Once Upon a Time in Mexico will cede the number one spot this weekend, but has already made an excellent impact considering its low-profile budget. Opening with $23 million, it's already three-quarters of the way back to making its reported budget back. How far it will drop is a tricky question, as it's a fun mess of a picture but that can cut both ways. And, as a second sequel to an action movie, it may have already have attracted most of the audience it's going to get. Desperado dropped like a stone so I suspect we'll see much of the same. The wild card here is the supporting performance of Johnny Depp, who, much like in Pirates of the Caribbean this summer, carries the film during his scenes. He's the MVP of the summer and has the potential to be the MVP of the fall. Still, the best-case scenario is $14 million.
Matchstick Men gets to make its real play for Oscar contention this weekend, as the second weekend could determine if its financial aspect is enough to keep it memorable throughout the fall and holiday seasons. $13 million was a good start, but a $60-70 million total is probably necessary to be in contention for the big awards. $9 million this weekend would put it on that way.
In sneaks and limiteds, Lost in Translation, which started last weekend with an extremely impressive $40,000 per venue on 23 screens, jumps to almost 200 locations this weekend. The Bill Murray starring/Sofia Coppola directed dramedy will surely go wide eventually with numbers like that, and even with a very steep collapse in those per venue figures will still make several million this weekend. Cracking the top ten is not out of the question but the sheer number of wide releases will make that more difficult.
Finally, The Rundown, the latest buddy comedy featuring The Rock and Seann William Scott, sneaks on Saturday night. Surprisingly getting extremely good early buzz, it's getting comparison to 48 HRS, a classic in the genre. Me, I'm going for Chris Walken.
Forecast: Weekend of Spetember 19-21, 2003

Rank

Film

Number of Sites

Change in Sites from Last

Estimated Gross ($)

1

Underworld

2,915

New

26.5

2

The Fighting Temptations

2,026

New

17.0

3

Once Upon a Time In Mexico

3,289

+7

13.3

4

Secondhand Lions

3,013

New

10.4

5

Matchstick Men

2,711

No Change

9.7

6

Cold Creek Manor

2,035

New

6.3

7

Cabin Fever

2,105

+18

5.0

8

Anything Else

1,033

New

4.4

9

Pirates of the Caribbean

1,746

-283

3.2

10

Dickie Roberts: Former Child Star

2,083

No Change

3.0