Weekend Forecast for
September 12-14, 2003
By Reagen Sulewski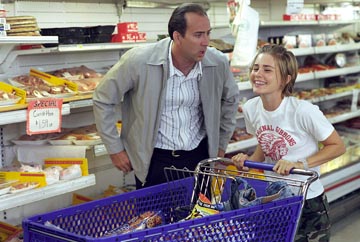 It didn't take long to get an interesting fall weekend. We're only two weeks into September and already have three solid releases to get excited about. Con men, gun-toting guitar players and horny teenagers about to die gruesome deaths are the new fare and following one of the slowest weekends in recent memory, this is practically a summer caliber line-up.

Robert Rodriguez is the hardest working man in Hollywood. Between acting as director, writer, editor, cinematographer, sound and visual effects director, composer, production designer and producer for the three Spy Kids films and making himself Harvey Weinstein's darling overall, he's also done most of those same jobs for Once Upon a Time in Mexico, the sequel to Desperado and the third entry in the El Mariachi series. The Simpsons joked about Steven Spielberg's non-union Mexican equivalent, but Rodriguez has gone out and done it.

El Mariachi was the infamous $7,000 film that launched Rodriguez's career. After refining his craft, he went on to make Desperado, a sequel-cum-remake with Antonio Banderas in the lead. A ballet of violence, it made a small chunk of change (on a truly miniscule budget) in 1995 before gaining a cult audience and making Salma Hayek a star. Now, eight years later comes the sequel, which basically promises much of the same. The stage has been raised slightly to involve international espionage, a faked coup, drug lords and many, many bullets. It's an excellent candidate for a fall action picture.

Antonio Banderas has been up and down over the past few years, from the highs of The Mask of Zorro to the lows of Ecks vs. Sever to the bounce-back of Spy Kids (if only in a supporting role). The question is whether he can really hold an audience as the main draw anymore. The good news here is that he doesn't necessarily have to do that. Johnny Depp, fresh off the performance of a lifetime in Pirates of the Caribbean, shares the billing, even if that fact is something of a surprise to him (thinking he'd had a cameo).Before this summer, it really wouldn't even have seemed likely that Depp would be an impact player at the box office, but he's riding high on the strength of the number two movie of 2003.

So where does that leave us? Surprisingly enough, movies that are strictly gunplay battles aren't as easy a sell as buddy cop movies, despite dispensing with extraneous and often poorly done elements (Bad Boys II, I am looking in your direction). Take 1997's Face/Off for example, which was as good a gunplay film as you're likely to see from Hollywood but barely cracked $100 million. Last year's Equilibrium didn't even see a proper release (but suddenly, Christian Bale is bankable enough to be Batman -- go figure). Miramax is pushing this one hard, though, and with 3,200 plus screens, it's getting as much chance as it needs (Rodriguez has beaucoup karma banked). Look for Mexico (no bitching about the title, please, lest you reveal yourself as a Leone philistine) to grab about $16 million to start.

After a couple of fitful stops and starts and false starts, the Academy Award season makes another run at starting again with the release of Matchstick Men. Not a rock solid contender, Matchstick Men does have an impressive pedigree, with director Ridley Scott, Nicolas Cage and perennial BOP-fave Sam Rockwell. A con-man team is shaken up by the arrival of the daughter of one of the cons, a girl who seems to take to the trade very easily. Cage, ever the frenetic actor, plays the more spastic of the two cons while Rockwell covers the retro-cool mien. As one staffer put it, it's "Paper Moon with a tic" but I don't see that as such a bad thing. It's almost a throwback to the hipster cool con fins of the '60s and '70s, and appropriately enough is scripted by Ted Russell (along with his brother) who gave us the delightful word play and clever plot twists of the Ocean's Eleven update in 2001.

However, heist or con movies typically don't bring in big audiences. The notable exception here is Ocean's Eleven, and that movie had a virtually unprecedented all-star cast. The comedic element helped as well and that certainly is evident with Matchstick Men. Cage has actually been in a decent-sized box office slump dating back to 2000, although we can give him a pass for Adaptation, a non-commercial film that brought him an Oscar nomination. He seems to have recaptured his credibility and his ability to pick a quality script. Rockwell's lone lead role in Confessions of a Dangerous Mind led to a dynamite film but no one saw it ($5 million open, $15 million total). The daughter in the film is played by Alison Lohman, who was excellent in the uneven White Oleander (also little seen). It's a quality cast, but how many are even aware of that fact? Matchstick Men is going to be a film that starts slow but could benefit greatly from a strong positive reaction from audiences. A $12 million start will save it from a quick flameout, but after that it's up to the film to convince audiences to stick around.

The Blair Witch legacy lives on. Even though Cabin Fever only bears a superficial resemblance to 1999's most "love-it-or-hate-it" film (what, every film set in the woods is The Blair Witch now?), it can't escape comparisons, good or bad. Sure it's a relatively unknown cast, but it's conventional filmmaking that is fairly gimmick-free. A group of teenagers are trapped in the woods when one falls victim to a flesh-eating virus. As this gruesome disease spreads through the group, they find out the true nature of their relationships together and learn that the virus might not be the most troubling thing in the woods. It's a combination of gore and psychological horror that is often attempted but rarely successful.

Cabin Fever was the most sought after film at last year's Toronto Film Festival and was eventually purchased by Lions Gate for "seven-figures with an eight-figure ad commitment". The film itself has been getting rave recommendations with the most significant being from Lord of the Rings director Peter Jackson (himself no stranger to gore -- check out Dead Alive sometime). What this buzz can turn into will be interesting to watch. It's received a modest 2,087 screens, which could be enough to grow on should this strike a chord (not unlike last year's The Ring). A start of this type would be in the neighborhood of $8 million.

The remainder of the top ten continues to play out the string; Dickie Roberts, which squeaked out an ill-deserved first place finish, has fallen to as low as seventh in the weekday figures. That could be generous placing when the weekend is done. Around $3 million should be its take this weekend. Memo to David Spade: this film is more autobiographical that you would like to admit. Jeepers Creepers 2 is set to have the bottom fall out with a combination of sequelitis, horror competition and just plain suckitude. This leaves Pirates of the Caribbean as the leading holdover yet again. Already at 19th place on the all-time box office list, it should easily pass Home Alone into 18th spot with decent earning potential still to come. Freaky Friday, Open Range and Seabiscuit should still continue their low drop-off ways, with late summer looking for and more lucrative for this reason. The other new film from last week, The Order, should be set for total freefall, right out of the top ten.

Meanwhile, three sneak previews enter the ring as Secondhand Lions, The Fighting Temptations and Under the Tuscan Sun all try to build advance word ahead of their release. In limited release, notables are Lost in Translation, the Sofia Coppola-directed/Bill Murray-starring comedy, and Millennium Actress, the latest animated masterpiece from Japan.
Forecast: Weekend of September 12-14th, 2003

Rank

Film

Number of Sites

Change in Sites from Last

Estimated Gross ($)

1

Once Upon a Time in Mexico

3,282

New

16.3

2

Matchstick Men

2,711

New

12.4

3

Cabin Fever

2,087

New

7.8

4

Pirates of the Caribbean

2,029

-174

4.1

5

Freaky Friday

2,567

-406

3.7

6

Open Range

2,063

-205

3.3

7

Jeepers Creepers 2

2,784

-340

3.0

8

Dickie Roberts:Former Child Star

2,083

+57

3.0

9

Seabiscuit

2,095

-478

2.6

10

S.W.A.T.

2,062

-538

2.5