Weekend Forecast for September 5-7, 2003
By Reagen Sulewski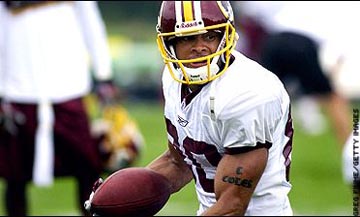 Late summer into early fall is the time we like to be scared at the movies, at least according to Hollywood studios. This is number two of four straight weekends with new horror movies in release, with five of six if you stretch back to Freddy vs. Jason. And no, I'm not referring to Dickie Roberts: Former Child Star.
If The Order seems to you like it's a couple years behind the curve on the religiously themed horror films, then that's a pretty good guess. Filmed right after 2000's A Knight's Tale with virtually the same cast and crew, a disastrous test screening put this film back eight months after its original release date with the rather infamous comment that the evil spirits in the movie looked "like calamari." It also acquired a title change along the way, moving from the silly but evocative Sin Eaters to the generic and forgettable The Order (maybe they're hoping to fool and pull in the neat-freak contingent).
Religious horror has always had a core basis of fans simply because the mysterious nature of religion always brings with it room for superstition and the unexplainable. The Devil is the Ultimate Boogeyman and even if The Order doesn't deal specifically with Ol' Horns and Pitchforks, it's close enough to count. What every good horror film (especially religiously themed horror) needs is a great shock or creep out moment and here The Order is sorely lacking. It's a rather artless trailer that hints at vast conspiracies and makes threats without being able to put much of a punch behind them. There's certainly nothing here to match the frightening image of Patricia Arquette in Stigmata (any Arquette being somewhat disturbing by default). It's troubling if they can't pull even one shock out of an audience during a horror trailer and may end up as the film's downfall.
On the other hand, the last time this group of actors and director were together, they opened a film to almost $17 million. Brian Helgeland's anachronistic medieval sports movie polarized many on its effectiveness but had a fun energy and good chemistry between the leads, Heath Ledger and Shannyn Sossamon. In the meantime, Sossamon became something of an "It Girl" with roles in 40 Days and 40 Nights and The Rules of Attraction. Ledger wiped away a lot of his positive buzz with last fall's The Four Feathers, which opened to only $6.8 million and finished under $20 million. One bomb doesn't ruin a career, but it certainly leaves Heath Ledger outside the realm of the sure-fire hit-makers. This one isn't going to help those matters, as it hasn't been able to outrun its terrible advance buzz. Fox is throwing this one out in only a fairly small 1,975 theaters, which isn't the biggest exhibition of confidence ever. Of course, last fall The Ring started in a similar number but counterintuitive thinking isn't going to work every time. Around $7 million for the opening weekend is a reasonable expectation here.
Someone save us from the former SNL players. While most have had their moments on the show, the ratio of good to suck in their post-show endeavours has been frightfully small. David Spade is probably the worst offender in this regard, considering his lead roles. While Lost & Found has justifiably been forgotten, the cinematic crime that was Joe Dirt still sticks in the mind of many. That film, like Dickie Roberts, was produced by Adam Sandler, who's taken to helping out his friends from the show and producing movies like he used to make at the start of his movie career, with Rob Schneider being the biggest beneficiary to date. Dickie Roberts: Former Child Star actually has a decent premise and in the hands of a clever writer and director could be a biting satire on the meat grinder world of child acting and the disposability of their work. Instead, they've gone for cheap sight gags and choreographed dance numbers.
The one ingenious idea they've come up with is to bring in all the grown up child stars they could find for cameos and bit parts (luckily, they were all available). However, one or two good scenes don't make a movie when the rest of it is unbearably unfunny. Look for a $9 million take on the meagre 2,206 theaters it's been granted for this weekend. I also expect a final total right around the $30 million mark, much like the previous Spade film. On a weekend where the competition has been depleted, this amount may be enough for first place. Expect this fact to be trumpeted like it means something.
This is where things get interesting, though. Jeepers Creepers 2, with an $18 million take over Labor Day weekend, will definitely have a steep drop-off this weekend, in the 55-65% (or more) range from that four-day total. This should put it in the $6-$7 million range. In the meantime, we also have the surging Freaky Friday, which improved back to second place on the back of a Labor Day push that also saw Pirates of the Caribbean have a strong showing. While the start of school has always hurt youth-targeted films to some degree, there's little denying the staying power of Friday right now. A 45% drop from the four-day total to $7 million would not be out of the question and if either or both of the new openers fall, Freaky Friday is a long shot contender to sneak up the middle and take the top spot in its fifth weekend.
Pirates of the Caribbean will officially dethrone The Matrix Reloaded as the number two film of 2003 this weekend, being just a few million behind it as of now. Already in the top 20 top grossing films of all time, it is still in a prime earning zone and should be no worse than fifth place this weekend. It's not going to find Nemo for number one, but $300 million as a final total is looking more and more realistic each day.
With few films really commanding a huge number of screens, several limited release films are making grabs at them, hoping to build momentum into the fall. Prominently, Whale Rider and Dirty Pretty Things have significant screens now, at 551 and 493 respectively. This is Whale Rider's second kick at the can, having snuck into 17th place last weekend. With approximately $17 million in the bank, this audience-pleasing film has been the true indie success of the summer. Dirty Pretty Things wasn't far behind it last weekend, although its prospects for total box office are slimmer. The newest indie buzz film, Thirteen, has also grabbed some more screens after a relatively impressive $11,000 per screen average on 74 screens last weekend. This tale of teenage nihilism and rebellion has caught acclaim for realism, honesty and gripping storytelling and while these aren't the adjectives that lead to big box office, it's carving its own niche as a daring arthouse film.
Forecast: Weekend of September 5-7, 2003

Rank

Film

Number of Sites

Change in Sites from Last

Estimated Gross ($)

1

Dickie Roberts: Former Child Star

2,206

New

8.8

2

The Order

1,975

New

7.2

3

Freaky Friday

2,973

-94

7.0

4

Jeepers Creepers 2

3,124

0

6.6

5

Pirates of the Caribbean

2,203

-24

5.6

6

Open Range

2,268

+24

5.3

7

Seabiscuit

2,570

+14

5.0

8

S.W.A.T.

2,600

-181

4.9

9

Freddy vs. Jason

2,505

-424

3.9

10

Uptown Girls

2,031

-135

2.8