Weekend Forecast for August 29 - September 1, 2003
By Reagen Sulewski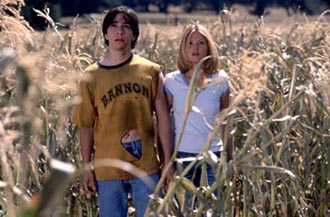 No really, where the hell did the summer go? For cinephiles, the summer can often be measured by the quality of movies it contains, and maybe it was just the generally unimpressive slate this year, but it seemed to go even faster than normal. Labor Day is pretty much avoided by studios for major releases, with one or none being a traditional number of new films and high-profile films being rare. This year, we have a sequel to one of the crappiest movies of 2001 to mark the end of summer.
In some strange alternate universe, Jeepers Creepers was deemed to be successful and popular enough to deserve a sequel. Maybe I shouldn't be so surprised as horror sequels are cheap and tend to have a life of their own as long as there's a name attached. Still, I don't expect there to be a Darkness Falls 2 anytime soon, to use one example. On Labor Day Weekend of 2001, it earned a surprising $15.8 million despite no stars, an unfamiliar concept and terrible publicity from director Victor Salvo's seedy past. And although reviews of the film were middle-of-the-line at best, one thing it did have going for it was an excellent ad campaign (never underestimate the use of White Zombie in a trailer). That's something that it shares with the sequel, which has an excellent trailer that establishes mood. Employing a bit of trickery, it doesn't let on what film it's advertising until late into the spot, probably a good tactic in this case.
The cast is again a group of virtual unknowns but that's never really been a detriment. The questions that surround the take of this one are whether this series has somehow built fans and whether horror audiences are still looking for a fix. From the category of "Unnecessary Sequel Land," Final Destination 2 improved by 60% over its predecessor just this January, meaning that there's at least a precedent for Jeepers Creepers 2 holding its own or even improving. Of course, Final Destination had some redeeming moments while Jeepers Creepers is, to put it mildly, a big stinking pile of crap. Oh how low Francis Ford Coppola's production company American Zoetrope has stooped. Ordinarily, this is about the time of year when horror films start appearing in earnest but with Freddy vs. Jason in theaters, the "first off the block" position has been stolen. The biggest hope that MGM can have now is that it merely whetted the appetites for those in the mood to see anonymous teenagers being killed in gruesome ways. Over the four-day holiday, Jeepers Creepers 2 should be able to cash in for about $14 million. At least its hook (Day 23 of a 23-day killing spree) promises no sequel.
Just two weeks into release, Freddy vs. Jason has proven itself to be the most lucrative film in either of the respective franchises. No wonder New Line kept up the battle to make this movie for so many years. Currently at $63 million as of Wednesday, that's a good $13 million more than the highest grossing Nightmare film and over $20 million more than the highest take for a Friday the 13th film (though both records were set the heady days of the 1980s). It could be a bit of a reach, but $100 million isn't impossible here. And with the ambiguous ending of the film (I'd declare a winner but there's enough support for both sides), more matchups or different franchises could easily be supported, if even on a whim. Another $7 million over the holiday weekend would push the total so far to the low $70s, a very respectable figure for these years old franchises.
The rest of the activity this weekend is almost ridiculously humdrum, with most films just playing out the side and hunting milestones. S.W.A.T. is slowly making a run at $100 million but will fall just short this weekend. Seabiscuit is in the same situation although the implications there are much different. With $100 million, this under-horse story crosses a major psychological threshold for Oscar consideration. With literally nothing else out there for summer releases as a major contender, Seabiscuit just has to have enough stamina down the home stretch to grab five or six nominations. Real Oscar season is just around the corner, though.
More upcoming milestones: American Wedding is probably another weekend away from the century mark; Charlie's Angels 2 hopes to retroactively wipe some of the disappointment away by crossing $100 million this weekend (when many thought $80 would be a chore, this is a pretty good recovery) and The Italian Job gets a major re-release to also try and pass that mark. A little over $3 million shy of $100 million, it'll no doubt get that amount although potentially not this weekend. Few re-releases even challenge the $5 million mark in one weekend in this situation.
Such a boring weekend. Wake me when there's some real releases.
Forecast: Weekend of August 29-September 1, 2003

Rank

Film

Number of Sites

Change in Sites from Last

Estimated Gross ($)

1

Jeepers Creepers 2

3,124

New

14.3

2

Freddy vs. Jason

2,989

-85

7.0

3

S.W.A.T.

2,781

-423

6.8

4

Open Range

2,244

+81

6.8

5

Freaky Friday

3,067

+9

6.5

6

Pirates of the Caribbean: The Curse of the Black Pearl

2,227

-177

6.3

7

The Medallion

2,652

+4

5.0

8

Seabiscuit

2,550

+16

4.9

9

American Wedding

1,805

-662

4.1

10

The Italian Job

1,964

+1900

3.3