Weekend Forecast for August 22-24, 2003
By Reagen Sulewski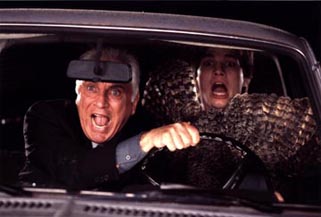 Man, we're really into the dregs now. In the late August period, you step carefully into the theaters. Even with the ever-expanding summer movie season, the end of this month has continued to be place where blockbusters fear to tread. Since 1998, only two films released in the last two weeks of August have broken the $50 million total mark, that year's Blade and 2000's Bring it On. The three new wide releases this weekend might as well shoot for Titanic's numbers as $50 million.
Although one of the two dumb comedies could breakout and surprise, The Medallion is the film with the least chance of bombing based on Jackie Chan's relative consistency. Although his Hong Kong imports have had more trouble gaining acceptance (or maybe just ad support), his Hollywood films have performed well, with even dreck like The Tuxedo opening to $15 million and finishing with $50 million.
With The Medallion, Hollywood has once again decided that we'll only buy Jackie's abilities under the pretense of technology or the supernatural. Granted, he's almost 50, but aside from the fact that supernatural action rarely if ever works, this is Jackie Chan we're talking about. We go to his movies to see him perform his stunts and enjoy his natural abilities, not to see him animated by CGI. As a fan of his, I definitely have to admit that acting has never been one of his strong points (he's more of a performer than anything) so if you're doing to strap him in a harness and zap all his stunts with computers, you may as well hire Wesley Snipes. You could probably make Gary Coleman into an action star these days with the technology we have, so why waste these projects on Jackie?
After an accident with a sacred medallion turns him into an immortal with supernatural powers, Jackie's police inspector (he's now rivalling Al Pacino in number of times playing a cop) has to stop some other immortals from using the Medallion for evil, or some other mumbo jumbo. As the female lead, this time we have Claire Forlani, who is a marginal upgrade from Jennifer Love Hewitt talent-wise but not name-wise. Leading Team Evil is the creepy/cool Julian Sands, with British comedian Lee Evans riding shotgun as the comic relief (but providing no box office boost). The ads don't look particularly better or worse than The Tuxedo, though there are a few too many sequences of hyper-edited kicking. I don't expect it to match the opening weekend of that film (nor the $19 million of Shanghai Knights), but a $13 million showing wouldn't surprise me.
I feel a lot of pity for today's generation for many reasons and one of them is Ashton Kutcher, who that group has apparently anointed as their standard bearer of cool, which is going to look really bad in 2017 around the time that 00's nostalgia kicks in (provided our robot masters allow it). Imagine having Just Married as your version of The Graduate. It's a frightening idea and I'm not sure how to deal with it. My Boss's Daughter looks more like an MTV Players version of Meet the Parents. It certainly allows Kutcher to spend a lot of time doing what he does best, looking confused and stupid. House sitting for his boss (played by Terence Stamp with the look of a man taken hostage), Kutcher's character has to deal with an extended series of disruptive guests who seem determined to ruin his plans to get into titular daughter Tara Reid's pants (one can just imagine the stimulating conversations that went on between them on set).
Farces like this can work even if they don't look bad on the surface (see: the extremely underrated Oscar) and the director is none other than Airplane and Naked Gun creator David Zucker. It's too early to tell if he's lost it, though, considering the ridiculous flop of BASEketball and the upcoming but highly unnecessary Scary Movie 3. Early indications would say yes, as the comedic aspect of the film is completely missing from the promotion, at least to my eyes and ears. He's apparently pulled in a bunch of favors with lots of name cameos/supporting roles including Jeffrey Tambor, Dave Foley, Michael Madsen and Andy Richter as Tara Reid's brother... read that last one again. If that's not giving the finger to Darwin and genetics, I don't know what is. Miramax seems content to toss this out as just a medium release with around 2,200 screens so this reign of terror should be mercifully short. Look for about $8 million to start.
The rule of thumb is that you have to be smart to play dumb well. In that sense Lisa Kudrow qualifies (having a degree in biology) but the smarter thing would maybe be to not play dumb at all. Her best acting has been her decidedly non-dumb role in The Opposite of Sex but she continues to take parts in movies like Romy and Michele's High School Reunion and this weekend's Marci X. Maybe that's all she's getting offered, but she's more talented than this film, which combines the irritating non-comedy of shallow socialites with the offensiveness of "white people are lame, black people talk funny" jokes. There are so many things wrong with this project that it's impossible to pick something that's the worst, although the "X" in the title is up there (Cue Spike Lee lawsuit in 3...2...) and I'm not too happy about Damon Wayans' role in the film, either.
Amazingly, this kind of culture-clash comedy is in vogue right now after the springtime monster smash of Bringing Down the House (poor, poor Steve Martin) and the fact that the Earth didn't burst into flames after the release of Malibu's Most Wanted. This one's closer to the justly forgotten B.A.P.S. (starring Halle Berry) and is also being buried by Paramount, which is only throwing it out to about 1,200 theaters. It's more bad luck for director Richard Benjamin, who is responsible for such comedy "classics" as Mermaids, Made in America, Milk Money and Mrs. Winterbourne (he's got quite the thing for movies that suck that start with 'M'). Or perhaps it's not so much bad luck as a deserved sabbatical as this will only manage about $5 million in its first weekend and die quickly.
With such weak competition, even a precipitous fall will leave Freddy vs. Jason in the number one spot again this weekend. The curiosity factor clearly drew a lot of old-school horror fans out of the woodworks as the $36 million opening is miles beyond what any of the previous Friday the 13th or Nightmare on Elm Street films have done. Standard sequel legs apply with the added disbenefit of it being a horror film with a gimmick. This should all lead to a second weekend total of about $15 million, but that will have it over the $60 million mark total, which is pretty much gravy with the inexpensive budget. Moreover, watch for a new glut of neo-classic horror releases and more "vs." movies. After about a dozen years of development hell, the Alien vs. Predator movie is finally getting serious, Freddy vs. Jason vs. Ash has been considered, and who knows what else is in the pipeline (I'm waiting for Jaws vs. Dracula). If five years from now you're sick of this development as I'm sure you will be, just remember back to whose fault it was; that's right, the audience.
Surprisingly enough, America was apparently ready to forgive Kevin Costner, at least on a small scale. $14 million for an opening weekend of a Costner-directed movie has to be seen as an enormous moral victory considering the amount of jokes that followed him after The Postman (which in retrospect tarnished Dances with Wolves). Let's not get ahead of ourselves and think Oscars for this film, but in the category of "career resurrection," this one is a slam-dunk. Look for another $9 million on the way to about $65 total.
The two films from two weeks ago surprised in their second weekend performances, with S.W.A.T. not falling as much as many would have expected in this summer of "One and Done" and Freaky Friday not turning into the leggy family success that many would have thought. While Freaky Friday's 40% drop leaves it in better shape overall, it's probably not going to get to the heights it would have been expected to reach without a sudden turnaround. Both this movie and S.W.A.T (which fell just over 50% -- a relative triumph for a buzz film this summer) are going to easily pass $100 million and the tiny budget for Freaky Friday makes it a true winner of the summer, just not in the astronomical range that could have happened. A really extended run could have gotten more noise for a Jamie Lee Curtis Best Actress Oscar campaign (bucks make the rules here, sadly to say). Both are going to end up with around $8 million this weekend.
Although it's already passed the take for the original run of The Lion King, this weekend Finding Nemo makes no mistake about which animated film is the highest-grossing ever. Just inches away from the $328.5 million (including IMAX release) that marks that record, Nemo has claimed an unlikely place in the all-time ranks, making the most interesting discussion of the summer a question of whether Pixar needs Disney or if Disney needs Pixar. While Pixar movies have been unequalled in quality over the past eight years, it's hard to not take notice of the Disney marketing machine that has propelled these films to record breaking grosses. As long as they don't mess with the filmmaking formula, Pixar's going to continue to be in great shape.
In limited release news, three significant buzz films receive theater expansions this weekend. Le Divorce, starring Naomi Watts and Kate Hudson, enters its third weekend in 421 theaters after a middling $5,200 per screen average last weekend. This number doesn't bode well for the latest Merchant-Ivory film as far as catching on with a larger audience. Several M-I films have earned Oscar nominations, but none since 1993's The Remains of the Day. It'll earn a little over $1 million this weekend and it could break double digits in the millions but that's probably the top end. Dirty Pretty Things, the dark thriller from director Stephen Frears, jumps to 240 theaters from 142 in its sixth weekend. It's also doing middling business for its screen levels, averaging a little less than $4,000 per screen last weekend, a number that doesn't inspire too much confidence that there'll be more expansion. With this number of theaters, it should tread water at around the $600,000 mark. Last weekend high per screen earner American Splendor, jumps to 26 screens from 6. While $26,500 per screen is impressive as a raw number, the subject matter and cast, which bears the closest resemblance to Confessions of a Dangerous Mind (coincidentally receiving a re-release right now) isn't likely to play as well once it leaves exclusive markets.
Forecast: Weekend of August 22-24, 2003

Rank

Film

Number of Sites

Change in Sites from Last

Estimated Gross ($)

1

Freddy vs. Jason

3,014

0

15.5

2

The Medallion

2,648

New

13.2

3

Open Range

2,163

+88

9.2

4

S.W.A.T.

3,204

-16

8.6

5

My Boss's Daughter

2,201

New

8.3

6

Freaky Friday

3,058

+79

8.2

7

Pirates of the Caribbean

2,404

-306

7.3

8

Uptown Girls

2,495

0

7.0

9

Seabiscuit

2,535

+73

5.3

10

Marci X

1,200

New

4.9