Weekend Forecast for August 8-10, 2003
By Reagen Sulewski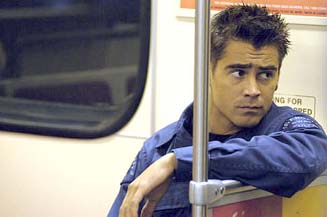 Does the summer movie season still have legs? This is the time of the year when blockbuster fatigue can really set in. On the other hand, with fewer "quality" choices, this has also been the time of year when true sleepers can emerge. This is the time frame when The Sixth Sense, There's Something About Mary and My Big Fat Greek Wedding made their claims to fame. The two new wide releases and a score of returning films will vie for that lucrative position, if any of them can claim that late summer zeitgeist.
First on the slate is S.W.A.T., which belies the thought that Hollywood has finally made a movie from every single TV series possible. It's actually a decent choice for an adaptation for a change, as its episodic nature, action-oriented subject matter and low amounts of baggage (it only ran for two seasons) means that it has sequel potential and a minimal, if any, backlash from fans.
The pedigree here is from the producers, many of whom had a hand in The Fast and the Furious and xXx. Where those two films took from Point Break and the James Bond series, S.W.A.T. looks (or at least hopes) to do for cops what Top Gun did for pilots. It's probably not coincidental that Colin Farrell, today's Tom Cruise substitute, has the lead role as the young hot shot officer hand picked for the elite squad. After first becoming a buzz actor in 2000's Tigerland, Farrell has been one of the hardest working men in movies, this being his sixth major role in the past year and a half. That's not even counting his constant presence in gossip rags and sleeping with just about everyone in Hollywood. His biggest tests of his stardom came earlier this year with The Recruit and Phone Booth, both of which he was basically asked to carry. With opening weekend totals of $16 and $15 million respectively, Farrell showed himself to have at least a small and consistent fanbase. How much does this mean to a big summer blockbuster?
As a comparison, Vin Diesel's newly minted fame gave him a $40 million plus opening for xXx last summer but his star was both hotter and the presentation slicker than S.W.A.T. Both films share Samuel L. Jackson in the mentor role, though S.W.A.T. has a bit of a deeper supporting cast. LL Cool J and Michelle Rodriguez aren't draws on their own per se, but have made a decent career out of second or third fiddle roles in Deep Blue Sea and Resident Evil. Initial previews for the film were as generic as could be, but have taken shape as we've gotten closer to release (great tagline and poster too, for what they matter). An international fugitive (hammed up by Olivier Martinez, last seen as Diane Lane's seductor in Unfaithful) held by the LAPD offers a huge reward for his freedom, which just naturally brings out all the crazies. Who knew LA had so many mercenaries? Most recently this has started to be portrayed as a shallower version of Black Hawk Down with more set pieces. Straight action has done decently this summer, with Bad Boys II and Terminator 3 sticking firmly in the mid 40s. S.W.A.T. isn't a unique enough looking film to keep up with those sequels, but should start off with about $37 million. With its $70 million reported budget (seeming positively spartan in today's environment), S.W.A.T. could be a solid hit in what has been a lukewarm summer for Sony.
It may not win the weekend, but Disney's Freaky Friday sure looks to be the overall winner in the nitty gritty. The third version of this film (and the latest film in Disney's recent remake fest) should strike a huge chord with young film fans and families alike. I'm not sure if it's really a necessary remake but Jamie Lee Curtis doesn't get enough chances to reveal her gifted comic chops. The plot should be familiar to just about everyone; a mother and daughter switch bodies and have to learn just how tough each other's lives are and come together yada yada yada. Despite the numerous rip-offs that have come along since the original's 1976 release (including what seems like half a dozen in the late '80s), Freaky Friday still has a cachet. There's also a bit of in-Mouse-House continuity as Lindsay Lohan stars in her second Disney remake (trying to become the next Jodie Foster? Not a bad goal, really). The remake of The Parent Trap in 1998 was a modest hit and cleared the way for Disney to dig through its whole live-action back catalog looking for projects.
Getting a jump on the weekend with a Wednesday open (hardy har people, we get it, Freaky Friday opening on Wednesday. You're so clever for noticing) it's already making noise with over $6 million in one day. It's a little less than half of what the last Wednesday opener, Pirates of the Caribbean took in but it's also carrying far fewer expectations and about a quarter of the budget. With a near-guaranteed positive audience reception (a sweet-natured family film? It's a winner unless it's complete saccharine), Freaky Friday will give Disney a three-pronged claim at the summer title. A start of $25 million is likely and barring disaster, $100 million is guaranteed at least.
American Wedding seems to have closed off its franchise potential after falling victim to sequel recession like so many films this summer. "Only" $33 million seems like a disappointment after the bonanza of American Pie 2 but the Pie films have always been cheap and this one should at least repeat the $100 million of the original. It's interesting in retrospect to look at the careers this series has launched; Jason Biggs of course has come the furthest distance, starting as a complete unknown and moving on to Broadway and Woody Allen films. Seann William Scott has become a near icon as Stifler, and has played mostly variations of this character in nearly every film he's been in since whether it be a cameo or a wire-fu film with Chow Yun-Fat (and who would have predicted that pairing?). Alyson Hannigan had her fame already from Buffy the Vampire Slayer but these films have her on the verge of being a star. Let's not forget the career revival of Eugene Levy and the numerous bit players that have had their careers boosted as a result (Stifler's mom comes to mind). The players that were dumped/passed on Wedding all seem to be the ones not really going anywhere; Chris Klein had the most recognition coming in from Election, Tara Reid was the big Maxim cover girl and Mena Suvari went on to American Beauty fame. None of these things paid off for them and their careers seem to be in holding patterns. They've missed out on adding another $100 million earning film to their resumes, which should happen if American Wedding can stay at about the $18 million level for its second weekend.
Perhaps the less said about Gigli's second weekend the better. Less than $4 million is an absolute disaster scenario for this monumental mistake; odds are that it won't even make it to a fifth weekend in theaters. If you really have to see how bad it is, you'd better hurry.
Spy Kids 3-D: Game Over bucked the trend of summer sequels somewhat, with a 42% drop in weekend number two. $20 million ahead of the original at this point, Spy Kids 3-D could end up as the highest grossing in the series so far, creating a truly weird pattern of earning that can only be explained by the novelty inherent in this film. Richard Rodriguez has earned his meal ticket in Hollywood for some time now, and with his ability to make films like this one that are incredibly profitable, he'll get lots of leeway for films like the upcoming Once Upon a Time in Mexico.
Pirates of the Caribbean continues to sail along through the summer waters, and will zip past X2 for the number four spot of the summer and be within a sabre's length of Bruce Almighty in third. The Matrix Reloaded's $280 million isn't even safe. It's starting to trickle away screens now, but its proven legs will make it popular with exhibitors through the dog days of summer. When it will really run out of steam is anyone's guess but it won't be this weekend. Another $15 million gets added to the coffers, lifting it to a total of around $230 million.
Seabiscuit held to an impressive $17 million in its second weekend but is less impressive when the additional locations are taken into account. It's basically topped out in that respect, so now it has to play honestly. This inspirational film definitely has shots at multiple Oscars now and a 30-35% drop would cement it further as a winner to notice.
Forecast: Weekend of August 8-10th, 2003

Rank

Film

Number of Sites

Change in Sites from Last

Estimated Gross ($)

1

S.W.A.T.

3,202

New

37.3

2

Freaky Friday

2,954

New

25.7

3

American Wedding

3,174

+2

18.2

4

Pirates of the Caribbean: Curse of the Black Pearl

3,170

-220

15.0

5

Seabiscuit

2,328

+7

11.9

6

Spy Kids 3-D: Game Over

3,388

+24

10.5

7

Bad Boys II

2,449

-573

5.9

8

Lara Croft Tomb Raider: The Cradle of Life

3,036

-186

5.4

9

Finding Nemo

1,502

-275

3.0

10

Terminator 3: Rise of the Machines

1,275

-635

1.9