Weekend Forecast for August 1-3, 2003
By Reagen Sulewski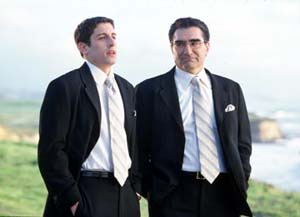 American Wedding is the latest sequel to come out of the Hollywood machine but sequel-itis isn't the biggest story for once this summer; that giant sucking sound you hear is the Ben Affleck/Jennifer Lopez film/train-wreck Gigli taking all the air out of the weekend. It's that once a year "What were they thinking?" unmitigated disaster that becomes interesting more for how much it doesn't make.

Of course, ridiculous bombs don't end up at the top of the box office charts, meaning that American Wedding has an easy path to number one. In the promised "climax" of the series (I tend to believe them, but we've all heard this before), a pared down core of characters comes together to celebrate Jim (Jason Biggs) and Michelle's (Alyson Hannigan, looking very very fine) nuptials. Also among the returning cast members are Seann William Scott, Eddie Kaye Thomas and Eugene Levy, with notable no-shows being Chris Klein, Mena Suvari, Tara Reid and Shannon Elizabeth. With the exception of Elizabeth, the absent cast members aren't going to be missed. The most remembered aspect of the first two films is the antics of Biggs, who has carried the series on the shoulders of his continual public humiliation.

American Pie started modestly in July of 1999, with $18.7 million seeming like a major triumph for its unknown cast. After a $100 million total with almost all of it profit, a sequel was inevitable. On the way, it also reinvigorated the teen sex comedy, with films like Road Trip - and to a lesser extent Old School - following in its wake. American Pie 2 launched in August of 2001, and with expectations already there, it had a much quicker start of $45 million and $145 million total. A brilliant ad campaign that was able to attract an older audience was responsible for keeping the series from declining. Of course, what has always been the key to the success of these films has been their heart. Crude but never cruel, this attitude has kept them from becoming a Porky's-like exploitation series. Its characters (at least the ones that sign on the dotted line) have also been important and that is why the arc into a wedding makes perfect sense.

The key to this strategy is that it has allowed the series to grow along with its audience, so that teens who identified with the high school antics of the first film are now 20 to 22-year-olds who are possibly experiencing the same things as are happening in American Wedding (okay, maybe not throwing their pubic hair out the window, but still) and 25 to 30-year-olds and up don't have to feel so guilty about watching a sex comedy because it's, you know, adult. Handicapped a bit by having their dynamite early trailer slapped with a red band, they've still managed to put together a hilarious campaign that is at least the equal of the second film's. Watch for American Wedding to eke above American Pie 2's opening with about $47 million.

While "Gigli" may be Italian for "Lilies," it's Columbia Pictures's word for "update your resume." With buzz so bad you half expect to be greeted at the theater by villagers with torches and pitchforks, this mobster romantic-comedy(?) has become infamous even before its release and will officially take its place in the "Bad Idea" Hall of Fame one minute after its first screening on Friday.

Let's review the warning signs, shall we? Jennifer "I'm Real...ly Annoying" Lopez and Ben "*whip-CHA!*" Affleck met on the set and fell in love, but real-life chemistry hasn't resulted in cinematic chemistry since perhaps Bogie and Bacall. Their subsequent media overexposure has resulted in a backlash that's peaking right... wait, wait... now. The film is a mob comedy that features Lopez as a lesbian and Affleck with a ridiculously bad Italian accent. It went through a couple of title flip-flops before finally settling on one that's unpronounceable to the vast majority its audience ("One ticket for... Giggly? Jee-lie? Gigolo?" My advice, use those ticket kiosks in front of the theaters). While it was able to disguise the level of ineptitude of the film in its first trailer, Sony got worried about the backlash and resorted to pushing the Al Pacino and Christopher Walken cameos in the TV commercials. Then in blind panic mode, the studio pulled it from a Wednesday opening just days before it was set to launch. What press screenings there have been have reviewers name-checking films like Glitter and Battlefield Earth, and Gigli is coming out on the short of the stick. Affleck and Lopez have vowed to never work together again and some would hope they leave out the "together" part. Kevin Smith must wake up in a cold sweat thinking about how to promote Jersey Girl, the film he made with the couple right after they completed Gigli.

Every film is able to attract someone, and Gigli will be no exception. Some poor souls will seek it out in hopes of a genuinely entertaining time, as Lopez and Affleck surely have die-hard fans. Both have decent records at the box office and have appeared in numerous hit movies, which seem so far away right now. A big portion of Gigli's audience will probably be made up of what can only be called "rubber-neckers" willing to bask in the awfulness of Martin Brest's latest opus. After this and Meet Joe Black, he'll be lucky if he's allowed to operate a Polaroid camera, let alone a movie camera, even with Beverly Hills Cop and a Best Picture nominated film on his CV. Morbid curiosity gets Gigli to $8 million this weekend and I'm really, really excited to see just how quick this thing tumbles.

Stepping aside from the top spot is the surprising Spy Kids 3-D, which blew past just about everyone's wildest dreams to earn $33 million off the blocks. Basically breaking even in its first weekend, it could drop miserably and not be a disappointment to Miramax and Dimension. The novelty of the 3-D has clearly captured the imagination of its very young audience and proven to be a sound investment. Even so, many have considered the film half-baked and not much more than gimmick; the novelty factor may have simply brought more out to see the film early and not really increased the audience. "Too weird for words" is the general sentiment and I wouldn't be surprised to see a fall to only $13 million or so for the second frame.

Pirates of the Caribbean continues its winning ways, adding to its chest of booty, which as of Wednesday stood at $187 million. It managed to hang on to second spot, beating three others in a tight race and could very well keep that spot this week. The rollicking adventure will cross the $200 million mark this weekend after a tally of $17 million. The main challenger for this spot is another returning film, Seabiscuit. After starting on fewer than 2,000 screens, it expands on positive word-of-mouth as the feel-good serious film of the summer. Absolutely vital to any Oscar run is a war chest of cash, and Seabiscuit could be well on its way to being a tremendous winner in that department if it can hold 80% or more of last weekend's total.

A pair of deuces races to the bottom, with Bad Boys II and Lara Croft: Tomb Raider: Cradle of Life in a hurry to see which film can leave the top ten the fastest. BB II had the now-standard 50% plus drop for sequels, while Cradle of Life simply couldn't overcome the terribleness of the first film. Although five films had more than $20 million for the first time last weekend, two of them won't be over $10 million this weekend.

After five months in release, the genial comedy Bend it Like Beckham has earned a very respectable $26 million on a miniscule budget, echoing the early performance of last summer's "indie" monolith, My Big Fat Greek Wedding. In an attempt to repeat that magic, Fox Searchlight is re-launching the film in over 1,000 theaters much in the way that IFC kicked up their campaign mid-summer. I'm not sure a critical mass has formed to propel this film without heavy advertising, but it certainly does benefit strongly from the newly minted stardom of Keira Knightly in Pirates of the Caribbean. She's really the supporting star, but no matter, really. It doesn't take all that much to get these (soccer?) balls rolling and a decent performance here would be about $4 or $5 million.
Forecast: Weekend of August 1-3, 2003

Rank

Film

Number of Sites

Change in Sites from Last

Estimated Gross ($)

1

American Wedding

3,175

New

47.5

2

Pirates of the Caribbean, The Curse of the Black Pearl

3,390

-26

17.3

3

Seabiscuit

2,421

+432

16.2

4

Spy Kids 3-D: Game Over

3,364

+20

13.2

5

Bad Boys II

3,022

-180

9.8

6

Lara Croft Tomb Raider: The Cradle of Life

3,222

0

8.8

7

Gigli

2,215

New

8.0

8

Bend it Like Beckham

1,002

883

5.1

9

Finding Nemo

1,777

-248

3.3

10

Terminator 3: Rise of the Machines

1,910

-750

2.5