Weekend Forecast for July 11-13, 2003
By Reagen Sulewski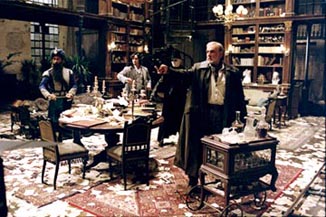 With the summer box office in near panic mode after four straight weeks of underperforming blockbusters, a breakout film is badly needed at the very least to quiet the rumblings about a mediocre slate of summer films. Luckily, this weekend sees one such possible breakout with Disney's Pirates of the Caribbean, a movie that has the potential to become one of the most popular films of the summer. However, as The Facts of Life taught us, with the good you have to take the bad, which in this case is The League of Extraordinary Gentlemen, which could end up as the career-killing bomb of the summer.
Pirates of the Caribbean: The Curse of the Black Pearl is perhaps an unlikely choice for a late-summer savior, since it comes from the same pedigree as last summer's The Country Bears, a holy mess of cross-promotion gone mad. The second of three planned (so far) movies based on Disneyland amusement rides, Pirates of the Caribbean was handed over to producer Jerry Bruckheimer, he of Top Gun, The Rock and Armageddon fame, and reimagined as a swashbuckling adventure film. With only a passing connection to the actual ride, Bruckhemier, director Gore Verbinski and screenwriters Ted Elliot and Terry Rossio (of Mask of Zorro fame) were free to make what is in the end a unique and satisfying film.
Getting an early start on the weekend by opening on Wednesday, Pirates hopes to build word-of-mouth through the weekend. It may be one of the few in recent months to be able to accomplish that. Here's the odd thing; it'll pretty much be all due to Johnny Depp, who simply walks away with the film. For the most part, in his career, Depp has picked the risky, fanbase-confounding projects, few of which have really achieved commercial success. 1999's Sleepy Hollow is the biggest hit he's had, a fact that is somewhat amazing considering his longevity and previous teen-idol status. Now, he's about to have his first bonafide blockbuster, playing the role of the foppish pirate Captain Jack Sparrow. A hilarious comic creation, this role is among Depp's best work ever and the film simply could not work without this central performance.
Among the other cast members are Geoffrey Rush, who hams it up to a similar degree as Depp as the main heavy, and Orlando Bloom and Keira Knightly (recently of Bend it Like Beckham) on the side of good. It's a medium wattage cast for a film that has already proven to be a heavy hitter at the box office in a very short period of time.
With Wednesday figures already in, Pirates made over $13 million on opening day, a truly massive figure, which for perspective's sake, is more than Terminator 3 made on its first day, and this accomplishment came without the benefit of a hyped-up sequel audience. After what was a truly awful teaser trailer, Pirates has recovered nicely and clearly has captured the imaginations of the summer moviegoers. A three-day weekend total of $53 million is appropriate given this initial figure, with close to $80 million coming in just five days. What's more, with the sure-to-be positive reception for this film, it will put itself among the top earners of the year over the course of the next few months, let alone the summer.
Much has been made of it being the first film to carry the Disney label as well as a PG-13 rating and its action-adventure nature puts it squarely in the way of any residual hopes that The League of Extraordinary Gentlemen, the annual summer train-wreck.
This comic-based film has been doing the Amtrak impression since before publicity material was made for it, as reports of fights on set had Sean Connery and director Stephen Norrington reportedly coming to blows. Add to this an ill-advised flip-flop on the title (to The League and back again) a silly promotional abbreviation, a high concept plot and simply terrible trailer and we could have our Battlefield: Earth, or perhaps more relevantly, our The Avengers (Connery can really pick 'em, huh?).
The League, or LXG, as the cool kids call it, is a group of Victorian age literary figures who form the first superhero team. With characters that are sadly unfamiliar to modern audiences, along with its talented but character-actor heavy cast, it didn't stand a chance without a dynamite promo campaign, which simply wasn't possible. In what can only be called an attempt to throw this movie against as many walls as possible to see if it sticks, Fox has actually managed to get this in over 3,000 theaters. It's undercooked, though, and will be lucky to crawl away with $13 million on the weekend.
Returning films will continue to make a mad dash to the video store, with only a handful over the entire summer having held any kind of ground. Terminator 3 could be a minor bucking of this trend, but probably won't be. Sequels and fanboy films have not done their part to satiate audiences and the opening weekend has been all the shot they've been given. Especially after its underwhelming carryover from the Wednesday opening to the weekend, the $44 million that T3 earned to be number one last weekend looks very unstable. A 45% drop would probably be hailed as a triumph among recent company. Expect around $19 million, even though the movie itself ranks as one of the more satisfying releases of the summer.
Legally Blonde 2 has the same issue, with sequel-itis apparently being fatal this summer. At $22 million, its first weekend was only modestly over the start of the first film and leaves it in a rather precarious position, even if its low, low budget gives it little but profit. $11-12 million is a good expectation for the second frame, with perhaps an $80 million total being the end result.
Charlie's Angels 2 is also in free-fall, and not in the good, helicopter-falling-off-a-Mongolian-dam action scene way. A ludicrous 63% drop may make even $100 million total a difficult goal. A monumental rejection of this post-modern surrealist play, it has almost certainly killed hopes (fears?) of a third film and will make profitability on this film a dicey proposition given its huge $100 million+ budget. Add another $6 million to its total, which should put it about $80 after Sunday.
One of the few success stories of the summer is the new number one film of 2003, Finding Nemo, which has now passed The Matrix Reloaded and sits at the $280 million mark and could be only four weeks away from the top ten of all-time.
Forecast: Weekend of July 11-13, 2003

Rank

Film

Number of Sites

Change in Sites from Last

Estimated Gross ($)

1

Pirates of the Caribbean: The Curse of the Black Pearl

3,269

New

53.4

2

Terminator 3: Rise of the Machines

3,504

0

19.8

3

The League of Extraordinary Gentlemen

3,002

New

13.6

4

Legally Blonde 2: Red, White & Blonde

3,375

+25

11.5

5

Finding Nemo

2,643

-259

7.3

6

Charlie's Angels: Full Throttle

3,302

-283

6.0

7

The Hulk

2,560

-731

4,0

8

28 Days Later

1,396

-11

3.9

9

Sinbad: Legend of the Seven Seas

3,086

0

3.8

10

The Italian Job

1,364

-220

2.9