Weekend Forecast for
July 2-6, 2003
By Reagen Sulewski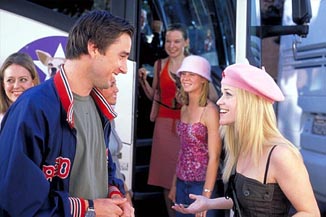 July 4th weekend always brings out the big dogs in the box office sweepstakes and after two straight blockbusters failed to meet their lofty expectations, the top ten could use a little adrenaline injection. Along with the expected (there's that word again) number one film, Terminator 3, Legally Blonde 2 and the animated Sinbad also could lift a sagging box office.
Although it's been 12 years since Terminator 2, it's pretty hard to call T3 a long-awaited sequel. T2 closed things up pretty nicely and James Cameron said he was done with the series. Ditto for Arnie without the presence of Cameron, but things change when you haven't had a hit movie in seven years.
The action here moves to the eve of Judgment Day, with the events of T2 having solved nothing. The machines are set to rise and are after John Connor once again with the shape-changing T-X (played by newcomer, model Kristanna Loken). Yet again, the future has sent a T-800 (I guess the Arnie model is the Honda Civic of Terminators) back to save John though he might be even more outmatched than last time.
Helming this sequel is the capable Jonathan Mostow, director of the solidly thrilling films Breakdown and U-571. It appears to be a foregone conclusion that it won't be able to live up to the legacy of T2, though as that film is in the canon as one of the greatest sci-fi/action films ever made, that's not as much of a knock against this film as it could be. A crisp and entertaining film would probably satisfy in this environment of lowered expectations and with basically wall-to-wall action, T3 may deliver just that.
The opening weekend of Terminator 2 in 1991 was a trendsetter, and at $35 million was in the top five all-time at that point. Top 20 is a good goal this time around. With sneak previews July 1st and a Wednesday start date, we could see the recent phenomenon of hyper-frontloading, where a film is almost played out before its opening weekend is done (see: Matrix Reloaded, Hulk). However, this extended five-day period should get it the bulk of the way to $100 million. A three-day weekend figure of $57 million and a five-day figure of $84 million should make studio bean-counters relatively happy. It would take a miracle for it to pass the $204 million of T2, though.
With all the movie-going men occupied with T3, the girl-power contingent gets Legally Blonde 2. The surprise 2001 summer hit that gave Reese Witherspoon her star ticket, Legally Blonde was also a badly needed hit for MGM in the midst of one the worst periods in its history. No surprise, then, that with an $18 million budget and a $95 million gross, they jumped at the chance for a sequel.
In between the two Blonde films, Reese expanded on her star power with the deep-south rom-com Sweet Home Alabama, which opened to a Julia-Roberts-like $35 million and finished with $127 million, making her top dog in the current "younger-prettier" female celeb contest. Enjoy your time at the top, Reese. Also along for the ride are Luke "I'm in every movie this year" Wilson, Sally "Just Happy to be Working" Field and Bob "Even I thought I Was Dead" Newhart. Like all sequels, this one-ups the ante, moving from Harvard Law School to Capitol Hill. Though I found the first film torturous, it's obviously got its fans, and they wear a lot of pink. Legally Blonde 2 should expand on the first film's take, at least initially, to the tune of $33 million for three days and $46 million over five, making it two straight weekends with a female-oriented blockbuster opening over $30 million.
Tackling a third separate market for the holiday weekend is Sinbad: Legend of the Seven Seas, a DreamWorks animated film. Even with the high-powered voice cast that includes Brad Pitt, Catherine Zeta-Jones and Michelle Pfeiffer, box office potential is not that high, aside from the kidlet market. Adventure toons have not faired all that well, with even Disney having problems. Atlantis: The Lost Empire managed a mere $85 million total and Treasure Planet was a flop on a massive scale, not clearing $40 million. Traditional animation, even the augmented kind, simply isn't flying much anymore.
It certainly doesn't help that the ads have been uninspiring, nor that it carries a PG rating. Without the Disney marketing tie-ins, this could be another nail in the coffin for cel animation, at least until something truly inspiring comes along. Sinbad should be able to take advantage of the summer break to start with $14 million over three days and $20 for the five-day period, but ultimately will be a bit of a disappointment for DreamWorks.
Defying seemingly every indicator and prediction, Charlie's Angels: Full Throttle opened to "only" $38 million last weekend, a surprising reversal from the opening weekend total of the first. It's difficult to pinpoint what went wrong other than a backlash (that or Demi Moore's box office poison is stronger than we ever knew). This slower start also spells trouble in the long run. It's not necessarily franchise killing, though a lot depends on the following weeks. A $20 million performance this weekend would be mandatory for hope of a third film.
What would be a disastrous scenario is exactly what happened to Hulk, which fell a ludicrously high 70%. This puts it in the category of films like Batman & Robin and Godzilla, all-time flops of ridiculous proportions. While it did eke past the $100 million point on Sunday, $150 is now in doubt. Profitability is still going to be there for Marvel and Universal, but this is the first chink in Marvel's armor since their recent revival in films.
Hoping to buck the trend of cliff-jumping box office, 28 Days Later has the chance to be one of the lone leggy films of the summer, at this rate. Earning a powerful $10 million at just 1,260 sites, the low-budget apocalyptic horror film has made itself into a buzz film. Final box office is notoriously hard at this point to predict but a figure north of $50 million is probably a good place to start. $7-8 million this weekend would be the expected range.
Finding Nemo should move into the top 20 all-time box office at the end of this weekend, now in its sixth week of consistent performance. It should see a significant boost from the holiday and ought to hold above the $10 million mark for one more weekend. In any event, the $267 million mark for computer animated films held by Shrek will fall to Pixar.
The first half of 2003 ended on a bit of a down note, but the traditional boost from the July 4th weekend could give the second half a much-needed jump start. Three successive weekends of disappointing business could start studio executives in a panic.
Forecast: Weekend of July 4-6, 2003

Rank

Film

Number of Sites

Change in Sites from Last

Estimated Gross ($)

1

Terminator 3: Rise of the Machines

3,504

New

57.2

2

Legally Blonde 2: Red, White and Blonde

3,350

New

33.5

3

Charlie's Angels: Full Throttle

3,485

+26

20.9

4

Sinbad: Legend of the Seven Seas

3,086

New

14.1

5

Finding Nemo

2,902

-431

10.0

6

28 Days Later

1,400

+140

7.7

7

The Hulk

3,295

-379

7.4

8

Bruce Almighty

1,925

-726

4.1

9

2 Fast 2 Furious

1,775

-1,042

3.3

10

The Italian Job

1,584

-437

3.0