Weekend Forecast for
June 13-15, 2003
By Reagen Sulewski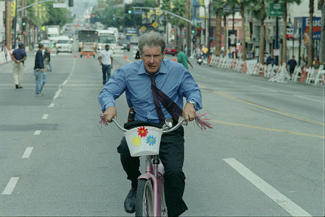 Most of the weekends for the past two months have featured one obvious big dog new release. With Hollywood apparently rationing out the tentpole pictures, a slate of three mid-tier films make up the new offerings instead of one or two blockbusters. Historically, a weekend with this many releases in the summer has meant that at least one breaks out of the pack, with one suffering badly. This time, there's a very clear candidate for both slots.

Hollywood Homicide has the benefit of Mr. All-Time Box-Office Champ, Harrison Ford, and Mr. Up-and-Coming, Josh Hartnett, as its headliners and an audience-friendly genre. Despite these positives, a schizophrenic ad campaign threatened to upend its chances before it got off the blocks. Unofficially a comedy/drama/action/cop/buddy movie, it had a series of commercials that targeted each of the genres separately, leaving anyone who saw more than one of these commercials to be more than rightly a little confused as to what the hell this movie was supposed to be about.

As the release date approached, a little focus arrived and some strengths emerged. Chemistry between Hartnett and Ford finally became obvious and gave off a less desperate reach for comedy blended with the action. A sneak preview last weekend also brought it some positive buzz and sympathetic comparisons to the Lethal Weapon franchise (though at nearly 61, Harrison perhaps really is too old for this shit).

Harrison Ford hasn't done a whole lot lately to justify his box office crown, with K-19 being a fantastic flop (See: Accents, Bad, Theory Of), finishing with just $35 million. What Lies Beneath was a pretty big success in 2000, but that just makes it three years since his last hit. Most youth potions call for the addition of young blood, which Hartnett certainly brings to the equation. Probably best known for his leading roles in Black Hawk Down and Pearl Harbor, he's got the potential to lead the wave of Young Hollywood if he wants to do so (his continual passing on the Superman franchise indicates that he probably doesn't). It's a good pairing (setting aside the near fatal car accident on set) that targets the entire 18-45 demo and beyond.

Writer-director Ron Shelton, famous for tackling male dynamics, puts these two in a blender in a high-profile murder investigation involving a hip-hop artist. It's a fairly unexplored angle on the cop movie and potentially alienating given that Ford's traditional fans may not want to follow (not that they've been that loyal lately; who needs them?). It's difficult to recover fully from a bad start to an ad campaign but I think Hollywood Homicide has come close to doing so. A weekend of $26 million could be in store.

An animation franchise that once spawned the highest grossing non-Disney animation comes to what may be a sad end with Rugrats Go Wild. Having literally had its audience outgrow it, Rugrats is now an exercise in not embarrassing its studio (for a look at how bad this can get, take a look at the decline of the Pokemon movies). Paramount and Nickelodeon's last collaboration, The Wild Thornberrys (who join them this time around in a Flintstones/Jetsons style crossover), gives us a look at how far this franchise may have fallen, though that show was never as popular. A last gasp may give about $14 million, nearly half of what the first film started with in 1998. We'll probably have to wait for the upcoming SpongeBob SquarePants Movie for the next animated TV that successfully makes the leap to the big screen.

Dumb and Dumberer...you're kidding me, right? One of the more shameless attempts to capitalize on a name ever, I think it's fair to say that this film has nothing going for it. No original stars, no original directors, no original writers and no apparent comedy. I was willing to give it a little benefit of the doubt after a moderately clever teaser but that was apparently the sum total of thought that went in to making the film. It's a film about idiots, by idiots and for idiots. Okay, so by this theory it should be the number one grosser (ha!) of the year but I do have a little more faith in humanity than that. Shame on Luis Guzman, shame on Mimi Rogers, shame on Eugene Levy, hell, shame on Bob Saget! You're all better than this. Any amount is probably too much for this film but it will probably eke out $8 million from people who will be really, really sorry.

All of these films are sideshows to the battle for number between Finding Nemo (in its third week) and 2 Fast 2 Furious (in its 2, er, second). The only reason this race is even close to being a challenge is the car movie's carried over lead. It's already shedding audience during the mid-frame period, leaving Nemo with a fairly clear shot at regaining the top spot. The last film to retake first place was Harry Potter and the Chamber of Secrets last November, so it certainly wouldn't be out of character. One more weekend over the $30 million mark would put it within a fin's breadth of $200 million and firmly in the running for high-water mark of the summer. 2 Fast 2 Furious will be lucky to reach the $144 million of the original, despite its $50 million start. Certainly, not everyone has hated it, but the number of people who have actively wished for revenge on it can't be a good sign. Watch for it to drop a tranny and fall to about $23 million.

"Close but no milestone" continues with Bruce Almighty, which should pull to within a few mil of the $200 mark. This achievement would make four $200 million earners in the month of May alone, putting 2003's total gross on a fast and furious pace (2 fast, some might say). With the perhaps not-so-surprising legs of films like The Italian Job and more blockbusters on the way (HULK SMASH!), this summer could very well be the highest-grossing on record. I just ask for no more weekends like this one, okay Hollywood? Probably the most enticing thing this weekend at theaters is a sneak of 28 Days Later, the latest apocalyptic zombie movie (from Trainspotting director Danny Boyle). Not that I'm complaining, but the weekend should be its own show. Or maybe they're just spreading things around and I should just shut my yapper.
Forecast: Weekend of June 13th-15th, 2003

Rank

Film

Number of Sites

Change in Sites from Last

Estimated Gross ($)

1

Finding Nemo

3,425

+34

30.8

2

Hollywood Homicide

2,840

New

26.1

3

2 Fast 2 Furious

3,418

+10

23.5

4

Rugrats Go Wild

3,041

New

14.2

5

Bruce Almighty

3,476

-73

13.7

6

The Italian Job

2,697

-180

8.5

7

Dumb and Dumberer

2,609

New

7.9

8

The Matrix: Reloaded

2,350

-875

4.9

9

Daddy Day Care

1,982

-731

3.0

10

X2: X-Men United

1,311

-739

1.8