Weekend Forecast for Memorial Day Weekend 2003
By Reagen Sulewski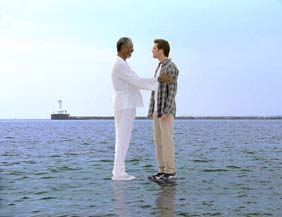 Even though it has lost a bit of its cachet as a big ticket opening period with films instead opting for the prior weekend, Memorial Day Weekend is still one of the busiest times of the year for theaters, as well as the official/unofficial start to the summer box office season. With the returning Matrix: Reloaded and the latest high-concept Jim Carrey comedy sitting atop the box office, there are two reasons that this year's should be no exception.
While Jim Carrey's career isn't in as critical a condition as it was in 1997 post-Cable Guy and pre-Liar Liar, there's little doubting that it could use a shot of the comedy adrenalin after the sizable flop of The Majestic and the two-and-a-half year break he's taken since then. It's perhaps no coincidence, then, that Bruce Almighty shares its director with Liar Liar, one Tom Shadyac (who also gave him his first big role in Ace Ventura: Pet Detective). Where Liar Liar enlisted an unknown mystical power to keep Carrey from fibbing in Liar Liar, Bruce Almighty gets very specific. After complaining one too many times about his fate, Capital-G God comes down to grant him heavenly powers to show how easy being a higher power ain't.
Allow me a moment of personal frustration here as what potentially could be an extremely thoughtful and profound premise appears to be being mined for boob and toilet jokes. Now, bring on the boob and toilet jokes! Before the updated version of How the Grinch Stole Christmas, Liar Liar was Carrey's most successful film as an unquestioned lead and answered major questions about his potential staying power when it looked as though he could easily fade from popularity after his first flop. Stick him in the right kind of role and audiences would come back to him. Playing another of the kind of roles I call "Jimmy Stewart on crack," this is very likely exactly what audiences are demanding of him, a message that must have been heard loud and clear after the sub-$30 million performance of The Majestic.
The supporting cast in a Jim Carrey movie very rarely helps, but a badly casted role could easily hurt it. Here we have Jennifer Aniston playing the girlfriend, and in what is easily the best casting decision outside of the lead role, Morgan Freeman as God. Always welcome in these roles of authority, Freeman appropriately enough plays the role with a hefty sense of humour. Setting aside my frustrations with a wasted concept above, the light comedy route is undoubtedly the best way for the film to go, financially. For attracting the opening weekend audience, the concept is all that's really necessary and as a result, Bruce Almighty should prove to be one of the biggest openings of Carrey's career. It will challenge The Grinch (sitting at $55 million and an inflation-adjusted $59 million), though that film's $260 million total box office is almost certainly out of reach barring some sort of real world application of the film's powers. Expect a four-day Memorial Weekend total of about $58 million.
Competing for new dollars is another comedy, albeit one that aims for an older-skewing audience. The In-Laws, starring Mr. Catherine Zeta-Jones and Albert Brooks, is a remake of the 1979 film of the same name, which starred Peter Falk and Alan Arkin. One could wonder exactly what was the impetus for this remake given the low-wattage of the cast; probably something to do with a "we've always wanted to work together" plus a studio head with favors to pull. How excited you are for this film will depend on how irritating you find Michael Douglas's smarm and Albert Brooks's high pitched whine. While the premise of using in-laws as a cover for secret operations before a wedding certainly has potential (or else it wouldn't have worked the first time), I'm not feeling the spark in this Odd Couple pairing. Combine that with the fact that it's clearly the number two comedy choice this weekend and it's not going to be a happy honeymoon. Perhaps the only potential saving grace is the fact that the target audience that doesn't entirely line up with Bruce Almighty. Even so, that's a film that's going to cover all markets leaving The In-Laws left to find just a niche. I'm looking for a four-day total of $8 million.
Coming in as the number two opening of all time, The Matrix: Reloaded has a head start on most of the competition this weekend. After shattering any number of records last weekend, its status is firmly entrenched as an enormous franchise. The question is now to see if it can hold its own in the court of public opinion. Hhundreds of millions potentially hang in the balance. While it's natural to think that any film that earns that much must be front-loaded and not likely to retain a strong portion of its take in the second weekend, we've had a lesson as recently as last year that this expectation doesn't always necessarily hold true. All-time highest opener Spider-Man fell just 38% in its second weekend when a drop as high as 50% would not have been unexpected. Lesson learned: if a film delivers, the sky is the limit.
Opinion is naturally divided on this issue as it pertains to Reloaded, though if I may, the negatives are suffering from a case of deluded expectations. It simply wasn't possible to be as innovative within the same framework of the original film. However, Reloaded did do an excellent job of expanding and expounding on the universe created in The Matrix, not to mention that it's got some kickass fight scenes. Multiple viewings are almost required to fully absorb the multiple elements of Reloaded and while it's unlikely to repeat the impressive legs of The Matrix, it also isn't about to die on the vine. It should continue as the number one film of the weekend with $64 million over four days, blasting through the $200 million mark.
Daddy Day Care managed to spend a second week at number two, losing less of its audience to The Matrix than X2. Earning a healthy $18.8 million in its second week, it's almost assured to cross the $100 million mark, barring some monumental collapse. With the kid-friendly weekend ahead it may be able to tread a little more water, dropping just to $15 million. X2 will not be as lucky, though its free fall should halt here. After two weekends dropping more than 50%, X2 will slow that decline enough to keep it above the $10 million mark.
With four days to schedule in extra films, this has been a weekend where returning films in the lower half of the rankings have had a chance to recover slightly. All the films between one and five million should feel this effect, with the one needing it most being Down with Love. This unconventional (and at the same time, the embodiment of conventional) romantic comedy started out with just $7 million. Word-of-mouth could carry this some ways but realistically, anything more than $40 million would be amazing at this point. A $5 million figure would help stop Down with Love from being Out of Theaters. With four films now holding at least 3,000 theaters apiece, it's time for these flicks to prove they still belong as earners. After this weekend, it's Summer Cleaning time.
Forecast: Weekend of May 23-26, 2003

Rank

Film

Number of Sites

Change in Sites from Last

Estimated Gross ($)

1

The Matrix: Reloaded

3,603

0

64.2

2

Bruce Almighty

3,482

New

58.3

3

Daddy Day Care

3,472

+64

14.9

4

X2: X-Men United

3.067

-423

11.4

5

The In-Laws

2,652

New

8.6

6

Down with Love

2,117

-6

5.0

7

The Lizzie McGuire Movie

2,118

-540

3.9

8

Anger Management

1,809

-667

2.7

9

Identity

1,509

-606

2.6

10

Holes

1,762

-470

2.3