Weekend Forecast for May 16-18, 2003
By Reagen Sulewski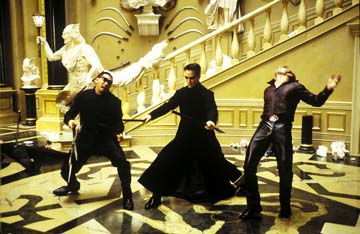 Ever since its release date was announced, the debut of The Matrix Reloaded has been inked in as the movie event of the summer season. It's the Year of the Matrix, and the year has finally started. While there's little doubt that numerous records will fall this weekend, the real question is whether the film can live up to its massive hype. It's time to wake up and follow the white rabbit to your local theater.
Stepping up a weight class or two from the original film in 1999, The Matrix Reloaded is a confirmed mega-blockbuster instead of being a sleeper hit like The Matrix, which earned $171 million total gross ($196 million adjusted). Those relatively modest earnings only tell part of the story though. Worldwide audiences took to the techno-kung fu action far more readily than North American audiences, to the tune of $285 million in ticket sales. In a fitting development, The Matrix arrived on DVD at the same time as that technology had it breakthrough into the mainstream. A case could even be made that it was The Matrix that caused this breakthrough, with the ratio of sales of the players and the disc approaching 1:1 at one point.
Easily the most influential movie of the late '90s, The Matrix tapped not only into pre-millennial angst, but a growing technophilia in society. Not only that, the film also had some awesome special effects and kick-ass fight scenes, with more than one having to duke it out for the title of "most-imitated" (it's the crane kick by a toe). With all the ground established and the question posed in the brilliant and spare original advertising campaign answered (yeah, yeah, we know what the matrix is already), the Wachowski Brothers have simply turned the dial up to 11. More action, more special effects, more characters... more story? Probably not, since it gets to hit the ground running. That's okay, since you won't find a more pre-sold audience outside the Star Wars prequels, which not coincidentally becomes the basic template for its box office.
There used to be a rule of thumb that sequels could be expected to make two thirds of the previous film's gross. Recent years have shown that to be an ill-fitting guideline, with many high-powered follow-ups outperforming their originals by a wide margin.
<% sqlstr = "SELECT * FROM box WHERE" sqlstr = sqlstr + " movie like 'Scream' OR" sqlstr = sqlstr + " movie like 'Scream 2' OR" sqlstr = sqlstr + " movie like '%Austin Powers%' OR" sqlstr = sqlstr + " movie like 'Rush Hour%' OR" sqlstr = sqlstr + " movie like '%X-Men%'" sqlstr = sqlstr + " ORDER BY open DESC" max = 100 header = "Overachieving Sequels" tstyle = "release" skin = "bop" x = Drawtable(sqlstr,max,header,tstyle,skin) %>
The Matrix Reloaded should easily join this group with the $27 million opening of the first looking laughably small now. The only thing standing in its way now is a possible hype backlash. After going to the unprecedented step of producing their own animated warm-up films (The Animatrix) and video game which tie into the sequels, along with having been pre-anointed as the champions of summer by nearly everyone, there was bound to be a bit of a push back. Perhaps the clearest sign of this was when Ebert & Roeper picked The Hulk as their "Movie to See" this summer. Everybody likes rooting for the underdog, but let's not get carried away, fellas.
With a Thursday proper debut and Wednesday night showings, the closest analog for this release pattern is Star Wars Episode II: Attack of the Clones, which came out with a $30 million opening day and an $80 million debut weekend. With as much respect to the Greasy Fan Boys of the Star Wars films as possible (them plastic lightsabers can leave a welt and these are bitter, bitter people), that's peanuts now and The Matrix is playing in a different league. The R rating of The Matrix Reloaded could potentially make a difference but in reality (or is it?), this is a film that covers enough demographics broadly enough that its box office returns shouldn't be visibly impacted. The current record for debut weekend of an R-rated film belongs to Hannibal at $58 million even. This number is easily brushed aside, with the total gross of Beverly Hills Cop at $234 million becoming the more worthy challenge. Attack of the Clones' $30 million single weekday figure definitely presents an obstacle and in a final test, we have Spider-Man's $114 million all-time record weekend. As a cultural touchstone, The Matrix isn't quite there just yet and on a logistical level, there's not doubt that the Thursday opening takes away from the weekend box office. I'm sure that Warner Bros can't be bothered with which day they get their money, though.
There should be a slightly higher skewing of the earnings towards the weekend simply because of the older audience, but a new weekday record of $37 million is in the cards for Neo and company. Following this will be the second nine-figure weekend take in history for one film, edging it just over the $100 million mark and close to $140 million for four days, itself a new record. Only time will tell, however, if the cliff-hanger ending of Reloaded will satisfy fans enough to leave them salivating for the conclusion in The Matrix Revolutions, or if it will introduce a lethal virus into the franchise. While The Lord of the Rings has been able to keep its fans and build on its audience, a poor outing in a second film could make The Matrix sequels into a replay of the disappointing Back to the Future sequels.
This weekend, the role of chopped liver will be played by everything else. Down with Love plays the counter-programming card in about 2,200 venues, in a '60s throwback romantic comedy starring Ewan McGregor and Renee Zellweger. Some people apparently take the phrase "they don't make them like they used to" personally. Zellweger is a proto-feminist advocating equality and Ewan is a swinging lothario who's determined to break down her resolve. Will these two wacky cats ever see that they're truly meant for each other? After both these actors were a part of the musical revival (he in Moulin Rouge, she in Chicago) they sync up in a natural pairing. There might not be a more consistent female lead now than Renee (a supporting performance in White Oleander is forgiven and forgotten), and the Oscar-winning and $160 million plus earning Chicago is still in theaters. While tackling the female audience on a weekend dominated by an action franchise would ordinarily be a brilliant idea, we are talking about an action film that draws across all demos. Down with Love should still hit its mark at around $16 million and could have an extended run through the summer.
Waving meekly for attention is X2, the soon-to-be-former fourth-highest opening film of all time. Though its $153 million (as of Tuesday) in earnings are already within an adamantium claw of the first X-Men film's total gross, it suffered a difficult second weekend, dropping over 50% from $85 million to $40 million. It gets no relief as it cedes its buzz to The Matrix. Perhaps the only saving grace here is its PG-13 rating counters the R rating handed to The Matrix Reloaded. $22 million will blow quickly past that mark and help it hold its spot for one more weekend as the number one film of 2003, but that is a title that will not last long for the mutants.
Daddy Day Care fell strongly in line with the recent family friendly fare to which Eddie Murphy has been reduced, earning $27.6 million in its opening frame. One would think that this kind of pandering, zero-thought crap wouldn't be able to have legs but that same reasoning would have us think it wouldn't open this strongly either. It should be due for another $17 million.
The fifth Pokemon mov... aw, who gives a crap.
A Mighty Wind continues to blow strongly in a small number of theaters after breaking into the top ten with $3 million. Christopher Guest has built himself something of a mini-franchise in these partially improvised films which continue to build the old fashioned way, through word-of-mouth.
The Matrix Reloaded threatens to crush all of these films, though, and should easily account for two thirds of the total weekend box office. How it carries through the summer and where it can end up ranked for the year and all-time become the stories after this weekend.
Forecast: Weekend of May 16-18, 2003

Rank

Film

Number of Sites

Change in Sites from Last

Estimated Gross ($)

1

The Matrix Reloaded

3,603

New

100.5

2

X2: X-Men United

3,489

-260

22.3

3

Daddy Day Care

3,408

+38

17.3

4

Down With Love

2,124

New

16.5

5

The Lizzie McGuire Movie

2,658

-167

4.7

6

Identity

2,196

-422

3.9

7

Anger Management

2,476

-343

3.4

8

Holes

2,232

-220

3.0

9

A Mighty Wind

770

+5

2.7

10

Bend It Like Beckham

553

-2

1.9