Weekend Forecast for April 25-27, 2003
By Reagen Sulewski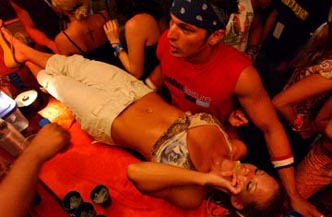 The end of April has, in the past few years, been a time when films have tried to get a jump on the ever-earlier start of the summer movie season. This is not one of those weekends, as it's a motley crew of releases that greet the weekend before the unofficial summer season officially starts.
Leading the way is the all-B-star cast of Identity, which becomes the big fish in a small pond. In what looks like a film that was cast on the set of Jon Favreau's Dinner For Five, John Cusack, John G. McGinley, Amanda Peet, Ray Liotta and Alfred Molina, among others, sync up for a spooky thriller about strangers in a motel that are slowly knocked off one by one. What I'm reminded of most is last year's Frailty, and not just because they're both titled with short abstract nouns that end in "y." They share the interview style flashback plot device and a general sense of spooky dread throughout the film.
A film it also resembles in some respects is last year's Signs, which effectively used limited information to build a buzz. Somewhere between the $4 million of Frailty and the $60 million of Signs lies the potential of Identity. Bet on somewhere towards the lower number since despite the likeability of the cast and the sometimes scary level of fandom surrounding John Cusack, no one in this film carries that crucial "box office draw" tag. As a group, they are likely to have a bit of a "sum of the parts" effect, lending the film credibility. Add that to the fact the spooky thrillers like this one almost never totally fail, and Identity could be a solid performer this weekend. A start of $11 million in 2,773 venues would be very promising for this film, as it has potential to become a word-of-mouth fave.
This week's entry in the "Hollywood Is Creatively Bankrupt Sweepstakes" is The Real Cancun, a new challenger for the highest-grossing "documentary" record set last year by jackass: the movie (somewhere, Errol Morris weeps). Real World producers Mary-Ellis Bunim and Jonathan Murray saw an overcrowded and downward sliding Reality Entertainment market and decided, "Why not while we still can?" Essentially a Too Hot for TV video released theatrically, it's probably appropriate that director Rick de Oliveria's only previous directing credit was for a Playboy video. With a ridiculously cheap budget (most of which was likely spent keeping the "actors" loaded) it's practically guaranteed to turn a profit. But will you still respect yourself in the morning? Perhaps the first movie in history to get an R rating for "partying," this is more than just a sleazy cash-in attempt; it's a trial balloon for many more films like it. Remember how many game shows popped up after Who Wants to be a Millionaire hit big? Be afraid. Be very afraid. $10 million will make this possibility very real.
Crime capers come in generally two forms; the glitzy, plot-driven, star-powered ones like Ocean's Eleven and the upcoming The Italian Job, and the smaller, character-driven ones that are all about the psychology of the con, like The Score or Heist. Confidence falls squarely into that latter category, being all about the clichéd "biggest con ever" around which all these films inevitably revolve (no one ever goes after the small fish).
It's easy to see why so many actors are attracted to movies like Confidence as they get to act tough and menacing, but it's difficult for me to decide which of the two ostensible leads of Confidence, Edward Burns and Dustin Hoffman, are less effective as menacing gangsters. Rachel Weisz on the other hand, makes an effective moll, so maybe I'm being too hard on the movie. The director is James Foley, returning to David Mamet-like territory ten years after Glengarry Glen Ross, and the writer is a first-time script from Doug Jung, which makes it difficult to judge. Hey, The Usual Suspects was practically a first script and starred a Baldwin, so anything's possible. What's not likely, though, is a strong first weekend, as Confidence will only steal about $6 million from moviegoers to start.
It Runs in the Family takes the Parenthood gimmick and goes it one better by having all the generations actually be related. Three generations of Douglases work out their family issues on screen and are bargaining that you are willing to pay $7.50 to see them do so. OK, Kirk Douglas doesn't have many more movies in him but he probably deserves better than this. It Runs in the Family doesn't appear to have much to distinguish itself beyond this gimmick, and MGM may have another film to add to its ever-growing list of botched campaigns and ill-advised projects. Go rent Spartacus if you've got a real hankering to see Kirk Douglas again. Launching on a sparse 1,207 screens, It Runs in the Family may do as poorly as $4 million this weekend.
These films leave the door wide open for Anger Management to take the number one spot for a third weekend. Closing in quickly on $100 million total, it's performed neither above nor below average for a typical Sandler film, and the addition of Jack Nicholson seems to have had no real effect. Last weekend's Easter holiday mucks things up a bit as far as judging the future potential of the film, but the third weekend is where the film's fortunes could really change and could mean the difference between $120 million and $160 million. Anger Management deserves to be closer to the higher number than the lower, comparing it to Sandler's recent films. Inspired lunacy should be rewarded, in all its forms.
The surprise second place finisher for last weekend, Holes, gets a chance to make its mark as a leggy film and it's almost certain that it will. This "Goonies for Gen-Z" has all the makings of a film that can run for many weeks, provided it doesn't get derailed by something in early May. The under-15 age group is loyal to a fault, though, and should power the movie well into the summer, and the second weekend should be around the $12 million mark.
A film to watch in limited release this weekend is Better Luck Tomorrow, which expands to over 300 venues from 13 last weekend. It earned this expansion by bringing in the highest per screen average overall last weekend, though not in the huge ranges that can be seen for limiteds. A festival fave, Better Luck Tomorrow depicts a group of Asian students that engage in a little extracurricular crime. A dark drama, it is clearly capturing an audience and with a little luck, could develop into a minor hit that could start with around $2 million this weekend.
There's just one short weekend to go under the summer season greets us with blockbuster after blockbuster, so either you can take this weekend as a breather, or you can sit and wait in anticipation of the bounty awaiting. It's win-win!
Forecast: Weekend of April 25-27, 2003

Rank

Film

Number of Sites

Change in Sites from Last

Estimated Gross ($)

1

Anger Management

3,656

+86

15.5

2

Holes

2,349

+18

12.4

3

Identity

2,733

New

11.2

4

The Real Cancun

2,261

New

10.3

5

Malibu's Most Wanted

2,503

No Change

7.0

6

Confidence

1,871

New

6.6

7

Bulletproof Monk

2,955

No Change

5.7

8

It Runs in the Family

1,207

New

4.7

9

Phone Booth

2,113

-335

3.9

10

What a Girl Wants

2,540

-390

3.1