Weekend Forecast for April 11-13, 2003
By Reagen Sulewski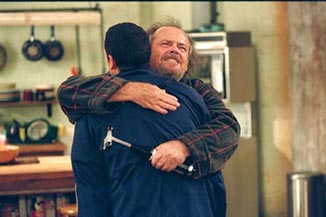 After several weeks of typical spring-like box office, the top ten box office will receive a summer-like wake-up call. Only one new release goes wide, but it's a heavyweight that has potential to be one of the biggest films of the year, let alone the spring.
That film is Anger Management, the latest from Adam Sandler and Jack Nicholson. One could look at this pairing with cynicism, considering the disparity in the reputations of the two leads. However, while Nicholson is the recent Oscar nominee, Sandler made a quantum leap last year starring in P.T. Anderson's Punch-Drunk Love. I don't think anyone's expecting him to keep up the same level of acting excellence in this, the latest variation on his psychopathic man-child films, but it has made him an actor to watch.
Clearly Sony would prefer to not have the box office of the Anderson film discussed here, as it not only failed to break out but also was the lowest grossing of Anderson's films since Hard Eight. Of course, this performance is easily explained by the fact that the film simply wasn't accessible to the fratboy audience that made The Waterboy, Big Daddy and Mr. Deeds such hits. Jack Nicholson is no box office slouch either, as About Schmidt showed this winter. Even though that film's $60 million doesn't really compare to Sandler's three recent $100 million plus films and $40 million opening weekend average, he's not washed up and here adds a credibility much like a Robert Duvall appearance in a Jerry Bruckheimer film.
What's immediately notable about Anger Management is the inspired casting. Of course, the role was written for Sandler, as a meek overgrown boy with hidden rage, but introducing Jack Nicholson as the man to bring it out in him has a loony genius to it. Call it The Insane Couple or What About Bob? in Reverse, it's something that's sure to cater to Sandler's core audience without sacrificing cross-over appeal. My only criticism so far would be the apparent decision to show the entire film 30 seconds at a time before its release. Then again, this seems to be what a lot of people want, so maybe it's a positive. The current April release record is last year's The Scorpion King at $38 million, something that Anger Management should have no problem breaking. A weekend of $46 million is likely, with $50 million and over a distinct possibility.
The rest of the weekend's films are left to feast on scraps, comparatively. Falling from number one to number two will be Phone Booth, the minimalist technological morality play starring Colin Farrell and directed by Joel Schumacher. While its $15 million opening weekend leaves it in no way capable of challenging for top spot for a second week, it has all the elements in place to become a leggy, long-running film. Short (90 minutes, including credits), slick, involved but not too complicated and with a sense of humour, there's no reason to think that this film won't stick around for some time. All of this stuff is gravy at this point, considering that it's made 50% on top of its $10 million production budget already. It could make that budget amount back again this week.
Last week's number two and three films are somewhat less assured of holding on to significant amount of their cash; What a Girl Wants and A Man Apart ended in a virtual tie with around $11 million. Younger audiences can be counted on to support a film such as What a Girl Wants but the mediocre start combined with the mediocre reception doesn't show much promise for that. A Man Apart, the latest attempt at self-sabotage for Vin Diesel's career, holds even less promise given the nature of thrillers to have little staying power in the first place. These two films will end up sticking in the high $5 to high $7 million mark for the weekend.
One notable limited release arrives this weekend with a full head of controversy. House of 1000 Corpses is the long-awaited directorial debut of death-metal rocker Rob Zombie. A horror film of rumored depravity, it's been bounced from distributor to distributor until Lions Gate, a studio that seems to seek out controversy, picked it up and has finally given it a release. The reputation of the film is likely to scare off as many as it attracts (and more) and on just 600 screens, it's unlikely to break out of a core of horror aficionados and could have trouble passing the $2 million mark, especially given that Lions Gate has chosen not to heavily promote the film.
While the summer season is still just over a month away from unofficially starting, we get a preview this weekend of summer-like box office.
Forecast: Weekend of April 11th-13th, 2003

Rank

Film

Number of Sites

Change in Sites from Last

Estimated Gross ($)

1

Anger Management

3,551

New

46.9

2

Phone Booth

2,489

+8

10.2

3

What a Girl Wants

2,964

0

6.9

4

A Man Apart

2,495

+36

5.9

5

Head of State

2,256

+101

5.9

6

Bringing Down the House

2,830

-80

5.5

7

The Core

3,019

0

3.8

8

Chicago

2,114

-281

3.6

9

Basic

2,246

-630

3.0

10

Agent Cody Banks

2,007

-324

2.2