Weekend Forecast for April 4-6, 2003
By Reagen Sulewski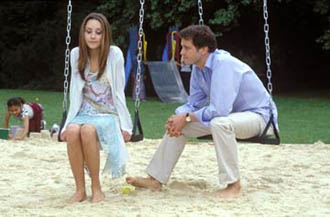 As the second quarter of the year starts, Hollywood's box office finds itself in a very healthy position. Two 2003 releases have already crossed the $100 million mark with another set to do so either this weekend or the next. The Oscar winner for Best Picture is still going strong, eyeing a potential $200 million total, and four different films topped double figures in millions for last weekend, above average for this time of year. It's into this positive climate that four new wide releases enter, hoping to grab their piece of what could be a very large box office pie.
The film taking the most tortured route to release is Phone Booth, starring the recently omnipresent Colin Farrell. Finished filming all the way back in December of 2000, it's been a snakebit production, and not just since it finished filming. It had just about as many stars and directors turn it down and bounce it around as the upcoming Superman project (and often the same people). Cast members were replaced during filming. Then, after it finally finished filming, it sat on the shelf while Fox figured out how to sell it. A mediocre showing at the Toronto Film Festival shook confidence in the film and then came the Beltway Sniper incident, which led the studio to decide the product was too controversial to release just then, even though the similarity was slight at best. So with hopes that the film isn't horribly dated now (criticism about actual functioning phone booths in New York notwithstanding), it arrives on 2,481 screens.
Phone Booth is something of a gimmick movie and director Joel Schumacher (grr, hiss) has a history of being involved in these; from Flatliners to Falling Down to 8mm, he's often picked films with a "hook," which some might call a fairly callous attempt to be hip. Oh wait, I would say that. But I digress. This latest high-concept film puts a shallow "Bonfire-of-the-Vanities-of-the-street" type in the crosshairs of a sniper intent on punishing him for... something. We don't know what and neither does he, quite yet. Maybe something to do with his wife and girlfriend? One thing's for sure; no one will have trouble picturing Colin Farrell as a womanizer. He's made as many headlines for his conquests as he has for his movies, which is quite a trick considering this is his third film to hit theaters in just over three months. Both of his previous films this year started out quite strongly, with The Recruit relying the most upon him, and grabbing $16 million to start. In Daredevil, he was just the sideshow, but a $45 million start grabs you a lot of face-time.
I guess the question that remains is how much the film will need Farrell (and supporting cast, but Forrest Whitaker ain't selling tickets) and how much the novel concept will pull it along. Unique isn't always better for box office (see: Willard) but this film doesn't cross over into the "weird" or "incomprehensible" territory that can sink similar movies. Phone Booth should be able to break its cursed history and earn a healthy $15 million this weekend.
The latest film to take on the increasingly lucrative pre-teen female market is What a Girl Wants starring up-and-comer (I suppose) Amanda Bynes. A free-spirited American teen visits the stuffy upper-crust father she never knew in Britain (played by the suddenly rising actor Colin Firth). Culture clashes and wackiness ensue. Superficially similar to the 2001 hit The Princess Diaries, What a Girl Wants is another in the line of inoffensive (aside from a silly controversy over a peace sign flashed in its poster) wish-fulfillment family-friendly films that have been successful lately. Warner Bros is putting a lot of muscle behind this film, launching it in 2,964 venues. It doesn't have the hook of either Disney's marketing team or Julie Andrews so it won't match The Princess Diaries; however, it could settle in nicely at around $14 million for the Friday-Sunday period, a very respectable start.
Yet another film that has had a long trip from filming to release is Vin Diesel's latest, A Man Apart. Like Knockaround Guys, A Man Apart was another film saved by the shocking hit status of The Fast and the Furious (how long till that underground breakdancing video of his gets a commercial release?). Playing like a Very Special Episode of NYPD Blue, Diesel enacts revenge on the drug dealers who killed his wife (which of course, requires that you grow a sensitive-man goatee). Despite xXx establishing him as a credible action star, he's still yet to follow it up with anything worthwhile (Riddick still seems a long time away). Pulling stuff out of the vault never works and Knockaround Guys's anaemic $5 million opening weekend is more than proof of that. A Man Apart looks to do a little better, because of better promotion and having Diesel in the lead role (as opposed to Barry Pepper) but A Man Apart is more like the films that Bruce Willis made in his slump (like, say Striking Distance) than in his prime. A release in 2,459 venues won't save this from doing only $9 million this weekend.
The comedy concert film is suddenly back in vogue it seems; after the Original Kings of Comedy became a runaway success on a miniscule budget, everyone has wanted in. Martin Lawrence attempted to jumpstart his career with Runteldat, making $20 million in the process. Recently the Blue Collar Comedy Tour, headlined by Jeff Foxworthy, made its stab into the marketplace, though with decidedly less success. Eddie Griffin looks to have perhaps the same potential luck as Lawrence, with his film Dysfunktional Family. After a series of scene-stealing supporting performances, Griffin broke through in a manner, with last summer's Undercover Brother, one of last year's best guilty pleasures. Although this film is only releasing in 602 theaters, this number of screens is usually enough to reach the core audience and ensure several million in box office. With Griffin an upcoming comedy force, a take of about $6 million isn't out of line.
Something may have to give with the returning films, as all four are not likely to keep a strong percentage of last week's business in this market. Bringing Down the House is probably the best bet to continue its strong earning, as four weekends into its run, its lowest dropoff has been a meagre 29%. 2003's highest grossing film at over $100 million, it also represents Steve Martin's highest-grossing film ever, a stat that is either encouraging or depressing, depending on how you look at it. Head of State should also be counted on to hold well, though it tackles much of the same audience. The comedy market is certainly well served this weekend. Of course, I include the unintentional comedy The Core in that, a film that's a good favourite to not hold its relative position, even though it's being appreciated in the manner of a comedy. You could say the same for Dreamcatcher and look how poorly that turned out. Basic appears to be a film with potential surprise possibilities, as it has claimed the number one spot each weekday this week. How significant that is is up for debate, though, as the first four spots last weekend were rather close and because it is an older skewing film, Basic has an in on weekday numbers. All four of these films should come in around the $7 to $9 million mark.
Chicago used its Oscar winning weekend to great advantage, increasing its box office take by 17% from the weekend before. It'll cross the $150 million mark this weekend, and should show little signs of slowing down for the next few weeks. The total of last year's Best Picture winner, A Beautiful Mind, at $170 million, is most definitely in jeopardy of being passed by this musical and a few more weeks could make it the highest grossing Best Picture winner since Titanic. Seeing a bigger increase on a relative scale was The Pianist, which more than doubled its take but managed only 11th place after winning three major awards. It's safe to say these wins have added at least $10 million to the coffers of this emotionally affecting film.
Forecast: Weekend of April 4-6, 2003

Rank

Film

Number of Sites

Change in Sites from Last

Estimated Gross ($)

1

Phone Booth

2,481

New

15.4

2

What A Girl Wants

2,964

New

14.6

3

A Man Apart

2,459

New

9.5

4

Bringing Down the House

2,910

0

9.5

5

Head of State

2,155

+4

9.1

6

Basic

2,876

0

7.6

7

The Core

3,019

+2

7.0

8

DysFunkTional Family

602

New

5.3

9

Chicago

2,395

-306

4.9

10

Agent Cody Banks

2,331

-455

4.2