Weekend Forecast for March 21-23, 2003
By Reagen Sulewski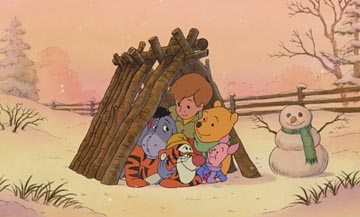 One of the facts of having a birthday in March is that your birthday movie is pretty much always going to suck. This year is no exception for me, as I'm faced with a slate of four new movies on my birthday that I personally don't care about. Won't someone please think of the March-born movie buffs? At least I've got the Oscar ceremony and March Madness to look forward to this weekend.
The least offensive of the new bunch is Piglet's Big Movie, which gets by on the fact that it's only trying to be a kid's flick and has the Pooh seal of approval. This follows in the footsteps of The Tigger Movie, which released in February of 2000, opening to a mild $9 million and finishing off with a $45 million total. That's a pretty good baseline/ceiling for Piglet, the Woody Allen of the Hundred Acre Woods, who doesn't get the same amount of kitsch cross-over as Tigger (the Robin Williams). It's difficult to imagine this one breaking the mold already made by the previous Pooh spin-off, giving it about $8 million for the weekend. If it doesn't bomb out, maybe Eeyore is next in 2006.
Technically, the "big movie" for the weekend though is Dreamcatcher, the latest adaptation of Stephen King's work. Though King remains a best-selling author no matter what he puts out (coming soon: Stephen King's The Grocery List!) his movies have been decidedly dicey affairs. For every Green Mile or Misery, there's two or more films like Needful Things, Pet Sematary or Children of the Corn. Dreamcatcher has the pedigree of the first group, with a talented cast and crew but this time, it's the material that lets them down and hurls them into the second. Definitely not one of King's better stories, Dreamcatcher mixes too many genres and descends into outright silliness (lay off the mentally-challenged Messiah figures, will ya Steve?). Still, there's that tantalizing group of people associated with the film.
Director Lawrence Kasdan, while not exactly a household name, is no dime store hack and it appears he's brought some interesting visuals to the screen, at least. Screenwriter William Goldman has two Academy Awards to his name. The cast includes Morgan Freeman, Tom Sizemore, Damian Lewis and Jason Lee among its notables. Even this bunch can't turn Dreamcatcher into a good film. Reviews range from "It's so bad it's a hoot" to "Avoid avoid avoid." Not that these matter to horror aficionados, who quite frankly deserve what they get sometimes. The combination of names could bring this film up to the $13 million level, which might give it an outside shot at first place this weekend.
Maybe it's appropriate that Boat Trip is being released on Oscar weekend, seeing as how its star, Cuba Gooding, Jr., has become the poster child for the "Is it too late to take that Oscar back?" Syndrome. Gooding and co-star Horatio Sanz (now there's a dream comedy pairing) mistakenly end up on a gay cruise instead of the singles cruise they thought they were taking. Gooding's dream woman is among the cast. Three's Company like misunderstandings and vaguely offensive stereotypings ensue. Okay, so this is basically the same idea as Some Like it Hot (without the gangsters), but somehow I doubt director Mort Nathan (who?) is the second coming of Billy Wilder and I know Horatio Sanz is no Jack Lemmon (or Tony Curtis). I'm sure Boat Trip will end up a lot more like Will & Grace: The Movie. Of course, why pay for the cow when you can get the suck for free? Remember when Artisan was a studio known for highbrow and quality? They should be ashamed for every dollar of the $5 million they make from this film this weekend. PS: Cuba, fire your agent or tell whomever it was you pissed off you're sorry. C'mon, there's still time to turn it around!
Possibly less offensive but with less potential humour is A View From the Top. Gwyneth Paltrow isn't generally someone you depend on to open a movie, though she does ad respectability to a cast. However, in this "Legally Blonde of the Skies", she's pretty much the whole show. This focus wouldn't be such a bad thing if there were any comedy lurking in the wings, but the best we can apparently hope for is a cross-eyed Mike Myers behaving like an idiot. I don't know about you, but that's not really enough to entice me into a movie theater. As a wiser man than me once pointed out, there's nothing sadder than a bad comedy, because you can't even laugh at it for being bad. About $4 million worth of movie tickets will go towards proving that fact this weekend.
Somehow, though, that message isn't getting through when it comes to Bringing Down the House, which has an excellent chance of being a three-week champ. Dropping a meagre 29% from its first weekend to take in $22 million last frame, this film is somehow catching on. I suppose it'll give a certain level of smarm to Steve Martin's Oscar hosting duties, and smarmy Steve Martin is funny. This is too high a price to pay, though. A $15 million take would shove it over the $80 million total mark and will almost certainly end up as Martin's highest grossing film ever as a lead (passing 1989's Parenthood at $100 million). I just don't understand people sometimes.
Agent Cody Banks will continue to chip away at some business in the middle tier of this weekend's box office; Frankie Muniz has actually shown some potential for drawing a consistent audience in his last two movies. Let's see if he can hold an audience when he transitions out of the pre-teen demo (he's already 17!). Cody Banks, though not really franchise material, should pull in about $50 million total on a $26 million budget, and that's bankability.
The Hunted could be put down by theater patrons this weekend; a rather bland and pointless thriller, it satisfies almost no one and only started with $13.5 million to boot. While the last Friedken-Jones collaboration, Rules of Engagement, managed one gasp at legs, The Hunted will falter even before this step and stick around the $8 million mark.
Really, though, the eyes of the movie world are focused on the Kodak Theatre, home of Sunday's Oscar ceremony. Chicago's claim to the Best Picture throne is almost a foregone conclusion, but several key awards are still up for grabs. With Chicago still sitting in the upper half of the box office charts, a win could win major dollars for its final kick, and a total of $160 million isn't out of the question.
Forecast: Weekend of March 21-23, 2003

Rank

Film

Number of Sites

Change in Sites from Last

Estimated Gross ($)

1

Bringing Down the House

2,871

+70

15.1

2

Dreamcatcher

2,945

New

13.2

3

Agent Cody Banks

3,369

0

9.4

4

Piglet's Big Movie

2,084

New

8.6

5

The Hunted

2,517

+1

7.8

6

Chicago

2,565

-35

6.2

7

Tears of the Sun

2,810

-163

4.8

8

Boat Trip

1,714

New

4.7

9

Old School

2,033

-419

4.4

10

A View From the Top

2,508

New

4.0