Weekend Forecast for March 14-16, 2003
By Reagen Sulewski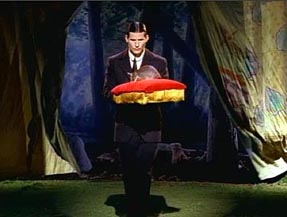 We're about halfway between the early-year rollouts of the big Oscar movies and the start of the summer movie season, and boy, are we as movie-goers really starting to feel it. A real motley trio of releases is the lead-in to what's turning into a really dull period of the year. Two utterly generic pieces of hack-work are technically the real story, but the only new film that really offers something unique is a horror remake that's not likely to make noise at the box office.
In about the 347th re-enactment of the Fugitive formula, Tommy Lee Jones faces off against Benicio del Toro in The Hunted. Jones has looked really, really tired in just about everything in which he has appeared since about 1995 (playing the same role 17 times will do that to you), but his movies continue to hit so he signs back up for another ride. While 1999's Double Jeopardy earned $23 million in its opening weekend by tapping into the crucial demographic of women who want to kill their husbands, The Hunted will have no such benefit, instead being another in the line of indistinguishable thrillers that line the aisles at Blockbuster. Before that, though, these thrillers tend to do relatively well, at least with established names attached. Witness the $60 million performance of Rules of Engagement, which also had Jones and director William Friedken.
The wild card is often the actor who is paired with the savvy veteran, and Del Toro actually gives this movie a hope of being interesting. He's never less than intriguing in any of his roles, from The Usual Suspects to Fear and Loathing in Las Vegas to Traffic. This is his first real role since winning the Oscar in 2001 (way to take advantage of that momentum, Benicio) but there's no reason that he couldn't become the Puerto Rican DeNiro. He'll have to do better than rote mano a mano thrillers like this one though. On a modest 2,516 screens, The Hunted should track down about $16 million.
In the past few years, a new demographic has emerged in kids films, the pre-teen audience. They've shifted away from silly romantic comedies like She's All Driving Me Whatever it Takes (I think that's the title) to action-oriented pieces like Spy Kids and now Agent Cody Banks. Do I really need to care about the plot? Some goofy business involving Frankie Munchkin, er, Muniz and the CIA, I guess. Anyone buying him as an ass-kicking spy? Anyone? Anyone? Angie Harmon is along for the ride also, tarted up so the chaperoning fathers have something to look at, apparently. MGM is clearly hoping that the March doldrums had something to do with the original success of Spy Kids, but the movie quality has to be there, even for pre-teens. Ordinarily, a 3,300 plus venue count would indicate a high level of confidence, but this is MGM we're talking about. It's more a sense of desperation than anything else. Muniz's previous film, Big Fat Liar, managed $11 million to start but that looks like an upper bound for this go-round.
Willard is easily the strangest film to debut this week. A remake of the 1971 film of the same name, this time starring freak-extraordinaire Crispin Glover, Willard at least promises to be about something. A tale of alienation and revenge and rats, this film will grab the attention of a small portion of the movie-going audience and won't let go. The rest will just be left muttering "Crispy who?" It has, though, been marketed just about as well as could possibly be expected, starting with a brilliant trailer and moving onto the TV commercials, which have reused the Michael Jackson song "Ben" from the sequel to the original film. Either you're going to get it or you don't, and unfortunately, the latter group will be much larger than the former. Willard will be lucky to pull in $5 million this weekend, even on a surprisingly robust 1,761 screens.
Likely to repeat as the number one film again (sigh) is the Steve Martin/Queen Latifah "comedy" Bringing Down the House (sigh). Earning over $31 million last weekend (sigh) with sophistication in race relations not seen since A&E Evening at the Improv, Bringing Down the House is apparently what audiences want to see from Steve Martin (sigh) but hey, I can be optimistic about this fact. If it gets Shopgirl made and cast properly (put down that script, Jimmy Fallon, and slowly back away) it'll almost be worth it. Another $18-20 million is likely this weekend (sigh).
The semi-poetically titled Tears of the Sun will not fare quite so well, as its reception was not enough to turn aside the normal behavior of action flicks. Bruce Willis managed to bring in $17 million in its first weekend of release and with a $70 million reported budget, the film ought to be enough to bring a respectable profit, considering potential foreign receipts. Another $10 million in the coffers by Sunday should push it on the way to about a $70 million domestic total, enough to be respectable but not the kind of return to glory that Willis might have been hoping to see.
A film to watch this weekend in limited release is an English import, Bend it Like Beckham. Opening on six screens, the film is cut from the same mold as last year's insanely popular My Big Fat Greek Wedding, but this time it features East Indians and soccer. The story is not likely to translate as well for the dual reasons of soccer not having the grassroots interest that it does in the UK and that the Generic Inoffensive Ethnic Comedy of Greek Wedding is replaced by the slightly more Specific Inoffensive Ethnic Comedy of Indians. The pump has been primed for this kind of comedy, though, and while $200 million is certainly asking way too much, a $20 million total is certainly possible, even with no star power.
Forecast: Weekend of March 14-16, 2003

Rank

Film

Number of Sites

Change in Sites from Last

Estimated Gross ($)

1

Bringing Down the House

2,801

0

19.8

2

The Hunted

2,516

New

15.9

3

Agent Cody Banks

3,369

New

10.4

4

Tears of the Sun

2,973

0

10.0

5

Old School

2,452

-255

6.2

6

Chicago

2,600

0

5.5

7

Willard

1,761

New

4.5

8

How to Lose a Guy in 10 Days

2,430

-467

4.1

9

Daredevil

2,054

-724

3.4

10

Cradle 2 the Grave

2,150

-475

3.2