Weekend Forecast for March7-9, 2003
By Reagen Sulewski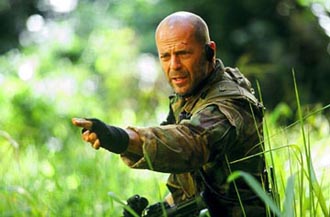 One of the facts about the way movies are released now is that few A-list stars have their movies debut in first four months of the year. Without getting into whether or not this is sound reasoning, movie studios don't feel the need to "waste" their big name stars outside of the summer or holiday season. However, not every film can open in the summer and two big names headline both of this weekend's new wide releases.
The more prominent of the two is Bruce Willis, headlining the action/war movie Tears of the Sun. Close rumor watchers will be aware that this title was proposed as the name of the fourth Die Hard movie, making it an unusual Hollywood recycling project. It was in fact initially set in the Amazon jungle (and would have co-starred Ben Affleck), so there's something remaining that looks like the original, though in a funhouse mirror sort of way.
In the middle of some Nigerian conflict, Willis's Special Ops team is on a mission to extract a Red Cross doctor, played by Monica Bellucci (also in theaters this weekend in Irreversible and soon to become extremely famous with The Matrix sequels). Leaving behind a group of refugees to be slaughtered by advancing troops just doesn't sit right with him, though, and he sticks behind with his team to protect them. I could get into the potentially disturbing politics behind this movie though I'd prefer to save that for the other release this weekend. So how is it on the action front?
Curiously, there's little action to really be seen in the trailers and commercials for the film, mostly stern declarations and steely glares. Director Antoine Fuqua of Training Day gives this project a bit of credibility, but basically it becomes Behind Enemy Lines with Bruce Willis. This comparison isn't such a negative when you consider that a relatively unknown Owen Wilson opened that film to almost $20 million in November of 2001. In theory, Bruce ought to be worth more to an opening, but he hasn't been infallible of late, a fact that a quick glance at the grosses for Hart's War will prove. The failure of that film was an interesting case, as it wasn't a film that had any particular critical rancour hurled at it, it simply was a film that people waited to rent instead. Tears of the Sun could then be the second chance for the Bruce Willis war movie. With a very sizable 2,900 plus venues, it will almost certainly become the champion of this weekend's box office, taking in about $24 million.
Though Steve Martin isn't quite the box office draw he once was, he still has the label of Comedy Legend to carry around. That's what makes his appearance in a film like Bringing Down the House so depressing. I hear some of you saying, "It's just a harmless fish-out-of-water comedy, let it be." It's really much worse. So Martin's an uptight WASP who just needs to loosen up, right? And the best way for him to do that is to become more "black?" Give me a break. Is the "'black" experience all about acting like a 17-year-old gangster and hard likka and porn mags? Everyone should be insulted by this reinforcement of stereotypes, on both sides. Oscar nominee Queen Latifah is the other lead in this one, which just adds to the sad little display. But hey, you gotta work, right?
Really, the best thing this film actually has going for it is Eugene Levy, who's had a tremendous career resurgence from the American Pie films and the recent Christopher Guest improv comedies. He's really the only thing that elicited even a chuckle from me during the trailers and commercials for this. However, I am not the be all and end all for this film's potential success. Just look at recent films like Master of Disguise, Kangaroo Jack and The Tuxedo that were minor to medium hits and should have been direct-to-video or even better, melted down for their silver content. The optimist in me says $8 million for the opening weekend take for Bringing Down the House, while the pessimist in me says $20. Split the difference and give it $14 million. That's bad enough, really.
Cradle 2 the Grave moves aside for both of these films and probably a couple more as well. Like Exit Wounds, it is very likely to be a one-weekend wonder and could see a 50% or more drop. There's nothing particularly bad about the film, but there's nothing particularly exciting about it either and leaves little to recommend to those not already inclined to see it. Factor in the high "gotta-see-it-first" nature of kung-fu film audiences and you have all the elements necessary for a quick exit from the top ten. Under $10 million is assured; under $8 million is a possibility.
That lets Old School come up the middle to claim third place after two weeks at number two. An extremely promising 20% drop from its first weekend puts in the position of claiming the "legs" title of the early months of 2003. While nowhere near a Something About Mary-like phenomenon, this kind of performance is still rare, especially for a goofy comedy like this. An $11 million weekend would push it over the $50 million total mark in just three weeks.
Daredevil and How to Lose a Guy in 10 Days continue to cruise along making significant dollars; both will eventually cross the $100 million mark, though neither will accomplish that feat this weekend. There have been no breakout hits this quarter, but several solid hits that have made it quite a happy time for most studios.
Besides the previously mentioned Irreversible, two other prominent limited releases make a debut this weekend. Laurel Canyon and the Safety of Objects are on a handful of screens with strong casts, making them intruiging as far as their breakout potential. Irreversible is the one with the highest profile, though, bringing controversial subject matter in the form of a violent rape scene. Playing in reverse order, like Memento, it's the latest film to use its structure to make a point on the nature of perception. It's not something that many will be able to take however, and it's difficult to imagine this de facto horror film finding a huge audience.
Forecast: Weekend of March 7th-9th, 2003

Rank

Film

Number of Sites

Change in Sites from Last

Estimated Gross ($)

1

Tears of the Sun

2,973

New

24.5

2

Bringing Down the House

2,801

New

14.2

3

Old School

2,707

-35

11.1

4

Cradle 2 the Grave

2,625

0

8.5

5

How to Lose a Guy in 10 Days

2,897

-26

6.9

6

Daredevil

2,778

-456

6.4

7

Chicago

2,600

+153

5.5

8

The Jungle Book 2

2,553

-261

4.7

9

Shanghai Knights

1,905

-610

2.9

10

The Life of David Gale

1,875

-128

2.7