Weekend Forecast for March 5-7, 2004
By Reagen Sulewski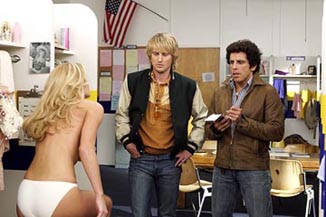 The post-Oscar weekend is usually interesting enough on its own; however, just to add some fun to that, we have the fallout from one of the largest and potentially industry-changing opening weekends of all time to deal with. Add to those two high profile new releases and this promises to be a very intriguing weekend indeed.
The Passion of the Christ is still dominating both discussion and box office the week after its release with the controversy quieting to a dull roar but the box office performance yelling loud and clear and busting every prediction made by anyone. Not just the seventh largest opening weekend in history, but its extended opening take of $125.2 million was the third largest five-day take ever, behind just The Matrix Reloaded and Spider-Man and beating such unlikely films as The Return of the King and Attack of the Clones. It hasn't stopped earning either, as during the week it will have added approximately $35 million more. It's not a surprise that this film would play well on weekdays, as it skews adult, and it the off-season they tend to be the top performers during the week. It's difficult to say that these last few days are indicative of legs, but they don't indicate a lack of them. As with last weekend, Sunday looks to be the key day for the box office due to church groups and probably means a strong holdover, despite the heavy initial rush seen last week. To that end, I predict about $59 million for the second weekend. I don't foresee a huge amount of repeat business, but the initial wave is going to stay strong.
After offering up a weak slate of three competing films last weekend, there's actually some films that look like they'll put up a fight this weekend. Chief among them is Starsky & Hutch, starring Ben Stiller and Owen Wilson. I'd like to think we're near done resurrecting old TV series, but instinct tells me we're still somewhere in the middle of the process. Somewhere between a spoof and a straight-up comedic adaptation of the series, S&H plays with the 70s cop genre and its conventions, which isn't that original idea but can definitely be done effectively. In a piece of casting that probably took at least 5 minutes, Stiller plays the uptight Starsky while Wilson takes on the laid back "Hutch" (for once, I'd like to see these two switch roles -- they're getting a little too comfortable) with Snoop Dogg stepping into the role he was born to play, the snitch Huggie Bear.
Director Todd Phillips has a pretty good track record with goofy comedy, jumping on the sex comedy bandwagon with Road Trip and expanding into college humor with last year's hit Old School. That film also saw the resurgence of Vince Vaughn, delivering his best performance since Swingers after a long slump. Here he plays the heavy, and like everyone else in the cast seems to be having a lot of fun, which should be enough to prevent this from turning out to be another I Spy. There does seem to be a tactical error in the ad campaign as it doesn't appear to feature Ben Stiller in gastrointestinal distress at any point, but it shouldn't be fatal. This one's in full 'love it or hate it' mode and should do around $22 million in its opening bow.
Viggo Mortensen gets his first big post-Rings test as a leading man, starring in the adventure tale Hidalgo. Billed, with some controversy, as based on a true story, it features Mortensen as a former Pony Express rider who takes his mustang to compete in a famous endurance horse race in Saudi Arabia, competing against horses with more distinguished breeding. It's not so many worlds away from the fresh-in-the-mind Seabiscuit, both tales of underdogs and mavericks defying the odds. Hidalgo ups the ante somewhat with its exotic setting and a heavier action focus including a Perfect Storm like shot of a desert sandstorm.
The director is Joe Johnston of October Sky and Jurassic Park III fame, which highlights both his dramatic and action chops, both of which appear to be required here. Viggo's exposure is about as high as it'll ever be right now, as the Harrison Ford of the Lord of Rings series. That's fortunate, as there not much pre-Rings that would indicate box office opening power despite a half-dozen or so solid performances. The legend of Hidalgo is also not as well known as Seabiscuit and is less straightforward of a 'sports' movie, which will undoubtedly cause some difficult in getting an opening weekend audience. Stronger reviews could have helped this along but so far they're rather tepid, leading me to believe this isn't going to bust any blocks. Look for a respectable $14 million in its debut.
After four weeks, 50 First Dates will be over, or at least very close to, the $100 million mark (following a weekend take of approximately $8 million), continuing a great run for Sandler. When he chooses to be commercial, he's very rarely missed. It doesn't seem that it'll approach the heights of Waterboy or Big Daddy, but it's yet another feather in his (and lest we forget, Drew Barrymore's) cap. I'll be disappointed if they don't come up with some sort of thematically appropriate "see it again for the first time' ad in the coming weeks.
The Ashley Judd crime drama has to be considered, at only a $9 million opening, a pretty big disappointment considering the cast and Judd's track record in the past. The bad news is that it's not going to get any better, as it was easily the worst reviewed movie of last week and 2004 in general, taking a critical pummeling and finding only two reviewers brave enough to praise it and one of them primarily happy that it used San Francisco locations correctly. This is one they're going to skip over on everyone's career retrospective that was in it. A 50% drop would be a blessing.
Best Picture Oscar winner The Lord of the Rings: The Return of the King makes the most significant move in screens this week following the ceremony last Sunday. While the win comes as little surprise, the 11 for 11 sweep of its categories was a bit unexpected (and unprecedented). Oscar winners naturally get a boost from their awards, but it's not always cut and dried. The last Best Picture winner that had earned as much money as Rings at this point was Titanic, which actually dropped following its win, though that's clearly a special case, as it was about three months into its ridiculous run at #1. Rings was just out of the top 10 last weekend, but returns to basically full release, at 1,903 venues. Significantly, this was one of the most watched telecasts in recent history (something more dependant on nominated movies than people realize) so it ought to be able to return to at least the $5 million mark.
Monster, featuring Best Actress winner Charlize Theron, also increases its screens this weekend, moving over the 1,000 mark for the first time. The grim tale has earned an impressive $26 million plus so far, and the Oscar win isn't going to hurt. It should hold steady between $2-3 million for the weekend. Mystic River, winner of two acting awards, actually drops a handful of screens, but it's already done extremely well for itself since a re-release about a month ago.
Forecast: Weekend of March 5-7, 2004

Rank

Film

Number of Sites

Change in Sites from Last

Estimated Gross ($)

1

The Passion of the Christ

3,130

+87

59.6

2

Starsky and Hutch

3,185

New

22.4

3

Hidalgo

3,063

New

14.3

4

50 First Dates

3,040

+410

7.7

5

The Lord of the Rings: The Return of the King

1,903

+791

5.2

6

Confessions of a Teenage Drama Queen

2,180

-323

4.1

7

Twisted

2,704

+1

4.0

8

Dirty Dancing: Havana Nights

2,042

0

3.6

9

Miracle

1,654

-568

3.0

10

Monster

1,082

+114

2.9

11

Mystic River

1,051

-74

2.8

12

Eurotrip

1,602

-942

2.2