Weekend Forecast for February 28 - March 2, 2003
By Reagen Sulewski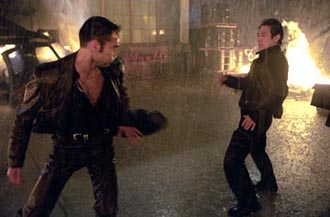 It's a real guy's weekend out at the movies (though when is it not?) as the top three earners this weekend will be some ordering of an urban/kung-fu film, a superhero movie and a frat comedy. The kung-fu film is the movie of interest, though, as it is the sole new wide release this week and has the inside track on the top spot.
That film is Cradle 2 the Grave, starring Hong Kong legend Jet Li and rapper-actor DMX, in a sort-of reteaming of these two, who both appeared in Romeo Must Die (though DMX did not star). I could get into the plot here, but is it really that important? It's something to do with "black diamonds," a jewel thief, and a Taiwanese agent against an international criminal...hey we're all just here for the action scenes, right? The trailer, for one, agrees, showing a virtual barrage of quick-cut fight scenes and stunts with at least two money shots, by my count (the hotel escape and the dune buggy jump).
Ever since the North American market was primed for international action stars, Jet Li has been one that has taken great advantage. He's carved out a fairly consistently-sized niche with films like The One, Kiss of the Dragon and the aforementioned Romeo Must Die, all of which opened in the $13 to $19 million range. He doesn't have quite the track record of a Jackie Chan, but then again, comedy always sells better.
The emergence of his co-star in this film, DMX, as a leading man is a fairly interesting development; the gravel-voiced rapper isn't as controversial or well-known as recent cross-over success Eminem, but has shown enough charisma to carry a film, or at least half of it. Does anyone really attribute much of Exit Wounds's surprising $18 million opening to Steven Seagal? Not to be overlooked is the film's use of his latest song, "X Gon Give It To You", which again, while not as successful as the song that Eminem provided to 8 Mile, will still drive the movie in a, "hey, I've got a movie out" kind of way.
The big question now is whether 1+1 makes 2. There's undoubtedly a good deal of crossover given the popularity of kung-fu films among the audience that DMX would bring to the movie. However, the fact that DMX has had his own hit movie in the meantime shows he's got some pull of his own. Warner Bros. is launching the film in a relatively spartan 2,625 venues, but this should still be enough to get the film about a $24 million opening weekend.
Last weekend, Daredevil managed to hang on for a second week at the top spot of the box office, even after a lower Friday total than the second place finisher, Old School. No such luck should be in store this weekend as a greater than 50% week-to-week drop spells a quick exit for The Man Without Fear. As much as weekday numbers tell, it's already getting trounced by Old School, by a 3:2 ratio. There's still a not bad chance that the film can reach $100 million total, but a total much beyond that is wishful thinking. Would that stop a sequel? Well...maybe. With a $70 million budget, Daredevil is going to see a profit at some point, considering video and foreign totals. Is Fox going to be terribly enthused about the prospects? I doubt it, considering there's no Matrix-like build in the franchise.
The aforementioned Old School will make a second consecutive appearance in second spot this weekend, and could perhaps make a run at being the leggiest film of the spring. It's always risky to infer a lot from weekday numbers since they are heavily influenced by demographics, but it has definitely made an impact there, earning summer-like figures in these doldrums of the early-year movie season. The history of leggy comedies is pretty well written so there's no real need to delve into it, but suffice to say when comedies connect with their audience as this one appears to have done they are a license to print money. Vince Vaughn and Will Ferrell should make a lot of hay out of the performance of this film, if it behaves like I expect it to, with about a $13 million weekend for its second outing.
Still hanging around making significant dollars is How to Lose a Guy in 10 Days though its totals have been brought back a bit to Earth after a charitable reception on Valentine's Day weekend. Moving its way towards $100 million (I think the film will fall just short), it'll add another $7 million or so this frame.
The only significant family fare in theaters right now continues to mop up a healthy business and will make a bid to stay in fourth spot with about the same $7 million figure. Whether you agree with the philosophy of making sequels to these classic Disney films, you have to acknowledge the success that The Mouse has had with this new strategy, when so many would have gone straight-to-video in the past.
Oscar front-runner Chicago will blow past $100 million this weekend as it continues to add handfuls of screens each weekend. Despite the legs on display in the film, it's not proving to be the leggy box office performer that many would hope, last weekend falling a fairly average 35%. Add another $5.5 million to the total figure as it heads towards $125.
In an otherwise quiet weekend, other Oscar nominated films add screens nearly across the board, though their box office impact should be minimal. In limited release, David Cronenberg's creepy melodrama (does he make other kinds of films?) Spider, starring Ralph Fiennes, makes a debut on six screens. Recently winning Canada's Genie Award for Best Director, Cronenberg has had a bit of a renaissance after the near career-killing Crash. Though it's still all worlds of strange, Spider represents a good chance for commercial success, even if only on a small scale.
Forecast: Weekend of February 28 - March 2, 2003

Rank

Film

Number of Sites

Change in Sites from Last

Estimated Gross ($)

1

Cradle 2 the Grave

2,625

New

24.3

2

Old School

2,742

+53

12.9

3

Daredevil

3,234

-240

8.9

4

How To Lose a Guy in 10 Days

2,923

0

7.0

5

The Jungle Book 2

2,814

-1

6.9

6

Chicago

2,447

+92

5.5

7

The Life of David Gale

2,003

+1

3.9

8

Shanghai Knights

2,515

-11

3.9

9

Gods and Generals

1,533

0

2.5

10

Dark Blue

2,176

0

2.3