Weekend Forecast for February 21-23, 2003
By Reagen Sulewski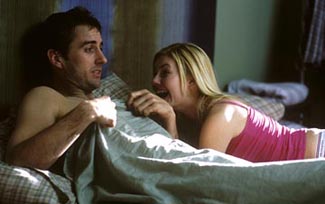 With the brief honeymoon of President's Day Weekend now past, we return to the typical second-tier level of releases for which February is known. Four new wide releases hit theaters, but none are likely to challenge the winner of last weekend's frame, Daredevil, despite the frosty reception that film has received. Still, a variety of choices await the "gotta-see something" crowd.
The easy champion of the new films is Old School, an unpretentious frat comedy from the makers of Road Trip starring Luke Wilson, Vince Vaughn and Will Ferrell. That sentence is either going to fill you with joy or fear and there's really nothing anyone can do about it either way. The commercials have a high-spirited energy or blood-curdlingly unfunny jokes, depending on your perspective. Apparently based on the simple premise of "what if the guys from Animal House went back to college in their 30s?", Old School could very easily tap into the growing culture of "laddism," to borrow the English phrase, or to put it another way, the Maxim-ization of American culture.
Not all of these movies have been unbridled successes, though. One needs only to look to the dismal failures of National Lampoon's Van Wilder and Tomcats to prove that just showing up with a stupid comedy is not a guarantee of big box office dollars. Casting is crucial, which means no to Ryan Reynolds and Jerry O'Connell and yes to Wilson, Vaughn and Will Ferrell, who has quickly become the highlight of the campaign. He was pretty much the only good thing about SNL over the past few years (Jimmy Fallon is not an acceptable answer), and will probably end up being the true "lead" of this film, which will probably be good for about $17 million this weekend. Hey, if you don't like it, there's always The Hours.
Best known for his testosterone-fueled sports films, Ron Shelton brings the same attitude to the cop drama with Dark Blue, starring Kurt Russell and Ving Rhames. Unofficially billed as "L.A. Confidential meets Training Day," it comes by that designation honestly, since the writing team on this film had a hand in both of those projects. Set in the days just before the Rodney King riots in Los Angeles, Dark Blue pits Russell's "rogue cop" against Rhames's stoic internal affairs officer. Felicity's Scott Speedman is also on hand to play the naive rookie officer. Racial politics obviously play a huge role in this film, but it's ostensibly a macho thriller.
With Dennis Quaid's curse out of the way, it's time to let Kurt Russell have some success again. His last film that had any kind of positive reception was 1996's Breakdown, which still only earned $50 million. In the meantime, bombs like Soldier and 3000 Miles to Graceland have filled his docket. Training Day's $22 million proved that there is a market for this genre of film, but Russell is no Denzel Washington. I think all parties concerned would be happy with an $11 million start.
Originally pegged for a Oscar-qualifying run at the end of last year, The Life of David Gale now finds itself orphaned in February, which tells you just about everything you need to know about the film. It's possible to make good films about the death penalty (Dead Man Walking, for instance) but not by hammering your point home with all the subtlety of an anvil on a fly. If your goal in making the movie is to foster discussion, then you don't do it by making as one-sided a movie as you can, so as to guarantee that those you'd hope to convince would never show up. It's just political porn, on the same level as a Rod Lurie film. Don't even get me started about the film's unearned use of soul music in the trailer. That this awful-looking film has a great cast is more the waste; Kevin Spacey, Kate Winslet and Laura Linney could all have made better films in this time. Debuting on 2,000 screens, David Gale should be put out of its misery, earning about $5 million this weekend.
Amazingly, it only finishes second in the "Bad Idea" sweepstakes this weekend, with the winner being the nearly four-hour long epic Gods and Generals, the latest $50 million Civil War re-enactment from Ted Turner Productions. A prequel to 1993's Gettysburg, which earned only $10 million in theaters before retreating to TBS, Gods and Generals is unlikely to improve significantly on that mark. Not only does it have the running time problem, but also a shortage of big-name talent and subject matter interest. Robert Duvall and Jeff Bridges do not make me interested in sitting still for a four-hour movie, especially one as badly received as this one. Called "horribly stilted" and a "four-hour history lesson," Gods and Generals is unlikely to attract outside of a pre-sold Civil War buff audience, a small group at best. Charitably receiving a release on 1,533 screens, Gods and Generals should see about $3 million and again, an uncountable number of showings on TBS.
The lackluster quality of all four new releases leaves an open door for Daredevil, which impressively took in over $40 million over the three-day weekend (though this includes some Thursday sneaks) and $45 million through the holiday period. Whether you thought it was a good Daredevil movie depends on if you're a fan of the comic, with apparently little crossover happening outside the fanbase. Ben Affleck and company haven't made a particularly bad Daredevil movie, but they also haven't made an especially good one, either. You don't have to have super senses to see a 40% plus drop coming for Daredevil though it should hold on to number one with about $22 million.
Chicago will get a final test of its legs as it goes into this weekend without a significant expansion. Holding steady at third but jumping to almost $13 million last weekend, it's assured that it will pass the $100 million mark before February is out. That tally is unlikely to happen this weekend, but Chicago's box office take should be in excess of $10 million over the three-day frame. $125 million by Oscar time looks to be a very reasonable and perhaps conservative goal for this Oscar darling of a musical.
How To Lose a Guy in 10 Days took very good advantage of the Valentine's Day crowd, dropping only 20% from its first weekend and moving over the $50 million mark mid-week. It no longer has that advantage and should come crashing down, relatively. The forgiving nature of rom-com audiences (obviously) should cushion the blow, leaving it at about $12 million.
In milestone news, The Lord of the Rings: The Two Towers makes a potential run at spot number seven on the all-time box office chart this week after passing The Lion King last weekend. Forrest Gump's $329 million will fall at some point in the next couple of weeks, and an Oscar nomination honeymoon could make it hit that milestone as soon as this weekend.
Forecast: Weekend of February 21st-23rd, 2003

Rank

Film

Number of Sites

Change in Sites from Last

Estimated Gross ($)

1

Daredevil

3,474

+3

22.3

2

Old School

2,689

New

17.4

3

How To Lose a Guy in 10 Days

2,923

0

12.4

4

Dark Blue

2,176

New

11.4

5

Chicago

2,355

+87

11.0

6

The Jungle Book 2

2,815

+7

8.9

7

Shanghai Knights

2,526

-229

6.6

8

The Life of David Gale

2,000

New

5.2

9

The Recruit

1,678

-658

3.5

10

God and Generals

1,533

New

3.1