Weekend Forecast for February 20-22, 2004
By Reagen Sulewski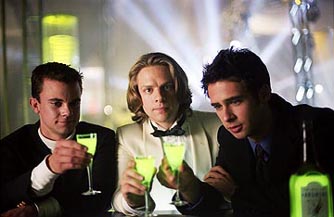 The February blahs make an appearance this weekend as four seemingly forgettable films make their debuts. It's a good rule of thumb that if studios dump this many films on one weekend (and it's not coming up on Christmas), they don't have that much confidence in any of them.

Running first among these films is Eurotrip, which is being billed as a "spin-off" of 2000's Road Trip in what seems like an attempt to build a National Lampoon-style franchise (I eagerly await ChristmasTrip). It's difficult to tell on first glance what qualifies it as a spin-off (someone's cousin or neighbor from the first movie is in this maybe?), though the basic idea is the same. Gather up a bunch of horny 20-somethings, throw them on the road for a quest and let interactions with the locals bring the funny, only this time with 75% more cultural stereotyping!

Featuring a cast of young actors you probably have never seen before (save Michelle Trachtenberg, fresh from Buffy and all tarted up), Eurotrip has the main character traveling to meet his sexy German penpal and dragging his friends along for naughty adventures and general booze hounding. It's being sold as a ridiculously raunchy film; its tie-in web site borders on the pornographic and the commercials skirt the Janet Jackson line of good taste. Surprisingly (or maybe not), the film is getting some great early word, if you don't mind a little bad taste in your films (it's good for the soul, occasionally). The easiest comparison to make is of course the aforementioned Road Trip, which opened to $15 million in May of 2000. That had a bit of a free reign at the comedy market at the time whereas Eurotrip has the master Adam Sandler to compete against (though as a romantic comedy, 50 First Dates isn't a direct overlap). Still, that's not a huge amount of money to earn for a raunchy comedy. I think it'll approach but not reach this mark at about $13 million and then live or die based on word-of-mouth.

Aiming a bit younger is Confessions of a Teenage Drama Queen, or: Rock Star Barbie: The Movie. Featuring Lindsay Lohan of last year's hit Freaky Friday, this is yet another one of those Lizzie Maguire/wish fulfillment clones with this one having something to do with a talent show, or some such. Maybe I'm being a little too hard on this, as it looks entirely inoffensive while still pretending to have enough edge to impress the 13-year-old girls that will make up its audience. This should be good for about $7 million and neither help nor hurt anyone's career in the process.

As has been proven multiple times before, having the highest rated comedy on TV is no guarantee that you're going to be able to make the jump to movies and set the world on fire. Sitcom fans are notoriously reticent to follow their favorite stars the theater, preferring instead to catch episodes for free. There's no reason that a comedian can't have a big hit, but you've got to bring a little something to the table other than just showing up. Welcome to Mooseport is Ray Romano's (I call a moratorium on puns based on his sitcom's name -- we all get it) first attempt to carry a movie as a lead (not counting Ice Age, which gets a pass under the Computer Animation rule). The failure of the Friends stars to make a successful comedy film is legendary and I don't see why Romano's situation is any different, with the added fact that Romano is deeply unsuited for a non-laugh tracked medium.

Romano stars in this film as a commitment-phobic plumber in the small North Eastern town of Mooseport. When ex-President Gene Hackman comes to town and sweeps everyone off their feet, including his long-time girlfriend Maura Tierney (who really deserves better), Romano gets the bright idea that facing off against him in the mayoral election will impress everyone. Ridiculous farce ensues, though there's no guarantee of actual laughs. Mooseport is getting the widest berth of any new release this weekend, but it's not going to do much good, as it should take only about $5 million.

As Meg Ryan's career slowly implodes, it's important to remember two things: publicly messing around on your spouse is never a good thing (you too, Ethan Hawke) and plastic surgery almost never turns out like you'd hope it would. Against the Ropes is her latest loooong delayed film to hit theaters though it has all the feel of a dump, appearing in just 1,600 theaters. Ryan plays a boxing hanger-on who gets a shot at managing her own fighter (played by Omar Epps), who is a down-on-his-luck bum (I mean the fighter). Will Ryan's character prove her worth in the male dominated world? Will Epps discover his inner strength as a fighter? Are collagen-injected lips the dumbest thing a woman can do to herself? The answer to all these questions is, sadly, yes. The $4 million that this Jerry Maguire-in-a-skirt retread will bring in this weekend is not about to wash the stink off the bad couple of years that Ryan has had.

Dominating the weekend yet again will be Adam Sandler's 50 First Dates, which capitalized on both Valentine's Day and President's Day weekend to earn just shy of $40 million last weekend. While that total was slightly artificially inflated, I don't anticipate any kind of post-holiday hangover for the film, largely in part to the fairly warm reception it has received both from the Adam Sandler fanbase as well as the romantic comedy people due to the easy chemistry he and Drew Barrymore have. It should hold its own at around $23 million this weekend, which should put it very close to the $75 million mark.

Of the films released two weekends ago, Miracle has already proven itself a superior performer to Barbershop 2 (no real surprise) by falling under 30% from its opening weekend and passing it outright over the four-day weekend. Anything that gets more hockey movies made is fine by me (let's get that '72 Series movie into production post-haste), The Kurt Russell flick should bring in another $9 million or so, bringing Miracle's total to a little over $50 million. Barbershop 2 has already started to yield its promotion to the upcoming Beauty Shop and started a bit of a free-fall even last weekend. It's still good for around $7 million this weekend, though, and the entire production is pretty much gravy for MGM, who are finally starting to pull themselves out of their decade-long doldrums.

Through this week, The Return of the King has moved past Jurassic Park on the all-time list and into sixth place. Further steps up that scale are going to be difficult, though, as the next film to go is Spider-Man, another $40 million or so ahead of it, which would be about the equivalent of seven more weeks like its last week without falling. Obviously that isn't going to happen and a more normal pattern extends the time period even longer. The Oscars are coming up very shortly, though, and it remains to be seen what kind of effect a Best Picture win would have on it, should it take home the big prize.

Mystic River continues to be the film that has benefited most financially from its Oscar nominations, though proportionally Monster and Lost in Translation are both bigger winners. All of these films are doing well by themselves to hang onto their screens until next weekend, when they can benefit from their wins, should they take any.

February 'tis the season to preview, it seems, as two films are testing the waters on this relatively poor quality weekend. The Girl Next Door, a Risky Business for the '00s previews on Friday (a slightly unusual tactic) while Starsky and Hutch, the, uh, Starsky and Hutch for the '00s take the traditional Saturday preview slot.
Forecast: Weekend of February 20-22, 2004

Rank

Film

Number of Sites

Change in Sites from Last

Estimated Gross ($)

1

50 First Dates

3,612

+21

23.1

2

EuroTrip

2,512

New

13.3

3

Miracle

2,713

-42

8.8

4

Confessions of a Teenage Drama Queen

2,503

New

7.2

5

Barbershop 2: Back in Business

2,229

-482

6.8

6

Welcome to Mooseport

2,867

New

4.7

7

Against the Ropes

1,601

New

4.0

8

The Lord of the Rings: The Return of the King

1,407

-256

3.7

9

Mystic River

1,352

-18

3.5

10

The Butterfly Effect

1,901

-387

3.2