Weekend Forecast for February 14-16, 2003
By Reagen Sulewski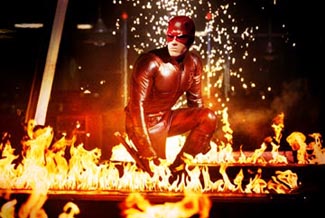 This weekend, moviegoers can expect to be treated to an orgy of leather-clad mayhem, a spectacle of excess, violence and barely repressed homoeroticism. If you're not at a revival of The Rocky Horror Picture Show, this means you're probably at Daredevil.
It's the first legitimate big film of the year (that doesn't feature a rapping kangaroo) and it's hoping to make an entry into the recently refertilized ground of comic-book adaptations. Ben Affleck plays the title hero, blind but with extra sensory powers. In a not-so-unexpected development, since the hero is not as well known as a Spider-Man or a Batman, the really hot chick is developing most of the heat. Jennifer Garner, fresh from the hit TV show Alias, is making waves as Elektra, Daredevil's nemesis/love interest. Recent ads would have made it seem the movie was about her, not that dude jumping around in red leather.
Rounding out the cast are Colin Farrell (those eyebrows just look worse with a shaved head) and in an inspired bit of casting, Michael Clarke Duncan as Kingpin. Directing is Mark Steven Johnson, taking on by far his biggest task to date, having directed Simon Birch and written several other screenplays (like Jack Frost -- yee-ouch!). After last year's record breaking Spider-Man, it would appear that the rules have changed regarding these projects; however, I don't think I'm stretching to say that awareness of the Daredevil character is a lot lower than that of the web-slinger. The commercials have looked decent but not spectacular (though fans of the comic are jazzed) so the seeds are there for a long run if the movie is any good. Realistically, though, this is a B-grade franchise, on the level of Blade. The weekend's take should be about $33 million, and I think that Marvel and company should be happy with that take.
The first animated film of the year is The Jungle Book 2, which looks many times better than the last Disney sequel, Return to Neverland. The difference, of course, is spending more than $17 on the animation and voice talent. John Goodman steps in as the voice of Baloo and Haley Joel Osment, carving out a niche for himself in voice acting, provides the voice of Mowgli. Return to Neverland made a surprising $15 million over last year's President's Day Weekend. With a better looking film, Jungle Book 2 should be able to beat that figure slightly. $17 million for the weekend would be enough for a solid second place finish.
That placement is provided that How To Lose a Guy in 10 Days doesn't hang on to that spot with a very strong second weekend. Romantic comedies are always long-legged so there's always the distinct possibility that a less-than-30% drop is possible, especially with the presence of Valentine's Day on Friday, always a huge boost for romantic films. Even without that, the Kate Hudson/Matthew McConaughey film seems destined for $100 million plus. There's yet another contender for the new Meg Ryan out there.
Shanghai Knights could also show up with a strong second weekend after starting out a little higher than its original film. Hey, if The Tuxedo can drop less than 35% for two straight weeks, Shanghai Knights deserves to be the next Big Fat Greek Wedding phenomenon. Much more likely is a $12-13 million weekend gross, with a long life on video.
Fresh off the Oscar nominations, the current poster child for platform releases, Chicago, adds another 500 or so screens. With an Oscar-leading 13 noms, this film is likely to lead the pack right through the ceremony. It should start reaping the benefit of these nominations immediately; last year A Beautiful Mind dropped screens but gained 30% in its weekend take. In fact, Chicago has already jumped from third to first in the weekday results. Add another $15 million to its total and it will pass the $80 million mark, well on its way to $100 and beyond.
Also likely to take advantage of its Oscar status is The Hours, which nearly doubles its venues to over 1,000. It too has jumped several spots in the daily figures, though the film starting from a much lower vantage point. The Oscars can only make a film just so commercial, and this boost will amount to about a $4 million weekend for the nine-time nominated film.
Other films that could make big leaps this weekend are About Schmidt, with just two nominations but high profile, The Pianist, the surprise seven-time nominee, The Quiet American, finally receiving more than a token release after Michael Caine's nomination and Gangs of New York, second with ten nominations and still in 1,500 venues. The most these films can realistically hope for, though, are to find themselves in the bottom rung of the top ten again.
Forecast: Weekend of February 14th-16th, 2003

Rank

Film

Number of Sites

Change in Sites from Last

Estimated Gross ($)

1

Daredevil

3.471

New

33.4

2

The Jungle Book 2

2,808

New

16.6

3

Chicago

2,268

+427

15.5

4

How to Lose a Guy in 10 Days

2,923

0

15.1

5

Shanghai Knights

2,755

+2

13.7

6

The Recruit

2,336

-40

5.7

7

The Hours

1,003

+454

4.4

8

Final Destination 2

2,238

-596

4.2

9

About Schmidt

1,208

-32

4.0

10

The Pianist

557

+229

3.0