Weekend Forecast for February 13-15, 2004
By Reagen Sulewski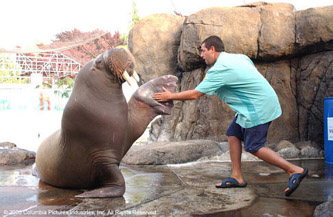 Never an industry to miss an obvious connection with pseudo-holidays, we can always count on Hollywood to give us a semi-romantic film for Valentine's Day. It's a rare case that that film is a blockbuster in its own right, like in the case of 50 First Dates, which could lead to an enormous box office weekend.
As Adam Sandler puts the mistake of Little Nicky further and further behind him, he's starting to look like an invincible force of nature, as long as he doesn't make any more horrible animated movies. Since 1998, he's had five films in which he was the star open over $20 million and four over $35 million, which is better than Tom Cruise has done, to pick a not-so-random star. 50 First Dates looks to keep that trend as I see no real sign of misstep or alienation of his loyal fan base. Taking a closer look at the film, it's as if Sandler saw Memento and thought it was a comedy; Sandler (are we past the idea that he plays anyone but himself in these goofy comedies? Good) attempts to woo accident-victim Drew Barrymore, who has lost her short term memory, meaning she never remembers the wonderfully impressive things he does to sweep her off her feet (and now that I think about it more, it sounds like a bit of Groundhog Day is thrown in for good measure).
I have to admit, this is actually a pretty damned good idea for a movie plot, with a lot of potential for genuinely touching moments, and it plays right into Barrymore's skills (who is best when playing vulnerable). The devil's in the details, however, and you have to wonder if director Peter Segal (Anger Management, Nutty Professor II) actually has the chops to bring the material out, or if they're just going to play to his crazy antics. Punch-Drunk Love showed a maturing Sandler, or at least a guy with potential, but that doesn't sell tickets, or at least not as many. Indeed, even just the presence of Rob Schneider points at the idea that we're entering Sandler Surreal Gross-Out Land, a place where taste and decency have taken the day off. With the fortuitous timing of its release and the respectful buzz about a repairing of Sandler and Barrymore (it worked for Julia Roberts and Richard Gere), there's virtually no way this can fail. I'm predicting a $47 million opening (courtesy of a big boost on Saturday) on its ridiculously broad 3,500 venue opening, and there's a very good chance it will break $50 million. That said, I can't be the only one wondering how many times he can go to this well before the core audience that was weaned on his comedy outgrows him. Beware the cautionary tale of Chevy Chase.
Returning films are going to have sizable impact for the first time in about a month, as both Barbershop 2 and Miracle opened strong and played well. Original almost always trumps sequel for longetivity, so Miracle should come out ahead, at least in the percentage decline column. However, Barbershop is not the biggest comic game in town anymore and a general notion of "sameness" could hurt it. I don't think it's in any really trouble, though, and I expect about $14 million in total this weekend. A similar figure is to be expected for Miracle, which is due to become the first "legs" film of the year due to its inspiring subject and well-delivered and timely message. It's missing something to really push it over the top in my eyes, but it's got virtually zero negatives (some of the players could be better defined, even though that's slightly against the theme of the film). Disney's shown a deft hand at these kind of heart-warming ensembles, even if it does seem a little odd to try and recreate something that exists so strongly in the public consciousness. It's a quality film, though, and Kurt Russell gives one of his best performances ever, so it should be rewarded with a long life in theaters.
You Got Served got served its own demise last weekend, dropping over 50%. You'd think that would serve as a cautionary tale, but anytime you can open a film with few stars (and even after the breakup of its band) to over $15 million, well, a 50% drop is just a detail. This isn't the first fad movie to be made, and it certainly won't be the last.
Along Came Polly is trying valiantly to become the first film of 2004 to reach the $100 million mark, but it will be beaten to the punch by Sandler and Co. That's to detract nothing from Polly, which is doing nothing to keep Ben Stiller from making movies about disgusting bodily functions while paying for a Beach House in Malibu (or wherever). It'll probably stay in a weak top five with about $4 million.
Oscar nominees continue to lurk around in the top ten, with Monster still in expansion mode, breaking the 1,000 screen plateau. It's a significant achievement for this film to even get this wide a berth, as it's decidedly not multiplex fare and is a look into the depths of depravity and self-delusion. Charlize Theron continues to receive justified acclaim for her portrayal of serial killer Aileen Wournos, and her shocking transformation is what is driving this film. It should earn another $3-4 million this weekend, and with the Oscars just two weeks away, could explode with a win by Theron.
Mystic River and Lost in Translation have both taken advantage of their nominations, even as the latter has debuted on DVD. Mystic River already added another $15 million to its coffers since its re-release, and another equal amount may easily be in store for Clint Eastwood's tale of tragedy in a Boston neighborhood. Lost in Translation was a top seller and renter in video stores, but didn't miss a beat at theaters, falling off only 20% even with it available on the small screen. This isn't exactly unprecedented, but it's a curious phenomenon that can't be explained any other way than that people prefer the big screen experience. It's earned about $5 million so far in its re-release.
Limited release is a bit of a bore this weekend, as the prestige screens are still held by Oscar nominees. Highwaymen gets a regional release with James Caviezel playing a man seeking revenge for the death of his wife. If nothing else, it makes for a potentially interesting double feature with his lead role in The Passion of the Christ in a couple of weeks.
Forecast: Weekend of February 13-15, 2004

Rank

Film

Number of Sites

Change in Sites from Last

Estimated Gross ($)

1

50 First Dates

3,591

New

47.4

2

Barbershop 2: Back in Business

2,711

0

14.3

3

Miracle

2,755

+150

14.0

4

Along Came Polly

2,545

-413

4.0

5

The Butterfly Effect

2,288

-231

3.8

6

The Lord of the Rings: The Return of the King

1,663

-215

3.5

7

Monster

1,092

+200

3.4

8

Mystic River

1,370

0

3.2

9

You Got Served

1,832

-111

3.0

10

Catch That Kid

2,848

+1

3.0