Weekend Forecast for February 6-8, 2004
By Reagen Sulewski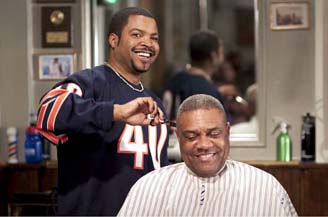 As one of the crappier Januarys in recent memory passes on, the first weekend of February looks like a blockbuster summer weekend by comparison, including a rare high-profile, early-year sequel.
Leading off the slate is Barbershop 2: Back in Business, the sequel to the surprise September 2002 hit. What was remarkable about Barbershop becoming a hit was the fact that it was a simple comedic story, for the most part without slapstick or cruelty. Stories about black neighborhoods are rare, though, especially without turning them into gang related dramas, so it's more than likely that it tapped into something that was badly needed in multiplexes.
The sequel picks up right where the original left off, with Ice Cube's local barbershop still serving as the community center for his Chicago neighborhood and still under threat from developers. Almost the entire cast returns for this go around (including the crucial Cedric the Entertainer), but they've also added Soul Sister of the Moment, Queen Latifah, conveniently on hand when her spin-off, Beauty Shop, is due out later this year. Besides that, it looks to be same ol' same ol', though more in the "familiar old beloved sitcom" sense than the "rehash with no new ideas" way. Barbershop opened to an impressive $20 million on just over 1,600 venues, but it's getting a full court press this time, opening in over 2,700 venues. Clearly we're seeing a case where this film has mainstreamed out of its original pigeon hole. By the Law of Diminishing Returns, it's doubtful it will increase box office proportionally, but due to the crossover appeal and positive reaction to the first film, it should be the winner this week. Look for Barbershop 2 to make about $28 million this weekend.
Well done hockey movies are few and far between. There's 1977's Slap Shot (the best sports movie of all time, and I'm not going to argue about this) and then there's... well, Mystery, Alaska didn't completely suck, and the less said about Youngblood, the better. So we reach into the vault of true stories to the 1980 U.S. Olympic Gold medal winning hockey team for Miracle (quick aside here: the 1972 Summit series between Canada and the USSR covers the same ground from an earlier time period and is ridiculously more dramatic. "Most important sports moment", my ass). Disney, who did an excellent job with a similar kind of story a couple of years ago with The Rookie, has shown a flair for these kind of inspirational yet relatively schmaltz-free true stories (and whoever's decision it was to cut the trailer with "Dream On" deserves a raise). It would be hard to go wrong, really, with this subject, with its great underdog story, and reminiscence of the Cold War. It's not a world away from Seabiscuit, really, in that's a story about how a sporting achievement lifted a nation at a time of turmoil.
It's a pretty familiar story to any sports fan today, a group of college kids put together by Team USA coach Herb Brooks defeating the mighty Soviet Army team of quasi-amateurs, who had dominated almost exclusively since the USSR started taking this Olympic thing seriously. Kurt Russell plays Coach Brooks and though he looks nothing like him, passes this Canadian's test as to how a hockey coach looks, acts and sounds. He might experience the same kind of career revival that Dennis Quaid had after The Rookie. The film snuck in 1,100 theaters last weekend, so Disney is clearly hoping for some great word-of-mouth, which I don't doubt they'll get. It should open to around $21 million, and with a little luck, could be one of the bigger hits of the early year.
Had enough of movies about plucky pre-teens performing dangerous stunts with quasi asexual undertones and giving a comeuppance to adults? Well, too bad, because Catch That Kid is the latest result of what Spy Kids hath wrought, attempting to capture that lucrative (?) 10-15 year old market. We've already got an Agent Cody Banks sequel coming out this year and if you add in the Lindsay Lohan/Anne Hathaway wish fulfillment movies, we're hip deep in rugrats. Catch That Kid is actually a remake of a Norwegian film, which has its title character robbing a safe to pay for an operation for her paralyzed father. I'm not sure if this is more of an indictment of the US health care system or parental responsibility, but there's nothing quite like encouraging teens to commit felonies. As near as I can tell, none of the stars of this one are on any hit TV series that account for a stealth popularity, so I'm inclined to give this one a pass. It shouldn't make any impact at all this weekend, and it's likely to stick around the $5 million mark, even on a large rollout of 2,800 venues.
In a surprise last weekend, You Got Served was successfully able to capture the anti-Super Bowl market, earning $16 million. This is almost an identical showing to its spiritual cousin Bring It On, meaning this is a formula that's about to get emulated more and more. The Extreme Sports movie Grind failed, so I'm not sure what's going to be the next attempt, but it'll likely appear bizarre and wackily out of place to most. Theoretically it comes up against Barbershop 2 in its target market, but I don't think this is so. Barbershop serves an older and broader age range, while You Got Served is pretty much restricted to under 25's. As such, it should start to fall off pretty quickly, with maybe $9 million this weekend.
Both The Butterfly Effect and Along Came Polly came through Super Bowl weekend relatively unscathed, both falling about 45% on the weekend. That's not a great figure, but it could have been much worse for both. Along Came Polly still has aspirations at the $100 million mark, which is kind of a letdown after a $32 million start. Even so, besides salaries, it can't have been an expensive film to make and is a testament to the ability of audiences to lap up the same old crap.
Oscar nominees continue to roll along, with Monster, In America and City of God all continuing their expansions. Lost in Translation continues to occupy over 600 screens despite being released on DVD this Tuesday but should still be a factor in the box office. The DVD is probably more lucrative at this point anyway for the studio.
The big news in the arthouse, though, is the release of Bernardo Bertolucci's The Dreamers, the first NC-17 rated movie of acclaim to get released in some time. With the back drop of the turbulent summer of 1968 in Paris, the film is about a love triangle between an American and two French siblings. In the wake of America's neo-Puritan outrage (you'd think people had never seen a boob before), it'll be interesting to see how well this film is received. Of course, it could just be insufferable on its own merits.
Forecast: Weekend of February 6-8, 2003

Rank

Film

Number of Sites

Change in Sites from Last

Estimated Gross ($)

1

Barbershop 2: Back in Business

2,711

New

27.8

2

Miracle

2,605

New

21.3

3

You Got Served

1,943

+10

9.2

4

Along Came Polly

2,955

-97

5.3

5

The Butterfly Effect

2.519

-86

5.1

6

Catch That Kid

2,844

New

5.0

7

The Lord of the Rings: Return of the King

1,878

-378

4.2

8

Mystic River

1,370

0

3.7

9

The Perfect Score

2,208

0

3.3

10

Big Fish

1,617

-663

3.3