Weekend Forecast for
January 30 - February 1, 2004
By Reagen Sulewski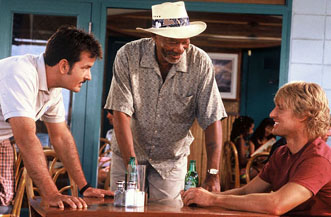 The first consequences of the Oscar nominations will be felt this weekend, as a few films grabbed unexpected kudos from the Academy. However, in an unfortunately bad case of timing, the accelerated Oscar year lands the post-nomination weekend up against the Super Bowl, one of the dark days on the box office calendar.
With Sunday falloffs of 60% and up, Hollywood's attitude towards this weekend has traditionally been one of pulling the sheets over its head and hiding. In the past few years, though, there has been a little bit of breakthrough with a counter-programming strategy. The best example of this working is 1999's She's All That, which opened to $16 million and made Freddie Prinze, Jr. a household name, something for which those filmmakers have never apologized. This year, we have two films primarily aimed at teenagers and an ensemble heist flick. Nothing looks primed for a huge breakout this time around but the weekend won't be a total waste.
The Perfect Score looks as if someone looked at last year's Better Luck Tomorrow and decided it'd work better less grim and ethnic. A group of "motley" yet attractive teenagers, cracking under pressure, decide to band together despite their differences and steal the answers to the SAT test. Valuable lessons are learned and friendships and understanding ensue. Isn't felony fun? If there's a film out of the three this weekend that is likely to break out, it's this one, as it fits the most into the young female demographic that is least affected by the festivities on Sunday. That's mostly due to the strong female leads, Erika Christensen and Scarlett Johanssen (who should call the FBI considering how robbed she was of at least one Oscar nomination). It's arguable whether Christensen is better known for her roles in Traffic and Swimfan or for being Julia Stiles genetic twin (I didn't realize it wasn't Stiles in this movie until very recently), but that's not necessarily a bad thing for the movie's sake. Swimfan, her first real lead, scored a respectable $11 million opening in September of 2002, which points to her as a decent torch bearer in the Skechers set. Johanssen had her breakout year in 2003, with both Lost in Translation and Girl With a Pearl Earring scoring with critics, and the former even earning a terrific-for-its-budget $30 million plus (so far -- more on that later).
The male cast is a group of relative unknowns, though that's not always a penalty, nor are knowns always a bonus (look at Tad Hamilton, for example). What matters here is a slick concept sold well. The Perfect Score is an MTV production, which doesn't always mean great things but is usually good at keeping them from being a complete disaster. Nothing is getting pushed much this weekend in terms of screen counts, and Perfect Score is receiving only 2,208. Director Brian Robbins has shown he can do a lot with a little before, taking Varsity Blues to $16 million in a January on just 2,121 screens (on a four-day weekend, but why split hairs), though perhaps the less said about his Ready to Rumble and Summer Catch, the better. No miracles here, but a decent $11 million shouldn't be out of the question for the weekend.
In a different world, I'd think you got Served was an SNL parody of something (say, 8 Mile), but as it turns out, it's a real movie. Street dancing's real, of course, but it doesn't take much to see this as a Breakin' for a new generation (would that we get a subtitle as good as Electric Boogaloo out of the deal). Starring the boy bands IMX and B2K (who promptly broke up before the release of the movie... good timing, guys) and directed by their manager (Ooh, synergy), it doesn't take too much of a cynical personality to read this one as product, pure and simple. Well packaged and energetic product, to be sure, but are you really expecting anything from the director of a House Party movie that didn't star Kid 'n Play? Superficially, this has a lot in common with a fair number of recent films, including Honey, Drumline and Bring it On. All of these were able to tap into an underserved market and/or present a clever look into a sub-culture.
You Got Served has a chance to do the latter, but is far more likely to be a mess of clichés. Opening in 1,933 venues, which is apparently the new standard level opening for films that target a primarily black audience, this shouldn't outright bomb but will not reach the heights of the previously mentioned films. The superior-looking Honey managed only $12 million, and on a weekend where it didn't face the biggest TV event of the year. I predict a heavily front-loaded $7 million over three-days.
The Big Bounce is the second go at making a movie out of the Elmore Leonard novel of the same name. It seems as though Hollywood has finally figured out how to deal with Leonard's books (bring back Karen Sisco!), so the chances are good that the target audience should be happy with this one. How big that audience is remains to be seen. A very similar looking film, Big Trouble flopped and flopped badly despite being a bestselling novel and a lot of fun. Mind you, it also starred Tim Allen, so maybe that's your problem right there. The two above the line stars being sold are Owen Wilson and Morgan Freeman, both of whom are enjoyable in almost anything but don't always pick enjoyable movies (it's been three years for Wilson, back to The Royal Tenenbaums).
There's also a large ensemble involved, including Charlie Sheen, Gary Sinise and the debut of Sara Foster, who the ads have gone overboard in trying to sell as sex appeal (not that I blame them). There's been a lack of focus in the ads, though, which is never a good thing. When the ads come down to looking like "someone's doing something to someone" as we have here, it looks like they're either trying to hide something, or they don't know how to deal with what they've got. A title that doesn't really evoke anything doesn't help either. It's also the opener most likely to be affected by Super Bowl Sunday, being the most adult-oriented of them. It's got the widest bow at a little over 2,300 locations, but isn't likely to bowl anyone over. Look for around $5 million.
And now we get to the boosting effect of Oscar nominations, which will be slightly subdued this year. However, about half a dozen films are making significant pushes based on their results on Tuesday. Return of the King is of course still in its first run (and in fact is losing screens this weekend) and shouldn't see much of a bump; neither of the two previous films in this series did. As of Thursday, it will have moved past Finding Nemo for top spot of the year and eighth place all time, and over the weekend will easily pass The Two Towers final total of $341 million for seventh. It's still on pace for around $375 million, though who knows what a Best Picture win could do.
The major expansions are Master and Commander, Monster, Mystic River, Lost in Translation and Girl With a Pearl Earring. Lost in Translation is likely to benefit most, with four high-profile nominations and a baseline of positive buzz to help it along. This is exactly the kind of film that seems to benefit year after year and in this case could get as much as $20 million more when it's all said and done. Let's start slow, though, giving it about $3 million this weekend. Monster is already in the top ten (through the weekday) and is still on its first release. It only has the one nomination for Charlize Theron, but that's a crucial one as she is a very large front-runner for Best Actress. It's a little more than doubling its venue counts and should preserve most of its per-screen average, giving it around $4 million through Sunday.
Big losers in this respect are Big Fish and Cold Mountain, which, while not shut out, failed to make as big of impacts as they would have hoped. Both films are likely to continue on down their normal progression.
Finally, the dramatization of the 1980s Olympic Men's Hockey Gold medal winning team, Miracle, sneaks in 1,100 venues on Saturday. It's a perfect movie to sneak, but I question its positioning. It's still the day before the Super Bowl, but that's not to say that audiences won't be slightly pre-occupied. It seems to me that it may get lost in the shuffle or have the impact of the preview be muted. At least Disney isn't giving away much in terms of box office by doing this.
Forecast: Weekend of January 30 - February 1, 2004

Rank

Film

Number of Sites

Change in Sites from Last

Estimated Gross ($)

1

The Perfect Score

2,208

New

11.5

2

The Butterfly Effect

2,605

0

8.7

3

Along Came Polly

3,050

+55

8.2

4

You Got Served

1,933

New

7.3

5

The Lord of the Rings: Return of the King

2,256

-302

5.7

6

Big Fish

2,280

-158

5.3

7

The Big Bounce

2,304

New

5.2

8

Monster

662

+332

3.8

9

Lost in Translation

632

+275

3.5

10

Win a Date With Tad Hamilton!

2,808

+97

3.5