Weekend Forecast for January 31st - February 2nd
By Reagen Sulewski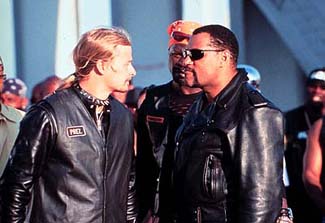 January 2003 is almost over. Let us never speak of it again. Hollywood still takes one more crack at us with a counter-intuitive sequel, an exploitation bike racing flick and a thriller starring the dangerously overexposed new It Boy. This wouldn't be quite so bad if we hadn't all just seen the Super Bowl Matrix trailer and knew what was awaiting us...just four more months, four more months...
You would think that any film with Final in its title wouldn't lend itself to a sequel (though easier to turn into a sequel than the original title of Flight 180), but here we are with Final Destination 2, the silliest title for a sequel since The Neverending Story 2. The original film actually ended up being a nice lark in March of 2000, opening to just a shade over $10 million and finishing with a healthy $50 million (hence the sequel). What was most effective about the film was the idea of Death as a Rube Goldberg-inspired prankster trying to finish off a group of teens that escaped a plane crash. This time it's a car accident that just misses them.
Of the survivors from the last film, only Ali Larter is back, presumably as a guide/bad luck charm. Rumor would have it that the gore content has been upgraded; for a certain section of the audience that's a good thing, although not necessarily required for those that were entertained by the inventive ways the filmmakers found to off its characters in the original. As long as they've kept to this concept and not run out of ideas (it'll be hard to top the bus from the first), Final Destination 2 could conceivably not suck. New Line's been on a bit of a roll lately and are launching this film heavily in 2,834 venues. I don't like to make comparisons like this one too often, but if crap like Darkness Falls can make $12 million, surely Final Destination can beat that. It should actually be able to beat last week's number one by a significant margin, to the tune of about $16 million.
Turn around lately and you'll run into Colin Farrell. Look! He's standing right behind your desk and willing to promote one of his bazillion movies coming out to you. OK, so it's not really his fault (I certainly don't expect him to not work) but a bit of Farrell fatigue has to be setting in as he's pushed down our collective throats. His latest, The Recruit, isn't actually that bad of a vehicle for him, though the ads kind of blow it. We are promised a world in which "nothing is as it seems," which means we can pretty much write the rest of the movie ourselves, can't we? Thanks a lot, Hollywood.
A good mix of action film and thriller would go a long way right now; the big question is if The Recruit is that film. Al Pacino and Bridget Moynahan make up a fairly powerful supporting cast. Pacino has recently been as strong a draw as ever (see: Insomnia) and is really a very good choice to back up Farrell in what is essentially his first Hollywood lead role. He's not quite ready for prime time yet, or perhaps it's just this unremarkable-looking film. In any event, The Recruit could take advantage of a weak slate and earn about $15 million, making the race for first place very interesting.
You can be fairly confident that Biker Boyz didn't exist as much of a concept until after the success of 2000's The Fast and the Furious. Biker Boyz is much less of a clone of Point Break than the first film, but replace street rods with bikes and you've got the general idea. It's all about leather clad guys named Wood or Flip or Stuntman (all actual cast listings) tempting fate, "living for now" and staring death in the face at 200 miles an hour. This film doesn't actually have to be all that good to be well received, since if it captures the right tone, the badness can be part of the fun. Count me as sceptical though.
The cast is a pretty good representation of Who's Who in Young Black Hollywood, with Derek Luke, Larenz Tate, Orlando Jones and Djimon Hounsou, among others. Laurence Fishburne is there to lend credibility to the whole thing as well, a la Robert Duvall in a Bruckheimer film. Expect Biker Boyz to play heavily to the "urban" crowd, and it might take as much as $11 million over the three-day period.
The unholy duo of Darkness Falls and Kangaroo Jack should also hang around the top of the box office charts, though I can't fathom why. The only other returning movie likely to challenge this group is the very resilient Chicago, which expands only slightly to seven more theaters this weekend. A fifth straight week of increasing box office is unlikely under these circumstances, but I wouldn't be surprised if it made a decent run at it after managing to grab first place on both Tuesday and Wednesday, making it one of the lowest distributed films to grab first place at any point in many years. Chicago will be very close to the $50 million mark after this weekend and will likely wait until Oscar nominations are announced to jump to wide release.
The Lord of the Rings: The Two Towers makes a milestone of its own this weekend, as it will pass the box office take of Fellowship and officially jump into the top ten all-time. Spot number seven (passing Forrest Gump at $329 million) is almost a certainty but the gap between seven and six is too large without a massive sweep of the Oscars.
Confessions of a Dangerous Mind would be ecstatic at this point to gross one-tenth of that amount, but its fate is about sealed with a $6 million opening weekend and miserable audience reaction. This just goes to prove my theory that people are stupid. This is an intelligent and fun film that deserves better. Consider this an unpaid ad for the movie. See it while you still can.
Now, with all that nastiness behind us, let's let 2003 really start.
Forecast: Weekend of January 31 - February 2, 2003

Rank

Film

Number of Sites

Change in Sites from Last

Estimated Gross ($)

1

Final Destination 2

2,834

New

16.3

2

The Recruit

2,376

New

15.4

3

Biker Boyz

1,766

New

10.8

4

Chicago

623

+7

7.2

5

Kangaroo Jack

2.848

0

7.1

6

Darkness Falls

2,865

+28

6.8

7

The Lord of the Rings: The Two Towers

2,175

-491

4.4

8

National Security

2,494

+235

4.3

9

Catch Me If You Can

2,316

-460

4.3

10

About Schimdt

1,236

0

3.9