Weekend Forecast for
January 23-25, 2004
By Reagen Sulewski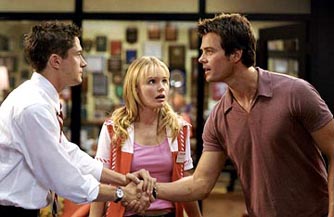 In the alternative future posed by Logan's Run, this would be the unbeatable blockbuster weekend of the year. Under 30s can stay home this weekend as far as Hollywood cares, or else embrace the youth movement implied by the two big releases of the weekend.

The Butterfly Effect is Ashton Kutcher first "serious" role, and we know he's serious since by a corollary of the Robin Williams Rule, he's grown a beard, or at least something approaching one. The film stars Kutcher as a man who's developed the ability to travel backwards through his life and change events, though he discovers that nothing he does ends up as a net positive (science fiction writers are such pessimists). So essentially, it's covering the same ground as last year's The Time Machine, but with a potentially more simplistic take on it, and let's all stop and contemplate the horror of that potential for a moment. I'm perhaps being a bit too hard on this movie, which does appear to have something of a brain in its head even if you wonder who it borrowed it from.

The idea, apparently taken from chaos theory and the writers' Philosophy 101 classes, is that any action can have a random and unpredictable effect on something that doesn't even seem to be related. Scientists are formulating a theory that something very similar is the cause of Ashton Kutcher's stardom, but for now we get a movie about it. In this case, much of the film revolves around trying to fix his relationship with Amy Smart (best known for being willing to take her clothes off in Road Trip), which goes wrong in tragic ways each time he tries to fix something. Hey Ashton, this is Destiny calling. You got Punk'd. The film also stars Ethan Suplee of Mallrats fame, who is apparently learning the hard way not to piss off the costume designer.

Written and directed by the Final Destination 2 team (not the far superior original, mind you), there's not much hope of this being great, but there's also a chance it won't suck. And in January, what else can you really hope for? It's not quite horror, but I think we're looking at a similar kind of take as a January horror film, a la Darkness Falls and the like. Look for about $14 million.

Win a Date With Tad Hamilton! is this year's candidate for the "Wait, I thought that was just the working title" award. Starring Topher Grace (the set of That 70s Show should be interesting on Monday) and two lumps of clay called Josh Duhamel and Kate Bosworth, Topher plays the spastic suburban Woody Allen well and that's what he's asked to do here while the Bosworth and Duhamel preen off in the corner. Duhamel plays a young Hollywood star ("Whoa, wait, uh, what's my motivation?") with an image problem whose agent decides that to fix it, he should whore himself out to Middle America... no wait, that's wrong. He decides to have a contest where the winner, presumably a wholesome girl of purity true, wins a date with the actor.

And such would the end of the movie until Mr. Tad Hamilton decides that continuing to date a West Virginia grocery store clerk would be a good idea, while our hero Topher sits in the background and stews as his dream girl gets suckered in by the spotlight. Also starring Nathan Lane and Sean Hayes in turns alternatively aggravating and irritating, Win a Date... is a nice piece of January fluff that shouldn't offend and will probably impress legions of squealing teenage girls. It'll run neck and neck with Kutcher's Butterfly Effect for top spot of the weekend, with both really having the chance to surprise with a breakout. However, at around $13 million in earnings, Win A Date With Tad Hamilton! will not be able to win Topher Grace the first annual 70s Show Box Office Championship... at least for now.

Barring either of these films breaking out, though, the number one film of the week should continue to be Along Came Polly, who I noticed y'all let the terrorists win last week by seeing. Earning $32 million last weekend (or approximately $32 million per laugh), the Ben Stiller/Jennifer Aniston gross-out comedy successfully capitalized on the sideways association with There's Something About Mary. Watch for future movies, That's My Sally, starring Ben Stiller and Charlize Theron, and Nobody But Angela, with Stiller, and, oh, let's say Drew Barrymore. Hmm, how much does it cost to register a title with the Writers Guild anyway? By all accounts, there were some of you out there that liked this movie, so it shouldn't die a sudden death like it should, and should even hang onto a good portion of last week's take, around $15 million of it.

Moving into Golden Globe weekend, The Return of the King is still the number film of the week, having amassed an astounding $329 million in just five weekends, good enough for tenth spot all-time. It's not done there, though, as it hopes to by the end of this weekend be the highest grossing film of 2003. Finding Nemo is oh so within its reach, and it should just pass that mark with ease. With a coronation looking more and more probable at the Oscars, and probably at the Globes (though look out for Cold Mountain), there's definite potential for at least a $400 million take for the final edition of the Rings cycle, potentially putting it in Spider-Man's neighborhood.

Big Fish continues its impressive run pacing Return of the King since its wide release (Tim Burton could only hope this film were in the rarefied air of Lord of the Rings), having earned $40 million so far, an impressive figure for this Gump-light film (also distinguished with its touch of mysticism). Also hunting for Oscar recognition, Big Fish finds itself peaking after all the ballots have been mailed in. That's a bit unfortunate, though it's not suffering all that badly for it, apparently. It should continue to match the pace of Rings, with both earning about $7 million.

Cheaper By the Dozen has, beyond all reason, become one of the bigger hits of the year, surpassing the $100 million mark a few weeks ago. Among the unexpected fallouts from this: two Ashton Kutcher movies will be in the top ten this weekend. Now that's your Butterfly Effect for you.

Torque (rejected working title: Crotch Rocket) came in a distant fifth last weekend and shocked the world by proving that audiences aren't as hard up for adrenaline entertainment as we thought, though it is, by all accounts better than 2 Fast 2 Furious. How could it not be? That said, it fared a lot better than Disney's Teacher Pet, which seems like an experiment in how shrill and unappealing you can make a feature length cartoon. It will do nicely to pad out the qualification list for Animated Feature next year (I'm looking in your direction, Jungle Book 2).

Cold Mountain has to be giving Harvey Weinstein cold sweats, as the highest budgeted production Miramax has done on its own. Sitting at "just" $65 million and starting to lose steam, he badly needs a huge swath of Oscars to bring it back to a comfortable profit level. He managed to muscle Cider House Rules into the Oscars so I don't see why it can't happen here, though this effect really won't be seen for two weeks. Mystic River, another Oscar contender in about this earning range, is trying to get a jump on this by re-releasing into 1,327 venues. It's a lock for several Oscars, but wins may be harder to come by. A lot for these films will depend on their performances after the nominations.
Forecast: Weekend of January 23-25th, 2003

Rank

Film

Number of Sites

Change in Sites from Last

Estimated Gross ($)

1

Along Came Polly

2,995

+11

15.6

2

The Butterfly Effect

2,605

New

14.2

3

Win a Date With Tad Hamilton!

2,711

New

11.9

4

The Lord of the Rings: The Return of the King

2,558

-445

7.3

5

Big Fish

2,438

-76

7.3

6

Cheaper By the Dozen

2,810

-215

6.2

7

Torque

2,463

0

4.7

8

Cold Mountain

2,802

0

4.5

9

Something's Gotta Give

2,143

-359

4.0

10

Mystic River

1,327

+1,194

3.3