Weekend Forecast for January 17-19
By Reagen Sulewski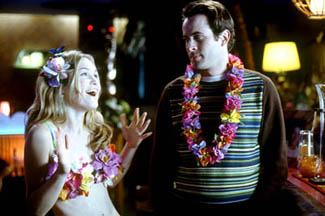 Last week's column is a direct lesson of "be careful what you make fun of." I should be so lucky to have only had Just Married to deal with last weekend. The trio of comedies this week have the potential to make last week's number one look like a Billy Wilder film. It's almost like some sort of bizarre reverse Oscar campaign, with studios hoping these films will be forgotten quickly. I'd certainly like to do my part in that matter.
The least offensive looking is A Guy Thing, by virtue of not overtly insulting my intelligence. It's also got Julia Stiles and Selma Blair, which is a step in the right direction (side note: with these two on board, the catering budget couldn't have been more than $17.97). The lead is Jason Lee, who will be forever linked with director Kevin Smith by association, like it or not.
Roles like the ones he had in Almost Famous and Vanilla Sky have gone a long way towards making him a legitimate potential lead and not just a member of Smith's stable of actors. Unfortunately, A Guy Thing looks to be a fall back to the kind of film that was last year's Stealing Harvard, which grossed less than $14 million. The very generic title certainly isn't about to help things, nor is the complete lack of real plot emphasized in the trailers. There's Something About Mary was almost five years ago now and nothing's recaptured that magic. There's not another movie that's likely to do so, either, or at least this one won't. The box office should amount to just $7 million or so this weekend.
In what can only be interpreted as an act of outright malice, Kangaroo Jack invades theaters on Friday, in much the same way that influenza invades your lungs. It takes a special kind of bad to make you wonder what the hell Jerry O'Connell (Tomcats, Joe's Apartment) is doing in the film. The worst part of all is that Kangaroo Jack is likely to make boatloads of money (perhaps from legions of critics looking for column fodder) like last year's inexplicable Snow Dogs. It even manages to snare another Oscar-winning actor for a role in the person of Christopher Walken. With this movie, The Country Bears and Mouse Hunt on his resume, one is left to believe the man has some sort of anthropomorphic animal fetish. Seek help, dude, or at least work more with Spike Jonze.
Though I have it on good authority that the kangaroo rapping is limited to a short dream sequence, the marketing just raises further questions. This bit was chosen as a highlight of the film to promote? I just don't understand people. In a just world, this would bomb (who am I kidding, in a just world, this would never have been made). Therefore, I am left to conclude that this will make $17 million from snot-nosed pre-teens and their unsuspecting parents.
Which brings us to the third of the new releases this weekend, National Security, aka Martin Lawrence Wacky Inter-racial Buddy Comedy #457. Since his high-water mark with Big Momma's House, Lawrence has had a major fall from grace, with his movies mercifully playing to mostly empty theaters. Admittedly, his stand-up concert film was an attempt to address the lameness of his two previous movies (why stop there?) but it doesn't look like he's changed anything with this profoundly unfunny looking film.
Matched up this time with Steve Zahn (who really should know better - it took Luke Wilson three years to recover from Blue Streak) as a pair of security guards thrown into a world of crime and intrigue. Mostly though, Lawrence acts like the Token Black Guy from Not Another Teen Movie ("Dayam!") and Zahn looks vaguely uncomfortable, mentally spending his paycheck. Do I really have to persuade you not to watch this film? Apparently, since it's going to make around $8 million. OK, one last try; Eric "Don't say Julia" Roberts has a major role in this film. If that won't frighten you off, there's nothing more I can do.
Just Married is the least of a moviegoer's worries this weekend, though there's no real reason to expect it to carry over strongly. Critically reviled and mildly well-received by audiences, it's already relying on a young audience to prop it up, something that almost never happens, as young demographics are among the most impatient. Just Married has seen the bulk of its business already but should still break double figures in millions purely by inertia.
Last week's number one will be challenged again by two major holdovers from the holidays, The Two Towers and Catch Me If You Can. The latter has steadily closed the gap on the former week-to-week and this should be the frame where it catches up. Dropping just a slight 31%, Catch Me has the edge on the hobbits for this weekend and may slip back into second place at around $10 million. The Two Towers shouldn't be much behind this mark, as it looks to grab about $9 million and inch closer to the $300 million mark. Passing Fellowship's total from last year is all but assured now; awards voters will determine just how far past it goes.
The major expansion to watch with these voters is The Hours, which nontuples its locations from 45 to 405. With a very impressive 20,000 per venue average (comparing well with Chicago), The Hours could be primed to make a big leap into the top ten. To do so, it will have to shake its image as a "women's picture" (much like Chicago again) and the fact that the whole cast was on Oprah doesn't help those matters (er, I was stuck in a hotel during the day. Daytime TV sucks). A challenging narrative adds to the reasons that The Hours shouldn't be a potential hit, but still it lives. The three heavily-promoted actresses (Nicole Kidman, Meryl Streep and Julianne Moore) obviously have a lot to do with that life, though only Kidman has been much of a draw on her own lately. I doubt it's the Virginia Woolf content that's driving audiences for this film, anyway; it's probably better sold as a great piece of melodrama. On this many screens, The Hours should be able to grab about $4-5 million.
Chicago does look to be the buzz-building film, though, having increased its take over last weekend with just a small expansion and expanding significantly again in this one. Having earned about $20 million without trying too hard, the future financial prospects look rosy for this musical, not to mention its Oscar prospects. Watch it increase again to around $7 million this weekend.
In retrospect, perhaps I should be thankful that Hollywood is releasing what may be the worst trifecta of films on one weekend; it certainly lets a guy play catch up.
Forecast: Weekend of January 17-19, 2003

Rank

Film

Number of Sites

Change in Sites from Last

Estimated Gross ($)

1

Kangaroo Jack

2,818

New

17.3

2

Catch Me If You Can

3,050

-175

10.3

3

Just Married

2,769

+3

10.1

4

The Lord of the Rings: The Two Towers

3,110

-367

9.5

5

National Security

2,729

New

8.1

6

Chicago

557

+195

6.9

7

A Guy Thing

2,515

New

6.7

8

The Hours

402

+357>

4.7

9

About Schmidt

946

+81

4.6

10

Two Weeks Notice

2,240

-515

3.9