Weekend Forecast for January 10-12
By Reagen Sulewski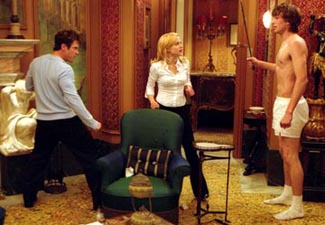 Ah January, where Oscar contenders and crappy comedies collide. Why is it that studios feel fine about bringing, say, About Schmidt or Adaptation wide in January but bring out the old saw about January being a dead month when it comes to launching other movies? Even the spin-doctors deserve the holidays off.
The potentially crappy comedy this year is Just Married with That 70s Show's Ashton Kutcher and the disturbingly fascinating Brittany Murphy, or as I like to call her, Angelina Jolie-In-Training. Kutcher and Murphy play newlyweds (surprise!); she's rich, he's a slob. Their parents are against them but love will win out, yada yada yada. It's like Pretty in Pink, but in reverse. With pratfalls. And Molly Ringwald's a slob jock (I seriously think this is how it was pitched).
Surprisingly enough, it doesn't look that bad. Like Kutcher's last film, the infamous and eternal Dude, Where's My Car?, this may take stupidity to a higher level. Dude opened to a shocking $14 million in December of 2000 and managed just under $50 million for a total. That 70s Show is, mystifyingly, still on the air and threatening to pull a M*A*S*H* and last longer than its subject matter did in real life. It defies all rational logic, but you pretty much have to conclude that Ashton Kutcher is a draw at this point.
Brittany Murphy has become one of the more compelling actresses of the last few years and not just for her onscreen work. Drunken Letterman appearances aside though, she's made some... interesting appearances in films, including the unhinged mental patient in Girl, Interrupted, the unhinged mental patient in Don't Say A Word and the unhinged non-mental patient in 8 Mile. This is her first out and out comedy since Drop Dead Gorgeous and the first that more than a handful will see since Clueless. She and Kutcher make a decent looking couple, as it happens and the War of the Roses-esque byplay between them could be enough for an enjoyable night out. I predict a $16 million weekend, which could put it square in the path of the number one spot for the weekend.
The competition here could be either of the top two films from last weekend, The Two Towers and Catch Me If You Can. Though Two Towers has the initial leg up with a $4 million headstart, it's already starting to show a bit of fatigue, dropping nearly 50% compared to Catch's 33%. I don't expect a repeat of either number as The Fellowship of the Rings got caught in a similar decrease last year over the New Year holiday. A 35% drop would give it around $16 million, the same figure that Catch Me If You Can would see if it fell about 25%. All three will make for an interesting weekend at the top.
The remainder of the noise this weekend will be made by expanding limited releases, some that aren't so limited anymore. Adaptation has the highest profile, but Antwone Fisher is the one that winds up with the widest release at just over 1,000 venues. Coming in with a very promising trailer and cast, Fisher has found mostly disappointment, failing to capitalize on Denzel Washington's directorial debut. The subject matter should translate fairly well to mass audiences if they choose to seek it out. It will be surprising if it earns more than $6 million on these 1,000 screens, however.
Narc is next, jumping to about 800 venues. The Ray Liotta/Jason Patric cop drama wasn't the most impressive performer last weekend, with just $11,000 per venue on six venues (compare to Adaptation or Chicago) but it's also the kind of film that'll draw more evenly across small markets. Expect $3-4 million here.
Adaptation has held up remarkably well through three weekends of treading water in its screencount. Quintupling to over 500, it faces a huge test with a Best Picture nomination on the line. If this determinedly strange film about the creative process can make itself into a crowd favorite, then it's in the bag. If not, Adaptation will have to settle for the consolation prize of whichever screenplay category it ends up in. Like Being John Malkovich, it could end up having a highest weekend total of about $3 million.
The 25th Hour also makes a move to the 400-500 level and also faces a tough battle, having only a middling performance in limited release, though it's done better than some. A $27,000 per venue take on five screens last weekend represented the second consecutive increase, so it make be a case where a limited release has allowed the film to build. Ed Norton isn't many people's idea of a box office champ, but he's a compelling actor and could lead this film to a decent take. Spike Lee also has a decent following and respected name as a director, making this a must-see for many cineastes. This could see as much as $3 million this weekend.
Oddly enough, the two films that have best made the transition from limited release to wide release don't expand much this weekend. About Schmidt and Chicago both stay relatively put, adding only a handful of theaters. Though they could probably not be more different stylistically, they both share a strong chance for Best Picture nominations. They should also both hold their own among a plethora of new choices, further cementing those chances.
For people who don't live in New York or LA, this weekend represents the first chance to look at many of the films that have been touted as the year's best. It could lead to a very busy slate for those finally able to see the films they've only heard others rave about.
Forecast: Weekend of January 10th-12th, 2003

Rank

Film

Number of Sites

Change in Sites from Last

Estimated Gross ($)

1

The Lord of the Rings: The Two Towers

3,477

-145

16.2

2

Catch Me If You Can

3,225

+55

16.1

3

Just Married

2,764

New

16.0

4

Two Weeks Notice

2,755

No Change

7.1

5

About Schmidt

865

+49

6.5

6

Antwone Fisher

1,006

+814

5.8

7

Maid in Manhattan

2,926

-124

5.1

8

Gangs of New York

2,340

+35

4.6

9

Chicago

362

+58

3.9

10

The Wild Thonberrys Movie

2,608

-273

3.2

11

Adaptation

560

+451

3.0

12

Drumline

1,540

-113

3.0