Uptown Girls
By David Mumpower
August 15, 2003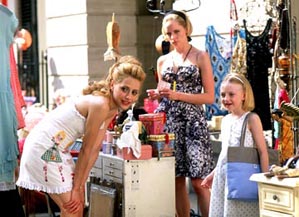 World, meet Brittany Murphy and Dakota Fanning.
Though the two young actresses have made certain splashes with more supporting roles in movies like Clueless, 8 Mile and I Am Sam, it's Uptown Girls that will make them household names.
It's particularly amazing that the pair is able to rise above a fairly cookie-cutter plot to shine in this riches-to-rags story about a rock 'n' roll heiress whose manager runs off with all of her money and leaves her in the embarrassing position of being a nanny to an unbelievably precocious eight-year-old clean freak.
The strength of Murphy's performance is her ability to play capriciously immature so well. Naturally, some of this tendency comes from the fact that she is childlike in appearance, with a tiny, frail frame and giant, expressive eyes that convey so much depth of emotion. It's a quality that the actress can truly use to her advantage as she portrays the delicate naif, expecting nothing but the best from humanity and exhibiting pure heartbreak when people disappoint her. Murphy is remarkably charming in the role even as she plays a somewhat spoiled but helpless innocent, and it's all in the transformation to self-reliant, confident young woman.
In stark opposition to Murphy's effervescence is Fanning's eerie sophistication. She's truly the perfect choice to play the child who is so much older than her actual years. Having had to fend for herself due to her mother's busy job as an A&R exec and her father's illness-induced coma, the resourceful Ray has been forced to accept the fact she is ultimately responsible for her own activities and growth. A notoriously difficult child who goes through household help like water due to her demanding and perfectionist nature, she of course immediately butts heads with new nanny Molly Gunn (Murphy) on her arrival; the supposedly more adult "woman" is vaguely irresponsible and a completely new experience for her charge who is younger only in actual years.
This somewhat forced chemistry makes for a wonderful character study that really does sustain itself throughout the film. Though at times the story tangents to Molly's boyfriend problems and perils of living in the real world, Uptown Girls true success is in the pairing of its two primary stars.
That doesn't mean there aren't some terrific supporting turns. Donald Faison joins Murphy for the second time in their careers (they were also together in Clueless) as her close friend and link to Ray as he is employed by the child's mother (Heather Locklear). He's an actor who has really come into his own thanks to his wonderful work on the television series Scrubs, and though his part in Uptown Girls is fairly limited, he makes the absolute most of it. He's a charismatic young man with a strong sense of comic timing.
Also onboard as one of Molly's best friends is Marley Shelton, who most people missed as the love interest in the unjustly unappreciated Bubble Boy. She's an interesting counterpart to the character of Ray, as she is similarly mysophobic and a Martha Stewart admirer to boot. Her squeaky clean persona works very well alongside the messier and more carefree Molly.
Murphy's maturing interactions with all of her costars are what make the movie special. It's perfectly believable that Molly would slowly grow closer to Ray as they understand their commonalities, especially those that relate to their respective shared losses of their father figures. Fanning in particular plays out the sadness of loss and the inability to embrace her childhood in a heart wrenching and affecting fashion. It's all too easy to believe that this is a girl who has somehow missed out on the most important things about being a kid -- like going to a theme park, having a tea party, and the fun of goofy free style dancing as opposed to the strict structure of ballet. The dynamic is touching and makes for the very definition of a chick flick.
And really, any movie that celebrates the glory of the thread count deserves special commendation.