Summer Catch

Review by David Mumpower
September 24, 2001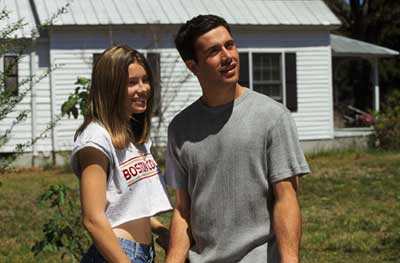 Summer Catch is almost exactly what I expected it to be. That's both good and bad, but on the whole, this film is standard Hollywood popcorn fare: run-of-the-mill escapist comedy that is easily forgotten as soon as you're out of the theater.
The story here concerns Ryan Dunne, a teenage southpaw with a talent for the game but external issues to sort out in order to reach the top of Maslow's Hierarchy of Needs. I don't want to give anything away here, but if this kid could only get it together by the time the big game comes around, he just might impress that scout from the Phillies and end up with a professional baseball contract. But what are the odds of that?
Dunne was born and raised in a small New England town called Cheatham, and after an abortive attempt to play junior college baseball, he has returned home to work for his dad in the lawn service industry. To his great surprise, he is offered the opportunity to become the first local boy in over a decade to play baseball in the legendary Cape Cod League, an organization where the best college players are given the opportunity to compete against each other in a league that uses wooden instead of aluminum bats. Since it's a great indicator of how the kids will do in professional baseball, the Cape Cod League is notorious for having copious amounts of baseball scouts on hand for each game, and a staggering percentage of the players who participate end up drafted. In all honesty, this is a brilliant idea for a film, and my main regret is that more care was not taken to have a special story to go hand-in-hand with the cleverness of the setting.
Another dichotomy about Summer Catch is in the choice of director and lead actor. Michael Tollin was selected based in large part upon his splendid work on Hank Aaron: Chasing the Dream, a biography about the greatest baseball player of all time and his pursuit of the unbreakable home-run record of Babe Ruth. If you've never checked it out and (like me) you love baseball, treat yourself to a wonderful viewing experience. Tollin's work on Chasing the Dream is best summarized by its current score of 9.1 out of 10 at imdb. He understands the game of baseball and how to tell a story about it, so having him do a movie about the Cape Cod League looks like a great idea on paper.
Then the producers cast Freddie Prinze, Jr.
Look, I don't doubt the guy is handsome, and I don't have any particular ax to grind about the fact that he gets voluminous work in Hollywood. Just keep him away from projects that I might want to watch and everybody's happy. The guy can't act. If you don't believe me, rent Wing Commander or Head Over Heels or Boys and Girls or Down To You or I Know What You Did Last Summer or...or just stay home and play Russian Roulette with only one empty chamber. It's all about the same with regards to pain and emotional duress. His body of work reads like a list of Razzies heavyweight contenders from the past three years (and that's *before* Scooby Doo), so seeing him listed on the marquee for any film is scary. Seeing him listed for a film idea I like is enough to send me out to procure a Prozac prescription.
Anyway, what's done is done, so we all know going in that the film is going to have to succeed in spite of the lead actor rather than because of him. This isn't impossible, as I found She's All That and House of Yes enjoyable; it just reduces the odds. It also makes the surrounding cast much more important and in this case, they do well enough. Jessica Biel plays the love interest, Tenley Parrish, a spoiled little rich girl who couldn't be bothered to learn his name over the years he's been working on her yard, but then she sees him in his baseball uniform and suddenly it's "How YOU doin'?" time. As those of you who have seen her Gear spread know (don't act innocent, mister), she's not bad-looking, so there are the requisite wet-girl-in-bikini shots we've all come to expect from this genre. Her performance is rather wooden, but in her defense a lot of her scenes are with Prinze, and most of the ones that aren't involve her father, possibly the worst-written character of the 2001 movie campaign. Meryl friggin' Streep couldn't do any better with these particular albatrosses.
Fortunately, the rest of the crew is quite entertaining. Marc Blucas is unexpectedly enjoyable as a slugger with a fetish for hefty dominatrices, and Wilmer Valderrama is good for a few cheap gags as a Dominican player living with a famously lusty woman who houses her boys under the expectation that they cater to her needs, if you know what I mean and I think you do. Brittany Murphy plays the town whore and seems to get a lot of enjoyment from playing completely against type for a change. She steals more than one scene with her gleeful exuberance and desire to see a man wearing panties. The rest of the gang runs from charming (Matthew Lillard as a slumping catcher) to run-of-the-mill (Brian Dennehy as the grizzled veteran manager) to truly heinous (a woefully miscast Jason Gedrick phoning it in as the older brother with all the answers), but on the whole, the supporting cast is the strength of the film. As a matter of fact, I can't remember a single time I laughed that involves the characters of Ryan or Tenley.
Summing up, Summer Catch is about as mediocre as a film can get. There are a couple of attempts at tweaking the genre standards by having the characters behave in unexpected fashions, but those times are sadly outnumbered by the painful clichés used early and often in the flick. It's not an awful movie and it's not a great one. It's just a movie, and I'm already starting to forget about its existence.