Swimfan Takes a Victory Lap
David Mumpower's Weekend Wrap-Up
September 6 - 8, 2002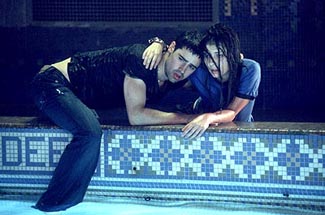 The first weekend after Labor Day historically means one thing and one thing only to Americans: Football. The most popular sport in the country's return always signifies a downturn in box office after the sizzling summer performances. This year has followed form as expected, resulting in one of the most underwhelming box office tallies of the year.
Swimfan "won" the weekend, if it's appropriate to label anything a winner, but its tally is the second-lowest of the year for a number one film. Only the first weekend of February's $11.1 million for Black Hawk Down throws under Swimfan's lackadaisical $12.4 million.
The small first-place total is more a damnation of the box office on the whole rather than Swimfan, which is a spectacular success for Fox due to its slight budget of only $5 million. The movie delivered a per-screen average of $4,357 from 2,853 venues. As is the case with most teen thrillers, it's likely to quickly disappear from theaters, but the film is already effectively in the black after only three days. It becomes the fourth release since June to make back its budget in its opening weekend. Of course, the feat is somewhat less impressive this time than in the cases of Signs, Scooby-Doo and Austin Powers.
As would be expected for a formulaic teen Fatal Attraction rip-off, CinemaScores and film critics were not kind. It received a B- from Friday audiences and a spectacularly bad 13% approval rating from reviewers at Rotten Tomatoes. The adage that reviews don't impact opening weekend box office is particularly accurate with the media-avvy teen demographic, a group more likely to trust themselves than talking heads.
My Big Fat Greek Wedding, the biggest surprise success story of 2002, continued its amazing run this weekend with a strong second place finish. Its $10.6 million is a per-screen average of $6,244 from 1,696 venues and a decline of only 5%. We're running out of superlatives for the little engine that could, as it stands on the brink of a milestone no one would have thought possible just two months ago. The indie film, made with a minute budget of $5 million, will cross the $100 million barrier in the next week. A good 80% of that total - $80 million - will have come after July 1st, a full 11 weeks after it debuted in theaters. People get bogged down in the numbers at times, but it doesn't take a genius to figure out that movies which make $20 million in their first three months of release are not supposed to make $80 million in the fourth and fifth months.
Finishing in third place is the other new product, City by the Sea. The oft-delayed Robert DeNiro crime drama found its way into theaters six months later than expected, but North American audiences didn't seem to notice. Its $9.1 million equates to a lousy per-screen average of $3,534 from 2,575 venues. Welcome to the fall box office season.
The hope would be that a film starring arguably the greatest actor of our time would receive passionate critical support and a warm audience reception, but it was not to be. City by the Sea has a disappointing Rotten Tomatoes score of 46% and a mediocre CinemaScore of B. With little going for it in the way of buzz, the film is unlikely to be a factor at the box office in coming weeks.
Ending up in fourth place is what will ultimately be the number one film of the summer, Signs. Its weekend take of $8.0 million gives it a running total of $205.8 million. While falling 40% over the weekend, Signs becomes the second film of the season and the fourth film of 2002 to cross the mighty $200 million mark. Although it currently stands just over a million behind Austin Powers in Goldmember for first place, Signs has significantly more box office momentum and is a lock to finish with more business. Factoring in the success of The Sixth Sense, M. Night Shyamalan is now two for two in winning the summer campaign. So, where on the schedule do you think Disney will slot his next production?
Finishing fifth is the Vin Diesel actioner xXx. Still receiving ultra-wide release in 3,088 venues, the film managed to earn $5.5 million for a per-screen average of $1,781 and a decline of 47%. A final total of $150 million is still attainable for xXx, though it's likely to wind up just short of the mark. Even so, Sony must be ecstatic that they wisely signed the major players for the sequel before numbers came in. The Fast and the Furious negotiations have shown that Rob Cohen and Vin are capable of big-time hardball, so getting them locked into a contract for the second film in the new franchise (relatively) early in the process was a masterstroke.
Spy Kids 2: Island of Lost Dreams drops from fourth to sixth place this frame. The sequel now stands at $73.9 million after making $3.0 million this weekend. That's a fall of 50% from the holiday's Friday-to-Sunday frame. Spy Kids 2 is going to fall well short of its predecessor's domestic tally of $112.7 million. Of course, as long as Robert Rodriguez can keep making films in this franchise for $30 million, Dimension will gladly take totals of twice that and then some. If only everyone in Hollywood were this savvy about cost overhead.
Coming in seventh is the already-discussed Austin Powers in Goldmember. The film managed $2.8 meeeellion dollars from 2,102 venues for a per-screen average of $1,313 on weekend depreciation of 50%. While it's not going to finish first on the summer scoreboard, the third film in the series has been a stunning performer for New Line. This point is driven home by the fact that Goldmember's $207.1 million running total is enough to surpass Austin Powers: The Spy Who Shagged Me's $203.5 million to become the most successful film in the franchise. Someone needs to tell Mike Myers and Jay Roach that sequels are supposed to make less money than their predecessors, because they keep blowing the curve for the Men in Blacks and Star Wars of the box office world.
Labor Day's only new release, feardotcom, falls from fifth to eighth this weekend while plummeting a scary 59%. Its second weekend tally is only $2.3 million from 2,550 screens for a pathetic per-screen average of $902. The only screams coming from this one involve the suits at Warner Bros., who had convinced their bosses that this could be another Jeepers Creepers-type performer. An appropriate cartoon analogy for the post-opening weekend performance of feardotcom would involve Wile E. Coyote, an anvil and a cloud of smoke. Look out below.
An unusual listing finishes in ninth place, as the double feature of Spider-Man and Men in Black II pulled in $2.0 million from cost-conscious consumers looking for a good deal. This experiment is one of the more unique ideas in recent memory, so its results will be analyzed carefully, with movie-goers the potential benefactors. Major studios are eager (some might say desperate) to cross barriers and reach milestones to attain bragging rights. That's why it's understandably tantalizing to test an idea which might get MIIB within reach of the $200 million plateau or Spider-Man nearer to fourth place in all-time domestic receipts. A film such as Pearl Harbor, which finished at $198.5 million in 2001, would have been a perfect candidate for this sort of joint release had Disney attempted it last summer. MIIB earned only $0.68 million last weekend and Spider-Man wasn't even in any first-run theaters, so there was clearly renewed interest in watching the two movies for the price of one ticket. Whether it was as much as Sony had hoped to accrue is an answer only they may give but I would expect other studios have their numbers-crunchers taking a long, hard look at the results.
Bringing up the bottom of the top ten is Blue Crush, the bikini babes-with-brains-and-boogie boards film from Universal Pictures. It earned $1.8 million from 1,975 venues for a per-screen average of $911 and current box office of $37.2 million. Many prognosticators had picked this one to be a surprise hit of the summer, but it has wound up to be a mediocre performer with a final total which will roughly equal its negative cost. Blue Crush will likely have a long life on video but it's probably a disappointment to the studio.
Next weekend will see the arrival of only two films rather than the expected three. The hilarious-looking comedy Barbershop and the awful-looking comedy Stealing Harvard (starring BOP fave Jason Lee) will both make their debut. One film, however, will not, as The Transporter had been switched off at this unusually late date in order to give it more of a marketing push. Generally, late date moves such as this one are a negative, but with the universally positive reaction to the cutting-edge trailer, Fox has decided to give the film a stronger ad campaign. That's their story about the move, anyway.
As expected for the opening weekend of pro football, box office on the whole was yawn-inducing. The top ten managed only $57.5 million, down 20% from last year's $69.29 million.
Top 10 for Weekend of September 6 - 8

Rank

Film

Number of Sites

Change in Sites from Last

Estimated Gross ($)

Cumulative Gross ($)

1

Swimfan

2,853

New

12.4

12.4

2

My Big Fat Greek Wedding

1,696

+77

10.6

96.0

3

City by the Sea

2,575

New

9.1

9.1

4

Signs

3,232

-215

8.0

205.8

5

xXx

3,088

-488

5.5

131.0

6

Spy Kids 2: the Island of Lost Dreams

2,821

-429

3.0

73.9

7

Austin Powers in Goldmember

2,102

-402

2.8

207.1

8

feardotcom

2,550

No Change

2.3

10.5

9

Spider-Man/Men in Black II

1,850

New

2.0

2.0

10

Blue Crush

1,975

2,820

1.8

37.2