Glitter is Not Gold at the Box Office
David Mumpower's Weekend Wrap-Up
September 24, 2001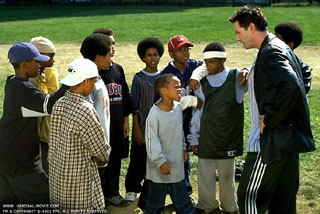 The standard September box-office slump continued this weekend, as Hardball held on to its number one position while the only new opener, Glitter, had a dismal debut of $2.41 million. To most accurately summarize the overall weakness of box office this weekend, consider that Hardball's estimated total of $8.06 million is the lowest amount for a number one film since The Watcher won with the sum of $5.8 million for the weekend of September 15-17, 2000.
Those of us who discuss box office trending have been spoiled by the unprecedented events of the summer so the lull is somewhat boring to us, but to Paramount, the makers of Hardball, this weekend offers great news. The movie showed unexpected legs, with a very noteworthy second-weekend drop of only 14%. When we consider just how much has been going on that could have kept potential viewers out of the audience, including continuous news updates and even the Friday telethon spectacular featuring many of the biggest names in movies and music, the performance of Hardball is that much more impressive. It's not going to do monster numbers by any stretch, but in the current box-office environment, its ten-day tally of $19.3 million against a budget of $21 million is as close as the market has come to having a hit this September.

<% sqlstr = "SELECT * FROM box WHERE movie like 'Tomb Raider%' OR movie like 'Crocodile Dundee in%' OR movie like'%Along Came A Spider%' " sqlstr = sqlstr + " OR movie like '%Enemy at the%' OR movie like '%Save the Last %' OR movie like 'Rat Race' OR movie like '%Hardball%' ORDER BY date DESC" max = 100 header = "Recent Paramount Releases" tstyle = "release" skin = "bop" x = Drawtable(sqlstr,max,header,tstyle,skin) %>

In second place this week with $5.08 million and increasing from the prior frame is The Others, another Miramax word-of-mouth blockbuster of epic proportions. After a fourth place debut the weekend of August 10-12, the film vacillated between fourth and fifth place for six weeks, but in weekend seven it has managed to jump all the way up to number two and actually increased 11% from last weekend. This sort of staying power is so rare that to find the best recent example of it prior to The Others, one must go all the way back to Something About Mary, which had similar behavior in July and August of 1998, when it took until week seven to reach number two and then made it all the way to number one in week eight. The Others won't be able to duplicate the feat of reaching number one in week eight, since September 28 sees three new entries enter the marketplace, but it should end up with domestic box office approaching $90 million. Considering its $14.1 million debut, The Others should have a final box-office multiplier of approximately 6.5. That's a larger FBO multiplier than the combined FBO multipliers of Planet of the Apes (roughly 2.6) and Rush Hour 2 (roughly 3.3). For comparison, The Princess Diaries and Legally Blonde had been considered the leggiest hits of the summer, with FBO multipliers of roughly 4.4 and roughly 4.5, respectively. There is simply no disputing the fact that The Others is the word-of-mouth hit of summer 2001.
Falling from second to third this week is The Glass House, a Sony/Columbia Pictures release which held up better than usual for a film in the teen horror genre with $4.41 million and a drop-off of only 23%. For perspective, the most recent film from the genre prior to this one, Jeepers Creepers, fell 52.5% in its second frame. It's possible that this might be proof that the much-discussed box-office inflation due to people escaping from the news by way of a trip to the local cineplex is occurring to at least some degree. It's also possible that the film simply has better word-of-mouth than the truly awful Jeepers Creepers (see staff reviews here and here). Whatever the cause, the effect is that The Glass House could end up recouping its budget of $22 million, or at least coming closer than expected after a middling debut of $5.7 million. Its current tally is $11.7 million after 10 days.
In fourth place with $3.55 million is The Musketeer, a Universal Studios production which debuted to $10.3 million only two weeks ago, but it is going to struggle to get to the $30 million mark before disappearing from theaters for good. The marketing campaign for this title was inspired, but the quality of the product is hurting its legs. After the year Universal has had, and considering the $40 million budget for the film, it's a marginal setback that the studio can easily afford after a brilliant summer of marketing mega-hit after mega-hit.

<% sqlstr = "SELECT * FROM box WHERE movie like '%Captain Corelli%' OR movie like '%American Pie 2%' OR movie like '%Jurassic Park III%' " sqlstr = sqlstr + " OR movie like '%Fast and the Furious%' OR movie like '%Mummy Returns%' OR movie like '%Musketeer, The%' OR movie like '%Musketeer%' ORDER BY open DESC" max = 100 header = "Recent Universal Releases" tstyle = "release" skin = "bop" x = Drawtable(sqlstr,max,header,tstyle,skin) %>

Rush Hour 2, the second-biggest hit of the summer campaign (after Shrek), continues to flex its box-office muscle by actually moving back up one slot this weekend, from number six to number five, with a $3.52 million weekend. There isn't much else to be said about this New Line blockbuster, as it has proved everything it possibly could prove since release and will pass Mrs. Doubtfire at some point in the next few days to become one of the 25 biggest movies of all time. Think there will be a third one?
In sixth place this weekend is Two Can Play That Game, which held up slightly better in its third frame with $3.21 million, a drop-off of only 31% compared to last weekend's 40% decline. Its running tally of $18.2 million indicates a very nice return on its $6 million dollar budget for Sony Pictures, who could use some good news after a rough summer highlighted by the financial disaster that was Final Fantasy: The Spirits Within.
<% sqlstr = "SELECT * FROM box WHERE movie like '%Ghosts of Mars%' OR movie like '%Final Fantasy%' OR movie like 'Baby Boy' " sqlstr = sqlstr + " OR movie like '%Animal, The%' OR movie like '%Knight''s Tale%' OR movie like '%Forsaken, The%' OR movie like '%Joe Dirt%' " sqlstr = sqlstr + " OR movie like '%Tomcats%' OR movie like '%Tailor of Panama%' OR movie like 'Brothers, The%' OR movie like '%Wedding Planner, The%' " sqlstr = sqlstr + " OR movie like '%Snatch%' OR movie like '%Two Can Play%' ORDER BY open DESC" max = 100 header = "Recent Sony Releases" tstyle = "release" skin = "bop" x = Drawtable(sqlstr,max,header,tstyle,skin) %>

In seventh place with $2.94 million is another film with unexpected staying power, Rat Race. After a decent but unspectacular opening of $11.7 million, this title was expected to disappear quickly, like so many other comedies released in the graveyard of August before it. Instead, this Paramount release (see chart above) has proved very popular and looks to finish with approximately $55 million in domestic receipts.
The Warner Bros. release, Rock Star comes in eighth this weekend. Some had speculated that Mark Wahlberg's heat from Planet of the Apes might carry this film to a decent box-office performance, but it now appears destined to tap out in the $25 million range. This weekend's impressive 14% dropoff and $2.93 million total is boosted by being tied in with the Friday and Saturday sneaks of Hearts in Atlantis rather than any semblance of staying power by the movie. For a film with a budget of $38 million, Rock Star is not a catastrophe by any stretch, but it's still got to be a disappointment to the studio. Even the Coyote Ugly trick of using a Def Leppard song in the trailer couldn't save this dog, the latest in what has become a very rough year for WB.
<% sqlstr = "SELECT * FROM box WHERE movie like '%Rock Star%' OR movie like '%American Outlaws%' OR movie like '%3000 Miles to Graceland%' ORDER BY open DESC" max = 100 header = "Recent Warner Bros. Disappointments" tstyle = "release" skin = "bop" x = Drawtable(sqlstr,max,header,tstyle,skin) %>

Ninth place belongs to MGM's surprise hit, Jeepers Creepers, with a take of $2.77 million. After the afore-mentioned 52% drop its second weekend, this title has begun to hold up better in follow weekends with a decline of 38% last weekend and an estimated 27% for the current frame. This is another potential example that people have attempted to get away from their troubles by heading to the theaters since the combination of the teen horror genre, the 44% score at Rotten Tomatoes and the D average at Cinemascore would normally indicate a film with no legs.
Rounding out the top 10 with $2.69 million is American Pie 2, the other sequel anomaly from the summer of 2001. While common industry wisdom is that follow-up films make roughly two-thirds the box office of their predecessors, American Pie 2 joins Rush Hour 2 and The Mummy Returns as sequels that did significantly better than the original titles. In fact, American Pie 2 should end up making $40-45 million more than the first film's $101 million, so it's another rousing success for Universal Studios (see graph above).
Outside the top 10 in eleventh place is the debut acting role for pop star Mariah Carey, which made an estimated $2.41 million. Fox was forced to delay the film at the last minute due to the nervous breakdown of its central player, and even after being pushed back a month, there was still an awkwardness in how to market the product after her recent struggles had made headlines across the world. Complicating matters further is that there was virtually no buzz for the title, so Glitter was effectively buried with a small venue count and a limited ad campaign; therefore, its complete failure at the box office this weekend is not a surprise but still an unpleasant reality for the studio, which hasn't had a true blockbuster since Cast Away. As for Mariah Carey's chances of being an actress, I'm tempted to describe her as the new Vanilla Ice, but then again, Madonna is still making movies, so we should never say never.

<% sqlstr = "SELECT * FROM box WHERE movie like '%Glitter%' OR movie like 'Monkeybone%' OR movie like'%Say It Isn''t So%' " sqlstr = sqlstr + " OR movie like '%Someone Like You%' OR movie like '%Freddy Got%' OR movie like '%Moulin Rouge%' OR movie like '%Dolittle 2%'" sqlstr = sqlstr + " OR movie like 'Kiss Of the%' ORDER BY open DESC" max = 100 header = "Recent Fox Releases" tstyle = "release" skin = "bop" x = Drawtable(sqlstr,max,header,tstyle,skin) %>


The top 12 films grossed $43.05 million this weekend, down 9.3% from last year, when the teen horror flick Urban Legends: Final Cut debuted at number one with $8.5 million. As poor overall as the weekend was, it still performed in a similar fashion to last year.
There are happier times ahead at the box office as we see the debut of three interesting new titles next week. Ben Stiller makes his first appearance since Meet the Parents as he portrays a model-cum-spy in Zoolander; Michael Douglas portrays a psychiatrist whose daughter has been kidnapped in Don't Say a Word; and Stephen King's latest novella to be made into a feature film arrives with Hearts in Atlantis. All three should find financial success at the local cineplexes. As always, if you want to view the upcoming releases, either check the bottom of our front page here at BOP or bookmark the release schedule.
Top Ten for Weekend of September 21-23, 2001

Rank

Film

Number of Sites

Change in Sites from Last

Estimated Gross ($)

Cumulative Gross ($)

1

Hardball

2,210

+73

8.06

19.28

2

The Others

2,801

+42

5.08

79.94

3

The Glass House

1,591

No change

4.41

11.66

4

The Musketeer

2,500

-24

3.55

22.67

5

Rush Hour 2

2,129

+139

3.52

215.62

6

Two Can Play That Game

1,308

-11

3.21

18.19

7

Rat Race

2,417

-78

2.94

51.52

8

Rock Star

2,162

-363

2.93

15.12

9

Jeepers Creepers

2,576

-271

2.77

33.56

10

American Pie 2

2,117

-222

2.69

139.73

11

Glitter

1,202

New

2.41

2.41