Barbershop Cuts Down the Competition
David Mumpower's Weekend Wrap-Up
September 13 - 15, 2002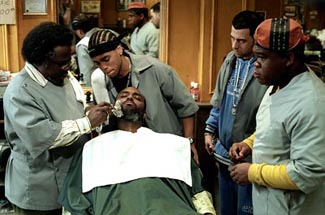 While the big summer studio films are hogging all the screens, the little guys are successfully waging a war against excess, with this weekend being their biggest victory to date. The top three films for the second weekend of September were all made for $12 million or less, yet they were able to overtake much more storied productions for the top three slots at the weekend box office. Ruling them all with a phenomenal $21.0 million was the perfect release for the week of 9/11: Barbershop, a film affectionately celebrating the warmth of community.
Made for a meager $12 million, Barbershop performed the same feat as Swimfan last weekend by recouping its budget in its first three days. The difference between the two projects is that the crowd-pleasing Barbershop should be a factor in theaters for several weeks to come. With its $21.0 million opening, it has become the third largest opening ever for the month of September, after Rush Hour and Double Jeopardy. Even more impressive is that its per-screen average of $13,084 beats those films and is now the highest ever for a wide release during this month.
Barbershop is a glorious debut for MGM, as it has been ushered in with lavish critical praise and received warmly by opening weekend audiences. The movie received a dazzling 85% approval rating from the critics at Rotten Tomatoes, with 57 out of 67 giving the film an enthusiastic recommendation. Viewers were similarly impressed, as it received an A- from CinemaScores. MGM had already announced plans for a sequel to the film, but the heralded reception and spectacular opening weekend will probably advance the timetable for its production by a considerable amount.
My Big Fat Greek Wedding pulled off the impossible on Friday as it crossed the magical $100 million barrier. The actual numbers from then on are a bit irrelevant, but the movie finished in second place with $11.0 million from 1,764 venues for a per-screen average of $6,236. As great a performer as Barbershop was this weekend, its success is still a drop of water in a vast ocean compared to what Nia Vardalos and Co. have pulled off in the past few months.
One Hour Photo platformed its way into third place this week with a solid $7.7 million. The darkest film out of Robin Williams's 2002 killer trilogy increased distribution from 173 theaters last weekend to 1,212 this frame but still managed to maintain a solid per-screen average of $6,353, second only to Barbershop amongst the top ten performers. Even more surprisingly, a film made for a fraction of the cost of Death to Smoochy made almost as much in its first three days of wide release as that dark comedy did in its domestic run. Combining the successful expansion of One Hour Photo with the strong box office performance of Insomnia, it's apparent that North American audiences were much more prepared to accept Williams as a dramatic actor with homicidal tendencies than in another by-the-numbers comedy.
One Hour Photo's long-term prognosis at this point is something of a mixed bag. Reviews have been overwhelmingly positive, as the film has received a Rotten Tomatoes score of 80%, with 99 out of 124 critics praising it. Audiences were not as kind, as it got a poor mark of C from CinemaScores. Since anything below a B is considered quite bad in their grading format, we may infer that critics have more of a taste for this subject matter than your average movie-goer.
Limping into fourth place is Stealing Harvard, a dreadful-looking comedy starring Tom Green. That's the surface view of the film anyway, and that perception proved impossible for the Sony marketing arm to overcome. Opening to only $6.3 million in 2,366 venues, it had a disappointing per-screen average of $2,663. Making the picture even bleaker for the studio, it has been universally panned by critics. Its current Rotten Tomatoes score is 11%, with six out of 55 critics giving it the benefit of the doubt. CinemaScore audiences were equally unkind, again giving out an overall grade of C. The good news is that Tom Green has once more shown that he is box office death for a movie. The bad news is that the phenomenally entertaining Jason Lee isn't much better. Stealing Harvard will be gone from the top ten and our memories within two weeks.
Fox can stop running those Number One Film in America ads for Swimfan now as it drops to fifth place in its second weekend. With a tally of $6.1 million, the teen thriller sees a fall of 46% from last time out, a respectable holdover relative to the genre and demographic considerations. Since the film was in the black after three days, there wasn't much pressure on it this frame. This makes the decent holdover gravy for the studio. In a month of lowered expectations, Swimfan may be accurately classified as a winner.
Signs finished in sixth place this frame but there was a more important number it achieved. The event we described as an eventuality in last week's wrap-up came to pass on Friday, as the M. Night Shyamalan production finally overtook Goldmember to become the top performer of summer 2002. Signs brought in an additional $5.3 million this weekend, giving it a grand total of $212.9 million in its North American release. The film looks to be winding down but should reach $220-$225 million before it's all said and done.
The big disappointment out of the holdovers was City by the Sea. It fell from third to seventh place while dropping a steep 47%. Adult-oriented films generally have solid legs, as older audiences are more inclined to wait till after opening weekend. That makes the large drop even more of a failure. With several new releases entering the marketplace September 20th, it appears DeNiro's latest project will make the top ten only two weekends. Fortunately, his next release is the can't-miss sequel Analyze That, so City by the Sea will be quickly forgotten.
Eighth, ninth and tenth place are held by summer holdovers xXx, Austin Powers in Goldmember and Spy Kids 2: Island of Lost Dreams. xXx took eighth with $3.3 million from 2,771 screens. Its running tally is $135.4 million. Goldmember and the Spy Kids sequel were in a photo finish after Friday numbers, but the kids edged out the Dutch freak at the finish line for the weekend. Spy Kids 2 made $2.4 million and is now standing at $77.0 million, while Goldmember finished with $1.8 million and total box office of $209.6 million. This will probably be the last top ten appearance for all three, with the other commonality they share being a near certainty that each will see another film in the franchise. Spy Kids 3 will get to theaters next summer, and xXx already has the contracts signed. With the third film in the Austin Powers sequel crossing $200 million, it's only a matter of time till someone drives a dump truck full of money up to the Myers estate. Until then, he'll have to settle for the satisfaction of having this one join Jurassic Park and Star Wars as the only three franchises to have multiple $200 million performances.
The September slumber at the box office continued, as the top ten managed a moderate $69.7 million, up 44% from last year's poor $48.26 million. The top five films this year beat that total on their own.
Next weekend will see four wide releases enter the marketplace, each of which appeals to its own target demographic. Young consumers will be able to check out the hot spy vs. hot spy thriller Ecks vs. Sever while their parents and grandparents can see a Thelma and Louise-meets-Wonder Boys for the octogenarian set with The Banger Sisters. The Four Feathers will find its share of Heath Ledger fans and Kevin Bacon fans will be Trapped, while everyone else in North America ignores the movie. As always, you can find up-to-the-minute release schedule information here at BOP.
Top 12 for Weekend of September 13-15

Rank

Film

Number of Sites

Change in Sites from Last

Estimated Gross ($)

Cumulative Gross ($)

1

Barbershop

1,605

New

21.0

21.0

2

My Big Fat Greek Wedding

1,764

+69

11.0

110.7

3

One Hour Photo

1,212

+1,039

7.7

14.2

4

Stealing Harvard

2,366

New

6.3

6.3

5

Swimfan

2,859

+3

6.1

19.7

6

Signs

3,051

-181

5.3

212.9

7

City by the Sea

2,575

No Change

4.8

16.6

8

xXx

2,771

-217

3.3

135.4

9

Spy Kids 2: the Island of Lost Dreams

2,493

-328

2.4

77.1

10

Austin Powers in Goldmember

1,811

-291

1.8

209.6

11

The Good Girl

671

-17

1.3

11.7

12

Blue Crush

1,386

-623

1.1

38.8