Secret Window
By David Mumpower
March 11, 2004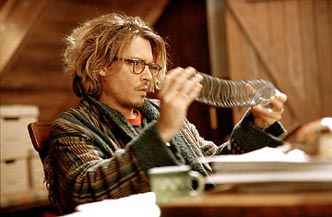 A gripping tale of mystery, murder and madness, Secret Window delivers the goods. While not the most trailblazing or novel approach to a Stephen King adaptation, it manages to support and enhance the integrity of what was in its own right a brilliant work of short fiction.
Secret Window tells the story of successful novelist Mort Rainey. At the start of the movie, Rainey is suffering through every husband's worst nightmare as he suspects his wife, Amy, has been *ahem* "taking her love to town". These suspicions lead him to a seedy hotel where he steals the skeleton key and barges into a room where his wife's car is parked outside. To his heartbreak, the author catches Amy in an extremely compromising position with Ted, a family "friend" who has clearly been stretching the conventional boundaries of the word.
Stricken with grief, Rainey retires to his mountain cabin where he proceeds to fight a losing battle with crippling depression. His only friends are his near-blind dog and an ever-renewing case of Jack Daniels. Mort spends most of his days sleeping away his pain until a knock on the door changes his life forever.
The gentleman knocking is a visitor from Mississippi with the disturbing name of "Shooter." The southerner's source of complaint involves a short story Mort wrote that Shooter feels was plagiarized from his own 1997 publication. Mort is then faced with uncertainty as he tries to sober up long enough to remember whether he has, in fact, committed writing's cardinal sin. Heightening his self-doubt is the knowledge that this wouldn't be the first time he had "borrowed" from another author's work. And it doesn't help matters any that Mort's chronic lack of sobriety makes it difficult for him to recall anything that happened prior to the current year.
A withdrawn piece, Secret Window is a measured production which celebrates the Less Is More philosophy. Here, "the play's the thing" with the performances of Johnny Depp and John Turturro as Mort Rainey and Shooter being the foundation of the film. Both actors are more than up to the task. Depp is clearly relishing a role far, far away from his celebrated turn in The Pirates of the Caribbean: The Curse of the Black Pearl, the family friendly work which re-launched him into stardom in 2003 and earned the talented actor a 2004 Best Actor nod from the Academy. More to the point, this role affords Depp the opportunity to again mimic Hunter S. Thompson as he did so effectively in 1998's Fear and Loathing in Las Vegas. Drunk and possibly insane is a way of life for Depp's friend, Mr. Thompson, after all.
For his part, Turturro celebrates playing a mentally unhinged (albeit morally justified) stalker. Secret Window is his finest hour in what has already been an illustrious career. His performance strikes the perfect chord of contempt laced with psychosis. More than anyone else in the movie, the part of Shooter displays and occasionally darkens the mysteries of the movie. Were it not for Turturro's talent in leading audiences along the paths of red herrings, the big secret here would not be much of a shock. Saying anything more potentially gives away too much, so suffice it to say he's a worthy adversary for Johnny Depp to match wits against.
The other actors here also merit praise. Coyote Ugly's Maria Bello is affecting and believable in her portrayal of a woman who loves her husband but needs some distance from the artistic mood swings his profession creates. Timothy Hutton is even more appealing as Ted Milner, the man who cuckolds Mort. Used at times as comic foil, Hutton is particularly convincing when his character's behavior grows slightly menacing. Charles Dutton, the original Roc, plays Mort's friend and legal advisor. As the black friend in a horror film, convention dictates that Dutton's fate is sealed if he is not the killer. However, it is a testament to Dutton's fine acting that he manages to be credible as both an ally and a potential threat. This is no small accomplishment considering that his is the most underwritten role in Secret Window. The beauty of all three performances is that the direction intentionally (and deftly) paints all the outsider characters as both potential victims and assailants.
Mystery thrillers like this rely in large part upon The Reveal, that moment where the audience suddenly is given the information required to put the pieces together. In the case of Secret Window, that instant is quite satisfying at first. Quickly thereafter, the Reveal becomes somewhat frustrating as the viewer comes to see the wizard behind the curtain for what it is. On a personal level, I must admit that despite my overall enjoyment of the production, a frustration swept over me as I realized there is a distinct Been There, Done That feel to the secret.
Upon reflection, I eventually pushed past my disappointment and came to appreciate how well directed and acted Secret Window is. After all, had these efforts been mundane or obtuse, I wouldn't have expended so much energy in thinking/guessing along with the proceedings. I don't expect this opinion to be status quo, as the audience at my screening completely turned on the film like villagers with torches and pitchforks when they realized the answer to this mystery. For myself, I strongly applaud the bravery of the last 15 minutes of the movie. Fans of Johnny Depp will be going to see the film largely because they want to fill the void until Captain Jack Sparrow returns. Mort Rainey will prove to be a frustrating character for Depp's 2003 acquired bandwagon fans. For those who appreciate the work of an artist always pushing the boundaries of his profession, Secret Window will not disappoint. If anything, Depp is better here than he was in Pirates. He seem to be more at home with his Hunter Thompson-type surroundings.