"O"

Review by David Mumpower
September 20, 2001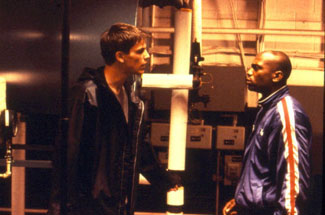 "O" is the latest teen update of a Shakespearean tragedy and the one with the worst luck in recent memory. Through no fault of its own, the movie has been sitting on the shelf for almost two years and sold from its original studio because of their skittishness to release the product in the wake of the tragic events at Columbine High School in Denver, Colorado. The similarities between the real-life events and the movie's simulated ones are few, but Miramax showed good taste by allowing Lions Gate to purchase it and try their hand at marketing a film that had become a very tough sell. We are finally able to review the film thanks to this determination and for that alone, I give a huge thumb's up to LG. They could have easily dumped this onto video and saved themselves a lot of headaches, but believed in "O" enough to put it out on 1,500 screens to let the public decide for themselves.
For those of you unfamiliar with the classic story of Othello (I blame the public education system for your ignorance, heathens), it may be broken down into a one-word description: jealousy. Setting the timeless and universal story in the world of high-school athletics is something of a masterstroke, and it works even better in the current North American climate. The media (unfairly) paints the current generation of kids as apathetic and selfish, so the Iago character from Othello should blend in perfectly with his environment. Based in Charleston, South Carolina, he goes by Hugo Goulding in this re-telling and he desperately wants to be the apple of his father's eye. As fate would have it, Daddy, AKA Duke Goulding, is head coach of the high-school basketball team and is driven to get a job in the SEC running the South Carolina program. To reach his goals, he has become obsessed with a once-in-a-lifetime recruit named Odin James, an inside/outside player with perimeter-shooting skills and technique in the paint to boot. He envisions a package deal where they both leave high school and lead the Gamecocks to glory in the NCAA the following season. All he needs to make this dream come true is to win the state tournament. This makes O the key to his future and causes him to fixate on the star athlete at the expense of his own son.
As we can see from the description above, director Tim Blake Nelson has done an excellent job of setting the table for a very interesting movie. The actual implementation of his work is somewhat lacking, though. My disappointment with "O" is honestly quite difficult to finger exactly. I found Mekhi Phifer very engaging as a lead actor and thought he was totally believable as a charismatic athlete beloved by all; in addition, Josh Hartnett's fearless portrayal of a nihilist teenager with no regard for human life is a joy to behold. He's truly terrifying in his manipulative dealings, and the fact that the film never bothers to give him a reason for his actions makes him that much scarier, in my opinion. I've always felt that random violence is much more dramatically impactive, and the fact that he is willing to destroy countless "friends" in order to get the spotlight for himself is a bold and laudable choice by Nelson. Also noteworthy is the performance of rising star Julia Stiles as O's ill-fated lover Desi (the Desdemona character from the play). She's dating the big man on campus and she knows and appreciates how lucky she is to be with such a great person. Her life would be coming up roses if not for Hugo's meddling, and it's this innocent happiness combined with impending doom that makes her engaging to watch. Combining these three performances with the excellent work of Martin Sheen as the driven coach, I can honestly say that the lead acting in "O" is top-notch. That's what makes the fact that the film left me cold even more disappointing.
The central flaw I found in "O" stems from the story itself combined with the reason for its delay. After watching kids on the news hold human life in so little regard that they could just walk into a high school and start shooting, it's difficult for me (and I realize it might very well be my problem alone rather than one a lot of viewers would have with it) to watch a movie where a kid twists the words of his friends in order to single-handedly tear them all down. The fact that Hartnett is so good only makes the overall effect that much more numbing for me. I emotionally shut down while I was watching "O" when I had hoped to become more engrossed in the activities. At the moments where Hugo was at his most devious, I was amazed by his performance but equally disgusted by it, and maintained little interest or focus by the time the climactic events (those which led to the film being shelved for so long) arrived. The problem with doing movie reviews is that emotional impact is the key to defining your feelings about the picture and in the case of "O", its success in creating realistic, self-aware, anarchist teens led to my enjoying it less than if it had been more cartoonish and easier to swallow. It's hard to damn the film for what is so obviously the flaw of the reviewer but by the same token, I also can't in good conscience say that it's a film that I either enjoyed or would recommend. If you enjoy dynamic acting performances, I believe there's every chance in the world you'll enjoy the film, but I did not. At all.